Australian Dollar: CBA Flags "Upside Risks" to Forecasts, Losses ahead for Pound-to-Aussie Rate
© Neal Jennings, Reproduced under CC licensing
- AUD undervalued, seen on front foot into year-end says CBA.
- There's "upside risks" to AUD forecasts, downside for GBP/AUD.
- As commodity prices rise and AUD realigns with cash rate pricing.
The Australian Dollar could remain on its front foot into year-end, according to Commonwealth Bank of Australia forecasts, which suggest the Pound-to-Australian-Dollar rate could fall by nearly 3% over the next two months.
The Australian Dollar has rebounded notably from multi-year lows during the last month and has risen sharply this week, leading analysts to claim it has escaped the "bear trend" that has gripped it since early 2018.
Commonwealth Bank, Australia's largest lender by assets in 2017, says this recovery can go on for longer and that it poses upside risks to its forecasts for year-end. Those projections were already expected to push the Pound-to-Aussie rate lower over coming months.
"AUD/USD appears too low relative to Australia's commodity export prices. Between June and late October, AUD/USD fell by 8.5%, and diverged from the modest upward trajectory in Australian commodity export prices," says Richard Grace, head of currency strategy at Commonwealth Bank.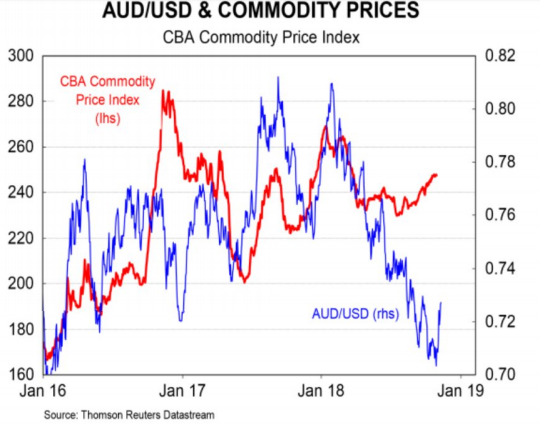 Above: AUD/USD rate shown alonside CBA Commodity index.
Grace says the AUD/USD rate has a decent correlation with the CBA Commodity Price Index and flags that the latter has been rising for some time now, while the Australian Dollar has continued to decline. This is one reason he is warning of "upside risks" to the bank's forecasts.
Australia's currency is underwritten by its mammoth commodity exports to China and other countries around the world so when prices of those commodities rise, it represents an improvement in the fundamental value of the Aussie Dollar.
Not only that, higher commodity prices support profit growth for Australian companies, which is positive for the labour market and wage growth for workers. So, rising commodity prices also have implications for GDP growth, inflation and interest rates.
"Our long-held view has been that AUD/USD had fallen too far relative to where market pricing for an RBA rate rise was," says Grace. "The recent string of good Australian economic data has meant the interest rate market pricing for a 2019 rate rise has picked up. The prospect of higher market rates should provide AUD/USD with a good level of support."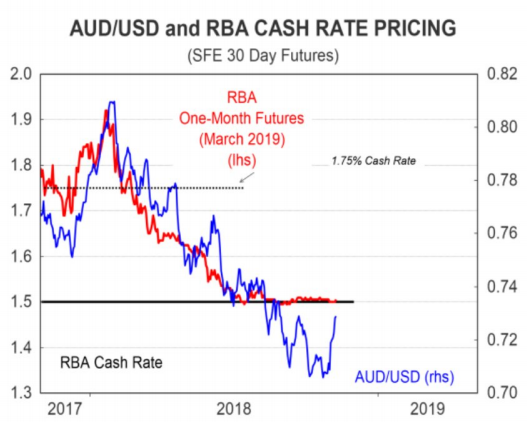 Above: Market pricing of RBA cash rate one month out, alongside AUD/USD rate.
Moreover, with the Australian Dollar having fallen further than the odds of a Reserve Bank of Australia interest rate rise this year, it is now trading below what the Reserve Bank of Australia estimates to be "fair value" for it.
Grace says it is not unusual for a currency to fall below fair value but that that the Australian Dollar's decline is abnormal because it has placed the unit more than "one standard deviation" beneath the its fundamental value.
This is also an argument for a continued upward correction in the AUD/USD rate, which will have implications for all other Australian Dollar exchange rates too.
"We see short-term upside risks to our AUD/USD forecasts. However, we don't feel the need to change our AUD/USD forecasts that were compiled on 22 August 2018," Grace writes, in a note to clients Friday. "Over the published forecast horizon, we see very balanced risks for AUD/USD.
Grace and the Commonwealth Bank team forecast the AUD/USd rate will close the 2018 year at 0.72 before rising steadily to 0.75 by the end of 2019.
This, combined with Commonwealth's bearish GBP/USD forecasts, means the the Pound-to-Australian-Dollar rate is projected to fall 1.75 before the end of 2018. It then declines further, to 1.71 in time for the end of 2019.
The Pound-to-Aussie is, after all, a foreign exchange cross rate that is derived at its most basic level by dividing the GBP/USD rate over the AUD/USD rate.
The AUD/USD rate was quoted 0.33% lower at 0.7242 Friday and is down by 7.2% for 2018. The Pound-to-Australian-Dollar rate was down 0.11% at 1.7964 and has risen 4.2% this year.
Advertisement




Bank-beating exchange rates. Get up to 5% more foreign exchange by using a specialist provider to get closer to the real market rate and avoid the gaping spreads charged by your bank when providing currency. Learn more

here