Outlook for Australian Dollar Still "Bearish" amid Souring Environment for Risk Assets say ANZ
Image © Greg Brave, Adobe Stock
- AUD retreats from recent highs as USD rebounds Thursday.
- Outlook remains bearish amid elevated trade tensions say ANZ.
- AUD to decline further against both USD and GBP before year-end.
The Australian Dollar outlook remains "mildly bearish" amid a deteriorated environment for so-called risk assets, according to analysts at Australia & New Zealand Banking Group (ANZ), who say the Antipodean will remain at the mercy of global market sentiment during the weeks ahead.
With the Reserve Bank of Australia sitting on its hands as central banks elsewhere raise their interest rates, and the economy motoring along at a decent but still-unspectacular pace, there is little happening onshore that is likely to lift the Aussie out of 2018's downward spiral.
This means the Aussie will continue to take its cues from events in the international arena, particularly those concerning U.S. trade policy.
"The AUD has pushed towards our terminal forecast of USD0.70, as the risk backdrop remains unsupportive, most notably via the US-China trade tiff. All the while, typical drivers are still adrift. Although favourable, the terms of trade are only sufficient to add some stability to the AUD, rather than drive gains. Similarly, the domestic economy is a 'neutral' influence given RBA inaction and so rate differentials remain unsupportive," says Daniel Been, head of currency research at ANZ.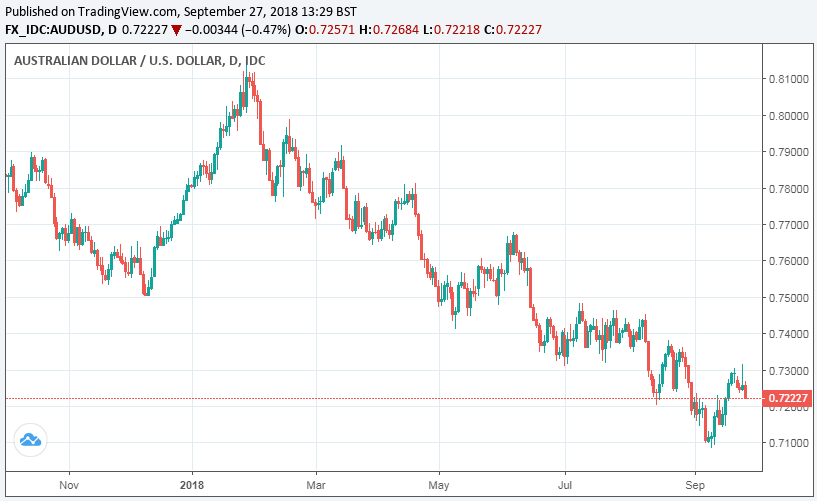 Above: AUD/USD rate shown at daily intervals.
Australia's Dollar has put in a now-rare positive performance during the second half of September following China's commitment to keep the Renmimbi stable even in the face of President Donald Trump's trade war against the world's second largest economy.
Hopes of some fresh stimulus to support growth as the White House continues its barrage of tariffs and coercive threats against China's political leadership were also decisive in helping stabilise prices of so-called risk assets like the Aussie and emerging market currencies earlier this month.
China's currency move was the most significant because Australia's Dollar is underwritten by the nation's commodity trade with the world's second largest economy and often serves as a surrogate for speculators seeking to express bearish views about China's state-managed Renmimbi.
"Recent AUD weakness means it is trading somewhat cheaply relative to fair value. This signals that it will remain at the mercy of global risk appetite (with space to move in both directions) rather than that it is providing compelling value at current levels. From a medium term perspective, we still anticipate a negative outlook for liquidity. By extension, the outlook for market volatility is likely to be higher. This should continue to frustrate AUD bulls," says Been, in ANZ's monthly FX outlook.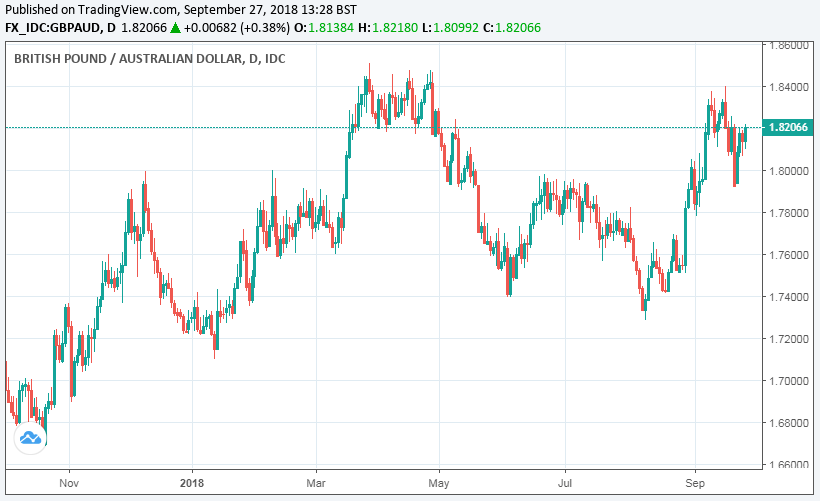 Above: Pound-to-Aussie rate shown at daily intervals.
Australia's Dollar has fallen 7.5% against the U.S. greenback and 4.7% against Pound Sterling this year due to a combination of factors including a deteriorating domestic interest rate outlook and the White House trade war against China, which has stoked fears of a global economic slowdown and turned sentiment further against the Antipodean.
President Donald Trump has imposed more than $250 billion of China's annual exports to the U.S. in response to "unfair trading practices" that include the alleged forced transfer of technology and intellectual property theft.
The most recent tariffs targeted $200 billion of exports and were implemented just this week. Trump is still threatening to impose levies on all of China's $500 billion odd of annual exports to America while China has cancelled previously-planned talks that were aimed at de-escalating the conflict since the U.S. went ahead with the latest tariffs.
This has encouraged analysts to speculate that the next flare-up of tensions between the two is more a question of when, rather than if. If the analyst community is right then it may only be a matter of time before the Australian Dollar is left reeling again.
"Without a solid domestic story and with few upsides coming from the commodity side, the AUD will likely remain at the mercy of the global risk environment. In the near term, some stability in China's growth could help at the margin, but more broadly, sentiment is too fragile to bank on any sustained risk relief rally," Been says. "We continue to keep a mild bearish bias for the AUD."
Been and the ANZ currency team forecast the AUD/USD rate will decline to 0.70 before year-end and that it will average that level throughout the 2019 year. They predict the Pound-to-Australian-Dollar rate will rise to 1.85 before the curtain closes on 2018 and that it will climb all the way up to 2.0 by the end of 2019.
The Australian Dollar was quoted 0.43% lower at 0.7226 against the U.S. Dollar Thursday while the Pound-to-Australian-Dollar rate was 0.20% higher at 1.8189.
Advertisement




Get up to 5% more foreign exchange by using a specialist provider to get closer to the real market rate and avoid the gaping spreads charged by your bank when providing currency. Learn more

here