Pound-to-Dollar Rate Hits Fresh 2018 Low as "Trade War" Talk Endures but Recovery is in Sight
- GBP/USD hits 2018 low on trade war and Brexit concerns.
- Trade fears drive USD higher as Brexit weighs on the GBP.
- But Technicals, Brexit Whitepaper suggest GBP recovery in prospect.
© IRStone, Adobe Stock
Pound Sterling ell to a fresh 2018 low against the U.S. Dollar Thursday as currency traders bid the greenback higher ahead of a Friday decision from the White House over the shape of investment restrictions to be imposed on China, which will mark the latest salvo in the so called "trade war" between the US and some of its economic rivals.
President Donald Trump said Wednesday the White House will support a Congress-led legislative effort to protect American technology goods and intellectual property from the "predatory" practices of nations like China, which has been accused of using its own laws to force American companies operating in the country to surrender their trade secrets.
"The respite for risk assets caused by hopes for easing trade wars was rather short-lived as White House economic advisor Kudlow said that President Trump was not softening his stance on China," says Petr Krpata, chief EMEA FX strategist at ING Group. "With limited prospects for the major change in the US stance, risk assets and EM currencies should remain under pressure today, with the Dollar staying bid."
Backing the Foreign Investment Risk Review Modernization Act (FIRRMA) being drafted in Congress was seen as a climbdown from an earlier threat of tough new regulations drafted inside the White House, which many fear may have provoked another retaliation from China and a further escalation in the tit-for-tat "trade war" that has dominated markets in recent weeks.
However, White House economic adviser Larry Kudlow also said Wednesday that President Trump has not softened his stance on China and its alleged theft of intellectual property.
This gave the US Dollar a boost Wednesday, pushing the Pound-to-Dollar rate down to a fresh 2018 low of 1.3100, with the exchange rate falling even further Thursday morning, to trade as low as 1.3066.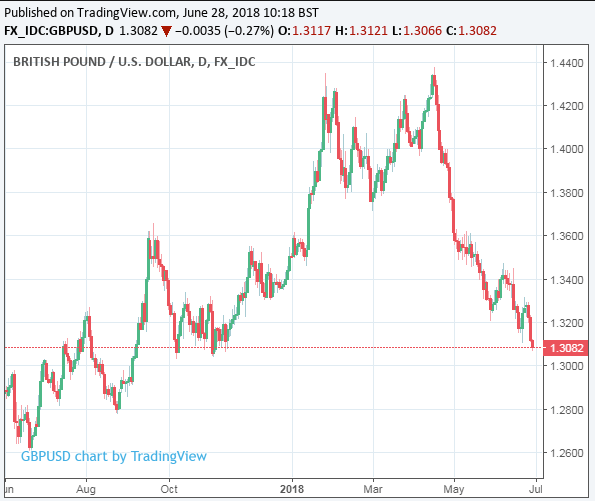 Above: Pound-to-Dollar rate shown at daily intervals.
The President himself also warned at the end of his Wednesday statement of tougher action against China to come if Congress does not make FIRRMA regulations that are robust enough for the White House.
"Should Congress fail to pass strong FIRRMA legislation that better protects the crown jewels of American technology and intellectual property from transfers and acquisitions that threaten our national security - and future economic prosperity - I will direct my Administration to deploy new tools, developed under existing authorities, that will do so globally," Trump told reporters.
Sterling may also have been marked down by traders ahead of Thursday's European Council summit, which is expected to place a distinct absence of progress in the Brexit negotiations back into the spotlight.
"EU leaders will gather in Brussels today and the message on Brexit is likely to be very clear – there has been no meaningful progress in negotiations since March. The likely calls from Europe to increase preparations for a 'no deal' Brexit may well be simply part of the negotiating process, but the reality is that the closer we get to March 2019 with this uncertainty continuing the greater the negative impact on the real economy will be," says Derek Halpenny, European head of global markets research at MUFG.
National leaders from across the EU are meeting Thursday and Friday to discuss the key issues facing European Union countries, including the migration crisis that has fuelled a populist political insurgency across the continent and placed establishment stalwarts such as German Chancellor Angela Merkel and her government in Berlin under increasing pressure.
In amongst all of this, the Council is expected to warn that an absence of "progress" in the Brexit negotiations risks leaving the UK and EU without an agreement on withdrawal or the future relationship at the time when the October EU Council summit comes around.
A deal by then is seen as key because October will be the last scheduled opportunity for the Council to approve it while still providing enough time for ratification in all of the parliaments across the European Union, the latter being a task that could take months on its own.
The UK government's inability to present an unified position on Brexit has been a major source of uncertainty contributing to the weak GBP narrative. However, July 6 sees the UK cabinet retreat to the official country residence of the Prime Minister to thrash out a final position on what the UK would like to achieve in Brexit negotiations.
The outcome will be presented in a new White Paper and is widely expected to be a key event for Sterling.
"The government's White Paper on Brexit is now imperative for lifting GBP sentiment," says Halpenny. "GBP sentiment remains poor and selling is beginning to look stretched. In such circumstances, a sliver of good news can have a more notable impact in reversing sentiment. This EU Leaders' Summit will provide some indication of possible progress but the White Paper by the government is now a crucial Brexit event."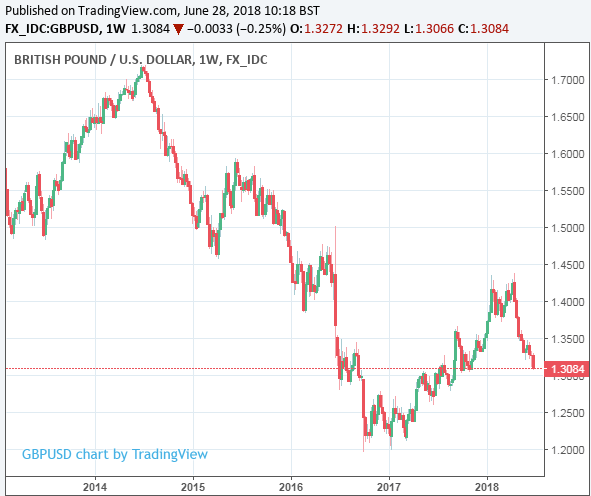 Above: Pound-to-Dollar rate shown at weekly intervals.
The Whitepaper will set out the government's position around key issues such as the Northern Irish border, the single market and customs arrangements over coming weeks. Halpenny has suggested it could contain material concessions on Prime Minister Theresa May's "red lines" that might leave financial markets feeling more optimistic about the prospect of a deal being agreed before October.
That could prove the catalyst for a possible recovery in the Pound-to-Dollar rate.
The structure of the market is another important consideration when determining the Pound-Dollar's outlook with technical analysts warning recent losses have taken the currency pair to levels that will be hard to break.
"GBP/USD has seen initial rejection at its 20 day moving average at 1.3289. It is possible that this is the end of the correction – but we would be surprised, as we also the TD perfected set up on the weekly chart and the divergence of the daily RSI. The Elliott wave count is suggesting a correction into the 1.3440/1.3540 band still and there is scope for the 1.3594 200 day moving average," says Karen Jones, head of technical analysis at Commerzbank.
"Prices have dropped sharply back through our 1.3220-1.3180 area of support and the previous 1.3102 lows. We risk a deeper setback to next supports in the 1.3000-1.2935 region, but our medium-term studies at this stage still suggest the downside should be limited for a reaction higher," says Robin Wilkin, a strategist with Lloyds Bank.
Advertisement




Get up to 5% more foreign exchange by using a specialist provider to get closer to the real market rate and avoid the gaping spreads charged by your bank when providing currency. Learn more

here