Trump's "Ridiculous" Currency Manipulation Accusations Against China & Russia Actually Hint at Weaker-for-Longer Dollar
- Trump's latest broadside hints at 'weaker Dollar policy'
- Russian and Chinese currencies heading in the opposite direction to where Trump implies they are going
Image © Gage Skidmore, reproduced under CC licensing conditions
U.S. President Donald Trump caught the attention of global foreign exchange markets on Tuesday, April 17 after he accused both Russia and China of playing "the currency devaluation game".
The accusations suggest Trump believes both nations are unfairly making their exports more cost-competitive on international markets, at the expense of U.S. exports.
He described these alleged shenanigans as being "not acceptable!" making these comments the latest in his attempt to rebalance global trade in favour of the United States.
The accusations are however problematic in that they come days after the U.S. Treasury published its latest report into foreign exchange markets which provides the analytical framework from which the U.S. is supposed to use to officially label currency manipulators.
China, Japan, South Korea, Germany, Switzerland and India are on a monitoring list which implies these currencies are under greater scrutiny.
"But as in previous years, the Treasury did not label anyone as a currency manipulator," says Thu Lan Nguyen, an analyst with Commerzbank.
It appears Trump either has chosen to ignore this report, or has his own preconceived framework.
Russia and China are playing the Currency Devaluation game as the U.S. keeps raising interest rates. Not acceptable!

— Donald J. Trump (@realDonaldTrump) April 16, 2018
Analyst Marshall Gittler at ACS Global described Trump's accusations against China as being particularly "ridiculous", noting:
"For those who are interested, here's a graph of USD/CNY. It may be true that the Chinese authorities have been intervening to slow the currency's appreciation, but it's obviously false to say that they are devaluing their currency. On the contrary, CNY has appreciated 9.5% vs USD since Trump took office."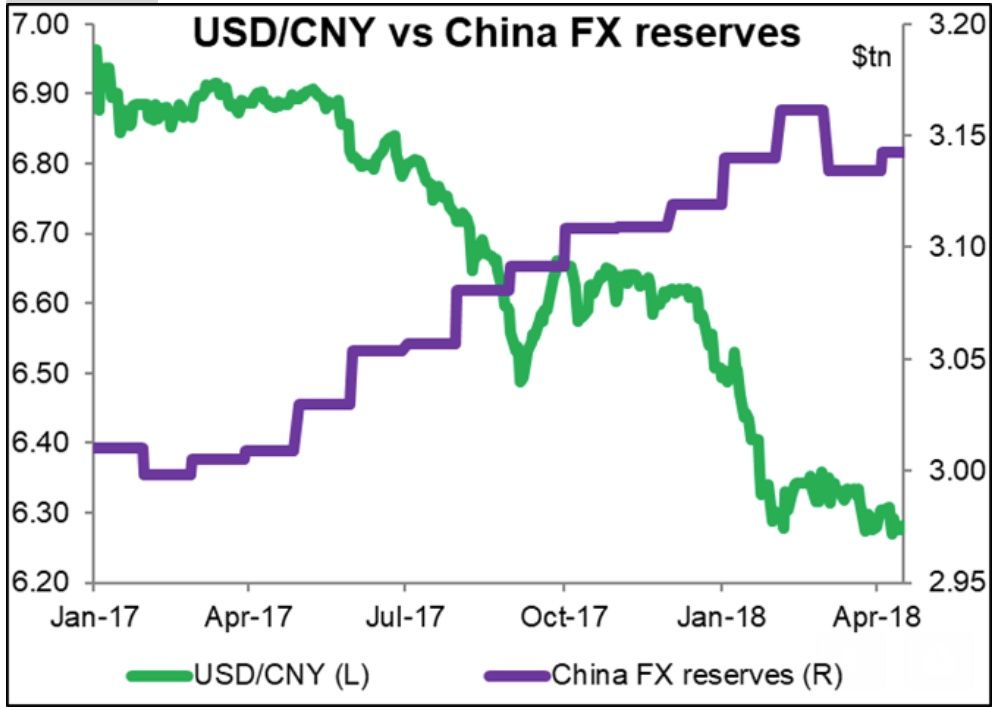 "Trump's complaint that Russia and China "are playing the Currency Devaluation game as the US keeps raising rates" makes no sense. CNY has been the fourth best performing currency in Asia on a year-to-date basis. The rouble has certainly depreciated sharply in response to the sanctions announced by the Trump administration. But, prior to the announcement, USD/RUB had fallen to the lowest level since July 2015," says Derek Halpenny, European Head of Global Markets Research at MUFG.
MUFG believe Trump was perhaps unhappy with the conclusions in the semi-annual US Treasury report, which refrained from citing any country as being a currency manipulator.
But, Halpenny raises an important point in that reality does not foreshadow policy when it comes to the U.S. President:
"how grounded the comment is in fact is much less important than the fact that he said it. It also suggests that President Trump could attempt to "talk down the Dollar" to shrink the US import bill. This will undoubtedly reinforce the appetite for investors to hedge their US dollar exposures given the unpredictability and uncertainty over dollar policy going forward.
As such, the uncertainty over trade and currency policy will continue to be a notable obstacle to any turnaround for the US Dollar argues Halpenny.
Advertisement


Get up to 5% more foreign exchange by using a specialist provider to get closer to the real market rate and avoid the gaping spreads charged by your bank when providing currency. Learn more here.