US Dollar Volatile US Inflation Stats, GBP/USD Unable to Hold Gains
US Inflation slowed in July according to official data released on Friday.
The figures released from the Federal Bureau of Labour Statistics showed Consumer price inflation (CPI) rose by a lower-than-expected 0.1% on a month-to-month basis in July when consensus expectations had been for a 0.2% rise.
Prices increased by 1.7% compared to a year ago - which was just below the 1.8% forecast.
Core Inflation, which excludes food and energy costs, increased by a seasonally adjusted 0.1% last month, compared to estimates for a 0.2% increase and June's 0.1% advance.
Core CPI increased by an expected 1.7% in July, in line with consensus estimates and the same as the previous month's increase.
Core prices are considered more indicative of longer-term inflation trends.
GBP/USD leapt to a new high of 1.3006, gaping up from the pre-release market level, after the release due to miss in expectations.
However, it has since given back most of the gains and fallen as traders decide that perhaps the inflation data does not radically shift the outlook for the Dollar.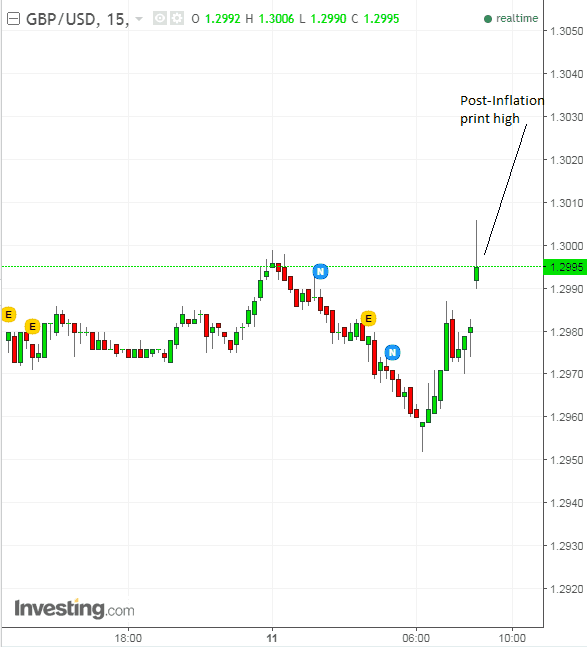 US inflation data is important because it informs Federal Reserve policy, which sets interest rates, and interest rates impact on the Dollar.
When inflation rises the Fed is more likely to raise interest rates, which supports the Dollar as it attracts more inflows from foreign investors seeking a higher return on their money.
"Since we expect an only slightly higher inflation rate for July, we reiterate our view that the US dollar will not recover noticeably in the next few months," said Commerzbank's Thu Lan Nguyen.
Nguyen does not think core inflation inflation will move sustainably in the direction of the 2.0% mark until, "the end of the year."
the analyst thinks the minutes of the last FOMC meeting, which are due out on Wednesday August 16, will support thier bearish outlook for USD.
"After all, several FOMC members had recently expressed their dissatisfaction with the currently low inflation rate, and this should also be reflected in the minutes," concluded Nguyen.