British Pound to Dollar Rate in Biggest One Day Upmove Since 2008 Financial Crisis

The GBP to USD exchange rate has shot higher on Monday amidst signs that traders are starting to bet heavily on a Remain victory following Thursday's EU referendum.
The dollar is being sold and the pound bought at the start of the week following a sharp shift in sentiment on global markets.
"The pound surged upwards this morning on the back of several prominent opinion polls suggesting that the Remain camp has gained support over the weekend. The British currency has today carved out one of its biggest single day rallies in a decade and is now 1.83% above the dollar - a massive move, the likes of which we haven't seen since 2008, in the aftermath of the catastrophic financial crisis," notes Paresh Davdra, CEO at RationalFX.
The outlook has shifted into positive mode following the strong move, as is often the case when markets are jolted into a fresh direction in such an agressive manner.
GBP/USD is trading at 1.4624 confirming our weekend predictions that GBP/USD would trade in strong fashion at the start of the week.
The basis of our bullish call came as the charts confirmed the GBP/USD pair has broken back above a major support level, something that could entice more buyers into the market.
The exchange rate has moved back above the 'neck-line' (blue line on chart below) of an inverse head and shoulders bottom pattern.
It has also broken back above 1.4089 resistance, which was expected to cap any rebounds.
It would seem that there is an element of British pound buying in anticipation of a Remain victory for Thursday's vote.
"Our sterling view remains that GBP/USD would bounce to 1.50 on a 'Remain' and fall towards 1.30 in a 'Leave' vote, a pretty symmetric reaction initially. Longer-term, we'd sell 1.50 and sell into any bounce after the initial GBP/USD fall on a 'Leave'" says Kit Juckes, an analyst with Societe Generale.
The first buying interest started on Thursday - the pair formed an up-day with a longer-than-average range, and a close in the top half of the range; this highly bullish day brought the exchange rate firmly back above the neckline and was itself a sign that there will probably be more bullishness ahead.
The pair is now currently pushing up against resistance from the old trend-line connecting the top of the head and the right shoulder of the inverse head and shoulders (yellow line on chart below).
But this is not a major line, and if it manages to break above, marked by a move above the 1.4350, it will probably continue higher to a target at the 50-day moving average at just above 1.4430.
According to Lloyd's Bank's FX viewpoint GBP/USD is grossly undervalued, due partly to the fact Brexit uncertainty has 'dammed in' the normal upside growth which would be expected to result from recent positive data and the fall in Fed interest rate expectations.
This suggests a significant amount of unaccounted for upside potential which would suddenly express itself in the event EU uncertainty were removed by a win for 'Remain', which would probably result in a 'snap-back' higher to 1.55 eventually:
"Event risk may have overshadowed both the recent scaling back in US interest rate expectations and improved UK economic data. Two developments that would typically be considered highly supportive for £/$ if sentiment was not so focused on potential downside. In that context, it is worth bearing in mind that £/$ has failed to break below 1.35 since 1986."
Latest Pound / US Dollar Exchange Rates
* Bank rates according to latest IMTI data.
** RationalFX dealing desk quotation.
COT Data Also Hinted at Strong Start for Sterling
The commitment of trader's report, which measures futures positions in the currency market, suggests a probable rise for the pound on Monday as the net short - or sell - positions on sterling have reduced in number from the previous week's -15k low, which was itself lower than the week before.
The pivot formed round the previous week's low is an indicator signalling probably more upside for pound.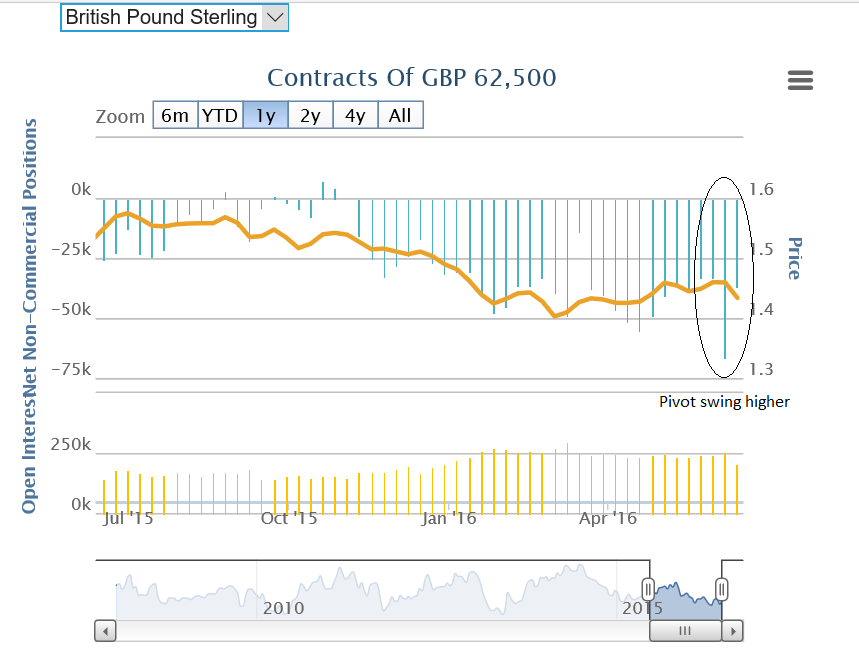 Overwhelmingly the most important event in the week ahead is the UK referendum on Thursday June 23.
In the US all eyes will be on Janet Yellen's semi-annual testimony to Congress where, according to Nordea Bank's Johnny Bo Jakobsen she is expected to repeat her view that the Fed will only consider hiking rates if the UK remains in the EU and payrolls rebound.
There is also significant data out in the form of Existing Home Sales on Wednesday, which are expected to rise to 5.5m from 5.45m previously and Crude Oil Inventories.
Thursday sees the release of New Home Sales in May, which is forecast to fall from 578k from 619k previously.
On Friday Core Durable Goods Orders (m-o-m in May) are expected to show a slower 0.2% rise than the 0.5% of the previous month.