Pound On Course for Weakest Monthly Close Against Dollar for 30 Years
Will the 1.35-1.40 region halt to the decline in pound to dollar exchange rate or will it crash lower towards 1.04 just as it did in the 1980s?
Sterling continues to struggle across the board, falling to a fresh seven-year low against the US dollar as uncertainty around UK membership of the European Union (EU) continued to intensify.
There was the added pressure from the Bank of England (BoE)'s inflation report hearing on Tuesday where Governor Carney and his team said they will not hesistate to cut UK interest rates further if need be.
"Each time we have been down at these levels it has been relatively brief, with Friday's month end close going to be watched by the technical community to see if it is the weakest close in 30 odd years. It is interesting to note that GBPUSD is out of line compared to 2y interest rate spreads," says Robin Wilkin at Lloyds Bank.
The decline takes sterling through the bottom of this recent range and to its lowest reading since early 2009 and there is little in the current technical picture to suggest that it has touched bottom.
So where will the selling end?
The GBP to USD conversion is now at levels last seen in the 1980s and historical precedent tells us GBP/USD below 1.35-1.40 is hardly ever justified.
"We are out of line with rate spreads now, as the market approaches key psychological support in the 1.40 region. It is worth bearing in mind that 1.40-1.35, the latter being the 2009 lows, has been support since the mid-1980's," says Wilkins.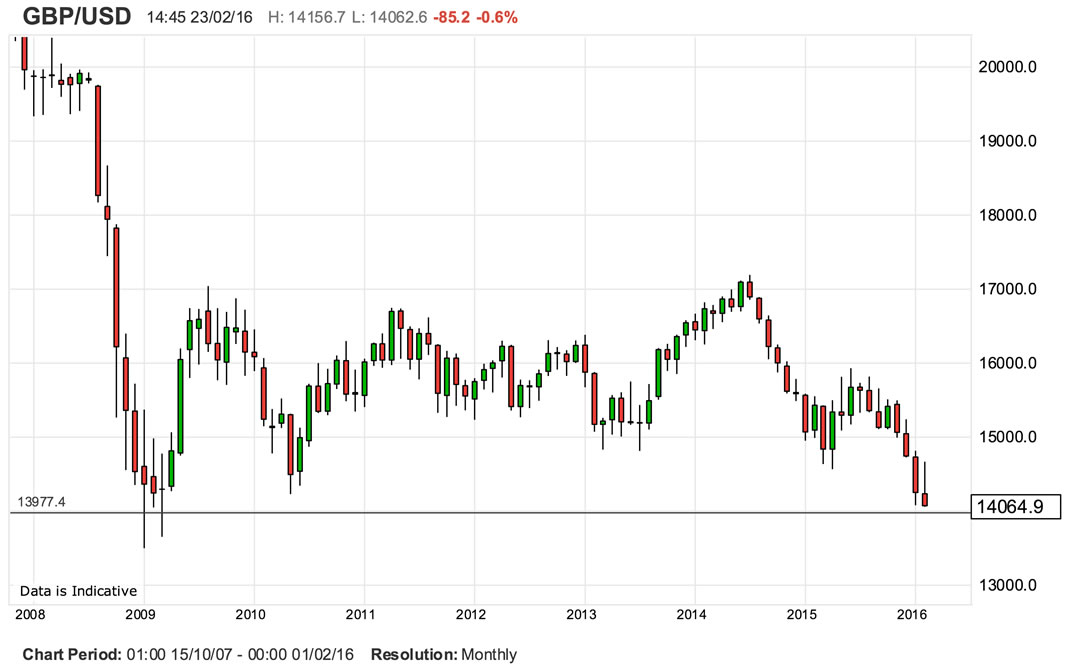 Wilkins says this layer will be a formidable region the market needs to break down if the bears are to see yet lower exchange rates.
The point to note here is that there is a vast amount of decline to be taken in even were the pound to test its mid-1980s support levels; 1.35 is incredibly far off from 1.40!
Furthermore, if we are going to talk about the 1980s it must be noted that the lowest point recorded was 1.0438 in 1985.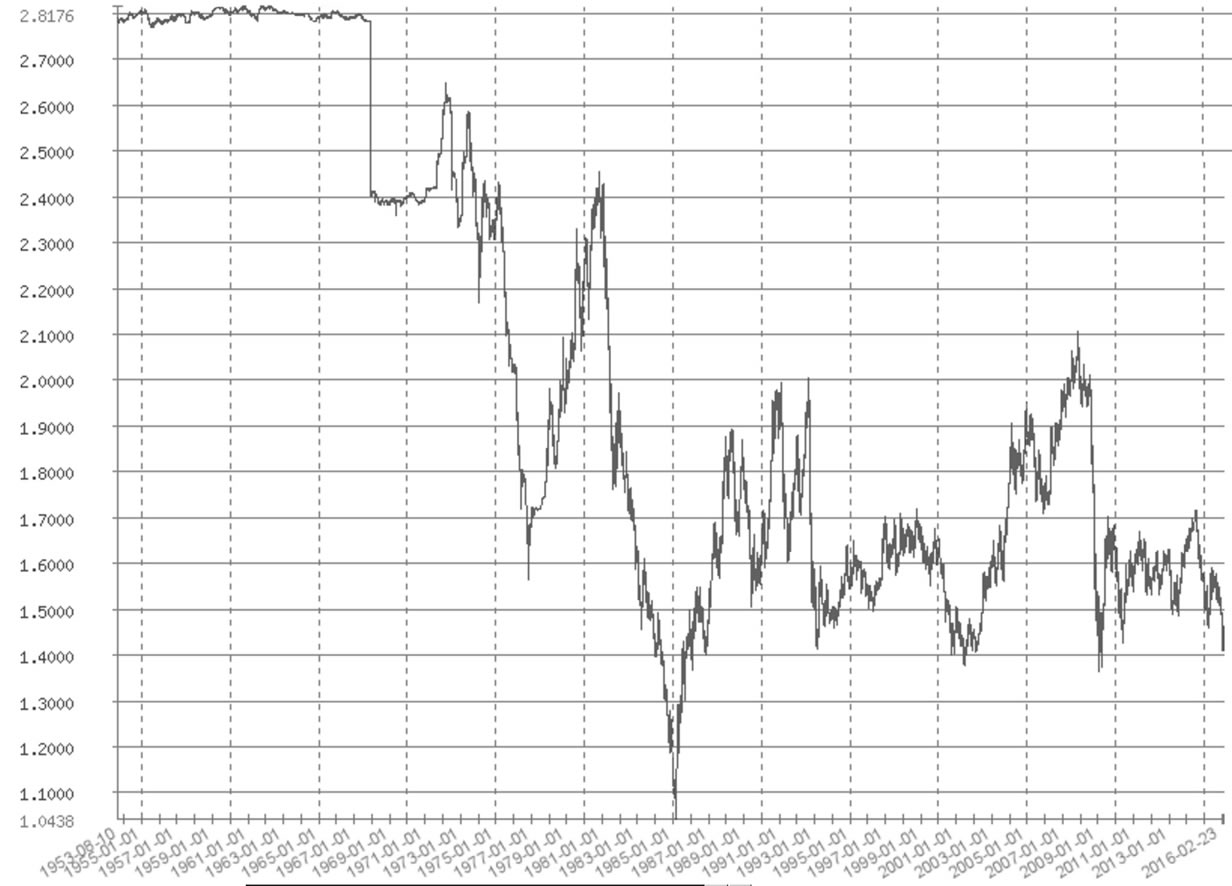 So with history to consult, we can see the spike lower could be extreme, however ultimately a recovery towards 1.35-1.40 is highly likely.
For now though, targets are closer at hand, "in the near-term the path of least resistance remains to the downside and it is entirely possible that the pound will drop back to test its March 2009 low (i.e. at 1.375) before the selling pressures abate," says Bill McNamara at Charles Stanley.
Latest Pound / US Dollar Exchange Rates
* Bank rates according to latest IMTI data.
** RationalFX dealing desk quotation.
Sell-Off Has Been Excessive: S.E.B
Be sure, many strategists will see current levels as being ripe to establish long positions on the pound, and the more this idea is adopted the stronger the barrier to further declines becomes.
"Whatever the situation, the GBP's strong reaction on Monday seems excessive. Indeed, against some currencies it may be a good time to consider fading the most recent moves," argues Richard Falkenhall at SEB Bank.
SEB argue that even if the UK were to exit the European Union the country would remain a member until a new arrangement for the transition as well as the long-term relationship is negotiated.
SEB's top trade for 2016 was a short on GBP/USD and they will look to exit the trade sub-1.40, but importantly, they are not looking to add to the position in order to chase sterling lower.
Featured Content
Mortgage Direct - a Spanish mortgage broker specialising in the provision of mortgages for expats - have confirmed they have secured their Spanish license.