Pound-to-Dollar in Strong Rebound as U.S. Yields Subside + Trump Expresses Concern Over Fed Policy
Image © The White House
The Pound is trading at an October high against the Dollar after U.S. Treasury yields retreated from recent peaks and President Donald Trump renewed criticism of the Federal Reserve and its interes rate policy.
A swing in fortunes for the Dollar allowed GBP/USD to recover from weekly lows at 1.3029 to record a best at 1.31834.
President Trump told reporters on the White House South Lawn the Federal Reserve is raising interest rates too fast before saying he is not happy with the policy approach but would nonetheless, not put direct pressure on the central bank to change course, according to a Politico report.
"The DXY is struggling to get a foothold above range highs at 96.00/15 and was undermined overnight as UST yields backed off from their highs and US President Trump reiterating that 'I think we don't have to go as fast on rates', that he 'doesn't like what the Fed is doing' and he doesn't like oil being at USD74/bbl," says Sue Trinh, head of Asia FX strategy at RBC Capital Markets. "FX had a broad risk-on tone to it, tinged with USD weakness."
The statement echoed similar remarks made in both July and August that previously took the Dollar away from multi-month highs, although some economists have dismissed the intervention as one aimed at abdicating responsibility for any eventual economic slowdown that either results directly from Fed policy or simply can be blamed on Fed policy.
The Fed has raised interest rates eight times since the end of 2015, including twice in 2018, taking the Fed Funds rate range to between 2% and 2.25%.
Economists expect it will raise rates so the top end of that range hits 3.25% around the end of 2019.
Dollar moves are presently highly dependent on the evolution of the yield on U.S. sovereign debt. The sharp rise in U.S. treasury yields last week led to falling risk appetite and a stronger Dollar as rising yields push up the cost of borrowing in the U.S. and globally.
But, as U.S. trade resumed after a long-weekend Tuesday, U.S. yields corrected lower, taking the Dollar lower.
Advertisement




Lock in Sterling's gains. Get up to 5% more foreign exchange by using a specialist provider to get closer to the real market rate and avoid the gaping spreads charged by your bank when providing currency. Learn more

here
Dollar to Remain Bid
"The best hope for at least a correction in the Dollar is probably the US mid-term elections, where a loss of the House would curtail most hopes for fresh fiscal stimulus. For the time being, however, we see the dollar staying bid on dips and those emerging market currencies with large twin deficits staying on the back foot," says Chris Turner, head of FX strategy at ING Group.
Turner says the U.S. Dollar will trade with an upside bias, suggesting scope for downside in the Pound-to-Dollar rate, until the market has a clearer view of exactly when the Federal Reserve will stop raising its interest rate and Washington softens its stance against China as far as international trade is concerned.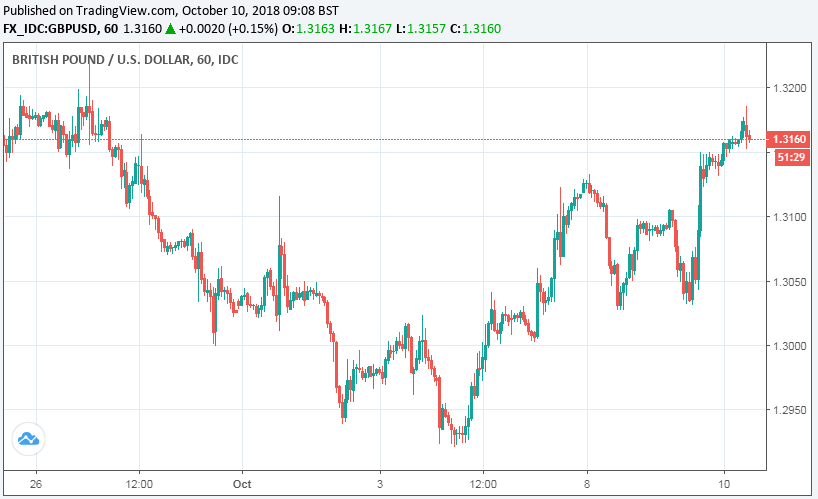 Above: Pound-to-Dollar rate shown at hourly intervals.
The Pound-to-Dollar rate was quoted 0.08% higher at 1.3167, an October high, during early trading Wednesday after rising more than 100 points since late noon Tuesday.
According to consensus forecasts of the world's top 50 investment banks and institutions, the GBP/USD exchange rate is well above where it is expected to be by year-end. Further details of where the likes of Morgan Stanley, Goldman Sachs and HSBC see Sterling going over coming months can be downloaded here.
The Euro-to-Dollar rate was down 0.15% at 1.1488 due to domestic political concerns while the Dollar index was 0.05% lower at 95.62.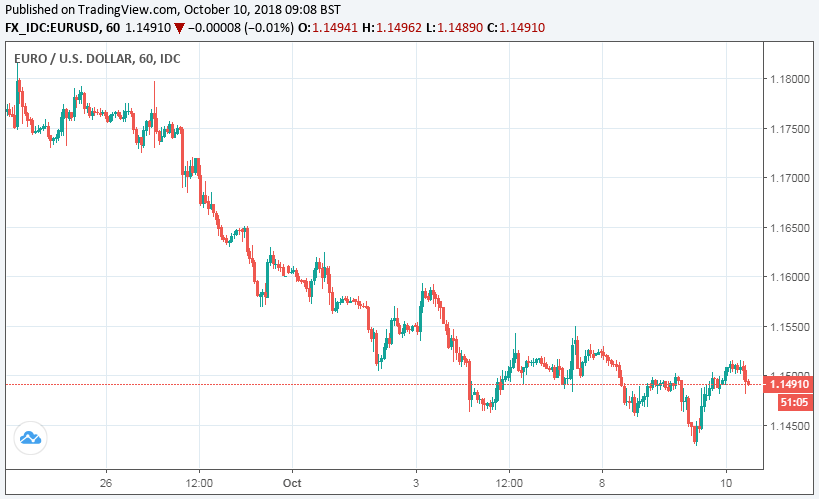 Above: Euro-to-Dollar rate shown at hourly intervals.
Support for Sterling
Price action comes ahead of August GDP data from the U.K. and as markets grow ever more hopeful that negotiators from both sides of the English Channel will soon agree terms of the U.K.'s departure from the European Union.
Disagreement over how to manage the Northern Irish border in the event a trade deal is not agreed at a later date has been standing in the way of a deal after Brussels rejected Prime Minister Theresa May's "Chequers plan" at a summit in the Austrian city of Salzburg in September.
But Tuesday saw Brexit Secretary Dominic Raab hint to parliament that fresh concessions from PM May have moved the talks along. Markets are looking to see a deal announced ahead of the next European Council summit, which runs for two days from October 17.
If an agreement is not reached in time for the council to approve it this month then the odds of a so called no deal Brexit will have risen, because the eventual deal must be approved by the council and ratified in all parliaments across the EU before the U.K.'s March 29, 2019 exit date.
"Prime Minister Theresa May then wants to push the deal through Parliament in December," says Antje Praefcke, an analyst at Commerzbank. "The result of a vote in the UK Parliament is difficult to predict as allegedly several dozen Labour MPs would vote for a deal along the lines of May's Chequers plan after all so as to avoid a no-deal exit, whereas a similar number of May's colleagues would vote against it."
Advertisement




Get up to 5% more foreign exchange by using a specialist provider to get closer to the real market rate and avoid the gaping spreads charged by your bank when providing currency. Learn more

here