Fillip for the Pound: Sterling Ticks into the Green as Hammond's Spring Statement Hints Austerity's Days are Limited
Spot market rates at time of latest update:
Pound-to-Euro exchange rate: 1 GBP = 1.1270 EUR
Pound-to-Dollar exchange rate: 1 GBP = 1.3969 USD
Pound-to-Australian Dollar exchange rate: 1 GBP = 1.7742 AUD
© Foreign & Commonwealth Office, reproduced under CC licensing
The British Pound caught a bid on an upbeat Spring Statement from the UK's Chancellor, while news that Donald Trump fired Rex Tillerson hit the Dollar.
Pound Sterling moved into gains against the majority of the world's most heavily traded currencies after the UK's finance minister confirmed to markets that he believes he will soon "have capacity to enable further increases in public spending in the years ahead" should economic data continue improving.
This is a clear hint that the day's of austerity - triggered in response to the financial crisis and ensuing recession of 2008 - are limited.
Phillip Hammond confirmed the Office for Budget Responsibility have upgraded their forecast for GDP growth to read at 1.5% in 2018, up from November's forecast for growth of 1.4%.
Growth forecasts are unchanged at 1.3% in 2019 and 2020, before picking up to 1.4% in in 2021 and 1.5% in 2022.
The Pound-to-Euro exchange rate rose to 1.1283, having been as low as 1.1250 earlier in the day. The Pound-to-Dollar exchange rate rose to 1.3952 having been as low as 1.3875. "If market expectations of an improvement in UK fiscal projections is validated, GBP/USD could find some upside potential towards 1.40," says Chiara Silvestre, an analyst with UniCredit Bank.
Above: Sterling found a boost against the Euro, in line with analyst expectations ahead of the event.
"The favourable fiscal developments give Chancellor Hammond more fiscal room for manoeuvre but no new policy announcements on tax and spending are expected today. As a result, the developments are likely to prove only marginally supportive for the Pound," says Lee Hardman, a currency analyst with MUFG.
Of note was a sharp upgrade to productivity, the OBR "explicitly stated in today's report that the OBR's biggest surprise in the economic data released since November was that productivity growth (output per hour) had been much stronger than expected," says Philip Shaw, an economist with Investec.
Expectations for increased productivity is something which could be particulalry beneficial to the Pound in the longer run as higher productivity tends to be a prerequisite to higher wages. Higher wages in turn put pressure on the Bank of England to raise interest rates to keep inflation in check, and a side-effect of higher interest rates is a higher Pound.
If we look at the chart below, we can indeed see expectations for average earnings have been upgraded.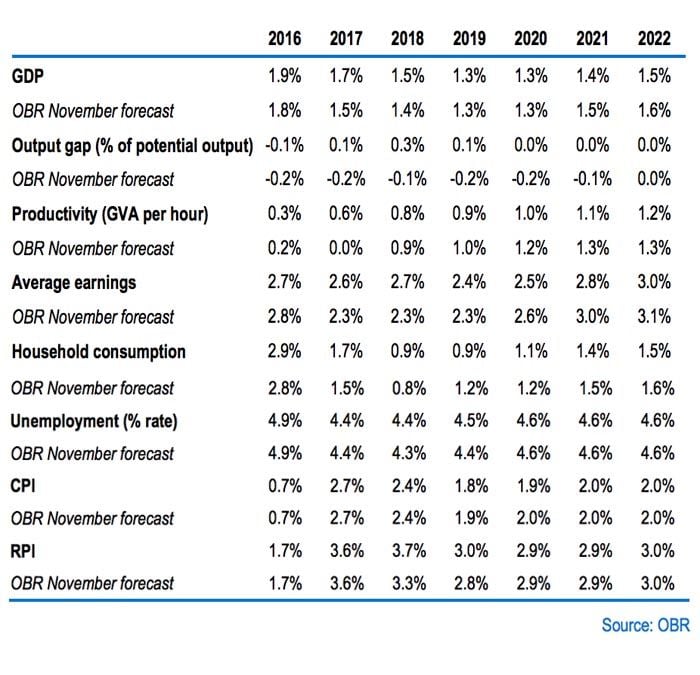 Image courtesy of Investec
Borrowing is meanwhile forecast to be £45.2 billion this year – that's £4.7 billion lower than forecast last November. The OBR adds debt and borrowing revised down every year, 4.7bn lower than November's forecasts.
The Chancellor confirms in 2018-2019 day to day spending will be in surplus - debt will peak at 85.6% of GDP this year, before falling to 77.9% in 2022-23.
This is the first sustained fall in debt for 17 years and represents the "light at the end of the tunnel," says Hammond.
"Downward revision to the public borrowing forecast is smaller than most analysts thought. OBR is assuming a big deterioration in borrowing trend in February and March. As a result, fiscal headroom is still modest - scope to increase spending later on could vanish if economy only slightly underperforms," says Samuel Tombs at Pantheon Economics.
Nevertheless, markets have taken the event to be a net positive as the UK now finds itself in a sustainable fiscal position with a clear political message from Hammond that future expenditure will grow. This should act as a stimulus to economic growth when it does arise, and underpin expectations for higher interest rates at the Bank of England which in turn supports Sterling.
"GBP may have a strong week," says Hans Redeker, a foreign exchange strategist with Morgan Stanley. "GBP should find support with rising prospects that Britain may soon start to see the beginning of the end of austerity, as the Chancellor of the Exchequer prepares to announce the smallest deficit in a decade during his Spring Statement on Tuesday."
Tillerson News Shakes the Dollar
As the Chancellor was speaking news broke that Donald Trump had fired his Secretary of State Rex Tillerson which took markets by surprise and the Dollar fell on the news.
Tillerson was seen as being representative of traditional US foreign policy and therefore a stabilising influence against Trump's more bombastic approach to matters of international importance.
For instance, Tillerson maintained the existing nuclear deal with Iran should remain, while Trump has often described it as a bad deal. On North Korea, Tillerson favoured dialogue, Trump saw this approach as a waste of time.
Ironically, pundits now say that Trump is looking to enter the much-hyped talks scheduled to take place with North Korea with a new team in place.
Above: Sterling jumps against the Dollar during the Spring Statement which coincided with news of the firing of Rex Tillerson by Donald Trump
This confirms political instability is a concern for markets, hence the fall in the Dollar.
"Rex Tillerson leaving as US Secretary of State confirms that Trump's protectionist 'America First' agenda is no political show - risks that we'll get more trade & defense policies soon, while Cabinet turnover vindicates the US dollar commanding a "White House chaos premium" USD," says Viraj Patel, a foreign exchange analyst with ING Bank.
Advertisement


Get up to 5% more foreign exchange by using a specialist provider to get closer to the real market rate and avoid the gaping spreads charged by your bank when providing currency. Learn more here.