Rally in EUR/USD to End Soon: Goldman Sachs

Analysts at Goldman Sachs say the EUR/USD is about to complete a period of consolidation and their technical studies suggest a resumption of the longer-term downtrend.
At the time of writing the EUR/USD is at 1.1290, just below the 1.13 threshold.
We remain in familiar territory for a pair that tends not to advance above 1.1650 to the topside and 1.0560 to the bottom.
But, those traders looking for excitement should consider the latest research from Goldman Sachs.
Goldman note the pair has formed a triangle-like consolidation pattern since the March 2015 low was triggered.
According to strategists at Goldman Sachs, the pattern is now getting closer to looking like a complete ABCDE.
"Once complete, the market should in theory resume its underlying trend, i.e. commence wave V," say Goldman Sachs in a client note, provided to this author by the eFXNews agency.
Accordingly, we could see the pair breaking through the base of the triangle at 1.0588 and test the March 2015 low at 1.0458 once more.
Strategists believe EUR/USD could even break significantly lower.
However, the forecast does come with caveats:
1) the market must hold below triangle resistance which is currently at 1.1576 and
2) wave E must end somewhere beneath the top of wave C which is up at 1.1616.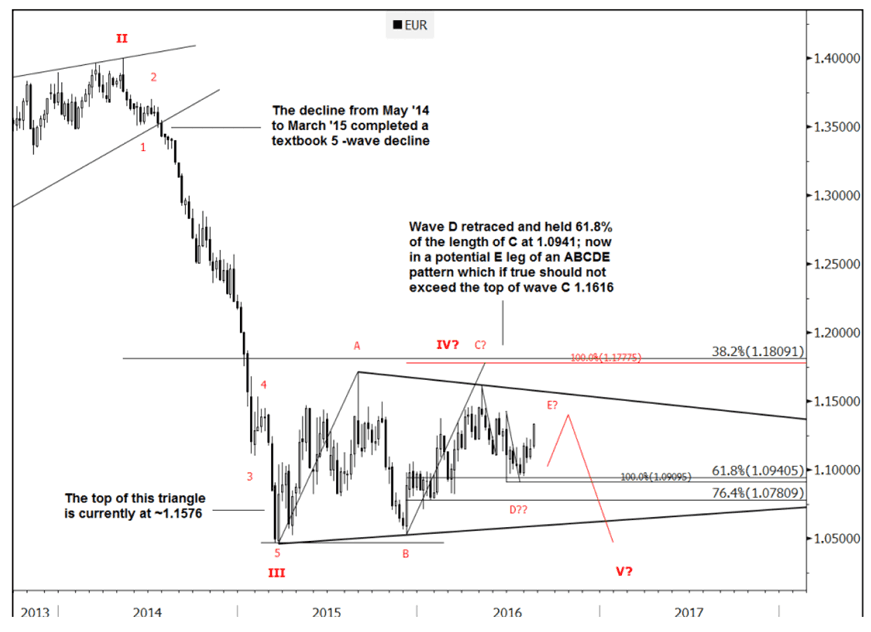 "In other words, any break beyond 1.1576-1.1616 will seriously call into question the nature of this setup," say Goldman Sachs, "doing so would imply potential to have already put in a meaningful base."
Goldman Sachs are cautious on EUR/USD above 1.1398-1.1427 (highs from June).
"Any move past 1.1576-1.1616 warns that a more meaningful low could already be in place."
Handelsbanken: Time to go Short
Others are in agreement with the stance that the Euro cannot keep rising.
Analyst at Handelsbanken Capital Markets believes now is the time to short EUR/USD, explaining:
"While we expect the Fed to remain very cautious, we do not believe it is done hiking just yet. Instead, we see a window of opportunity for a second rate hike in December, as the economy rebounds from a soft patch.
"Moreover, we expect the US perspective to be more of a driver than European developments. A gradual increased focus on interest rate policy from the Fed should strengthen should give the USD a boost."
Morgan Stanley: Don't Chase the Dollar Higher
Meanwhile, Wall Street rivals of Goldman Sachs, Morgan Stanley, suggest betting on a stronger Euro would be wrong at this juncture.
Their USD weakness warning rests on two pillars argue Morgan Stanley:
First, the carry trade pushing funds into higher-yielding environments.
Second, real yield differentials working in favour of the EUR and the JPY, which could even push EURUSD to 1.18.
"The threat of further interest rate cuts - Negative Interest Rates (NIR) - in the Eurozone may lose its market impact as investors take a lesson from Japan.
"Here, NIR undermined bank balance sheets, weakening the money-multiplier."
With regards to the Fed interest rate cut debate, Morgan Stanley note the Fed's Fischer suggestion the Fed is close to its targets has added to the range of views expressed on the FOMC in recent weeks, and so the markets will be looking for clarity from Yellen on Friday in a speech titled "The Federal Reserve's Monetary Policy Toolkit".
"Market discussion this year has moved away from using monetary policy to stimulate the economy and put more emphasis onto fiscal policy," note Morgan Stanley. "Fischer spoke on this topic too, suggesting that a major issue in the US economy was about low productivity growth, which could be supported by fiscal and regulatory policies."
While fiscal policy is likely to continue to be part of the academic debate, Morgan Stnaley argue the central bank commentary this week is more likely to go in the direction of what else can central banks do in response to renewed recessionary pressures.
"Academic reports from the Fed over recent days could give investors guidance on the debates expected at the conference. Dovish communication from Yellen on Friday, similar to that expressed in the FOMC minutes, should keep USD generally weak," say Morgan Stanley.
Morgan Stanley don't advise that investors should be entering long USD positions at the moment as the weakness in US economic data isn't pointing towards the Fed being in a position to hike rates this year or even next.