EUR/USD Triangle Pattern Poised to Break Lower says BofAML
- EUR/USD days of going sideways could soon be over

- The pair has probably almost completed a triangle pattern - potential for volatility on horizon

- A break below 1.1589 could see pair descend to 1.13s
The EUR/USD pair has formed a triangle pattern after meandering sideways for most of the last month; a development that could actually forewarn steep volatility on the horizon when a break out finally materialises.
According to technical analysis at Bank of America Merrill Lynch (BofAML) the triangle on EUR/USD is now really close to breaking out.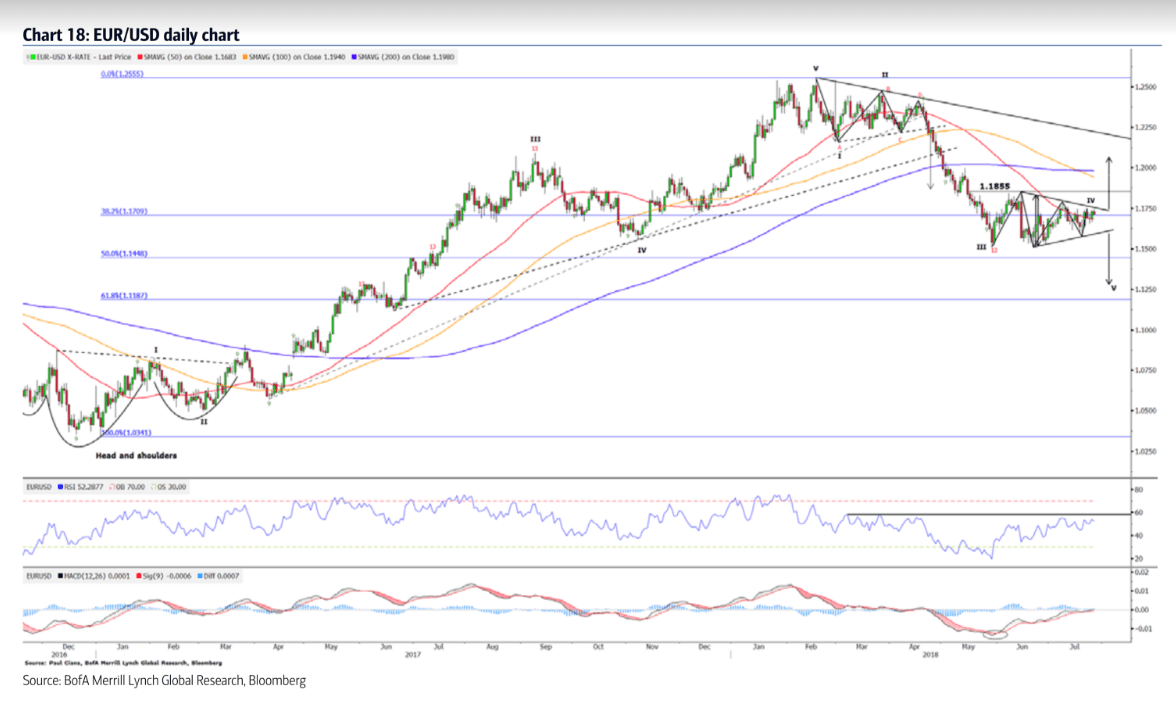 "Triangle nearing an end – watch 1.1750," says Paul Ciana, a technical analyst at BofAML, "EUR/USD price action is trading tighter and tighter between two converging trend lines, commonly referred to as a triangle pattern," he adds.
Triangles can theoretically breakout in either direction unless they are of the right-angled variety, which means they can only break in the direction of the flat side - but that is not the case with this one.
"Disciplined technical traders look to follow the breakout by either buying above 1.1750 or selling below 1.16/1.1575," continues Ciana.
The look and feel of the five component waves suggests an greater probability of a downside, rather than an upside eventual breakout.
If the pattern resolves lower it should target the 1.12s, "especially while still below the 1.1855," says Ciana.
Recently we reported on analysis from broker Liteforex's Alex Geuta, an Elliot wave analyst, who also saw the pair consolidating in a wave (iv) triangle pattern, within a larger 5-wave structure down which began at the December 2017 highs.
The key line in the sand for Geuta was the 1.1589 level, which if broken would signal the next wave of selling (wave (v)) with a downside target of between 1.1320 and 1.1439.
Elliot waves are cycles of buying and selling, of rising and falling prices, which are composed of 5 smaller waves numbered 1-5, or labeled using Roman numerals, as in I, II, III, IV, and V.
Waves 1,3 and 5 move in the direction of the dominant trend whilst 2 and 4 represent corrections. Wave 3 is almost always the longest and the strongest wave.
After a 5-wave pattern has finished the market corrects back in a shallower counter-trend move labeled A,B, and C.
Elliot wave analysts try to establish the point at which the current market is in the greater wave pattern, which enables them to predict what will happen next.
Advertisement




Get up to 5% more foreign exchange by using a specialist provider to get closer to the real market rate and avoid the gaping spreads charged by your bank when providing currency. Learn more

here