Euro-to-Dollar Rate Outlook: Inflation is Going Nowhere but Labour Market Offers Hope to the ECB
© European Central Bank, reproduced under CC licensing
- EUR rises in final session of week despite another CPI disappointment.
- Gains follow surprise unemployment fall, ahead of March ECB meeting.
- ECB to cut forecasts and guidance, but this may already be priced-in.
The Euro bit its thumb at Eurostat estimates of Eurozone inflation in February this Friday, rising against the Dollar after official data showed core consumer prices retreating again last month.
A surprise downward revision to the rate of Eurozone unemployment in January and February could explain the Euro's positive reaction to the data, as the inflation figures certainly weren't what the market would have liked to see.
Eurozone inflation was 1.5% in February, up from 1.4% previously, but still a long way off the European Central Bank (ECB) target of "close to but below 2%". And the increase was largely the result of fluctuations in energy prices.
Core inflation, which removes volatile energy items from the goods basket in order to provide a better reflection of domestically-generated price pressures, fell 10 basis points to 1% when consensus looked for a reading of 1.1%.
"This core print will increase the speculation of a further dovish tilt by the ECB next. The consensus is building towards both a change in forward guidance—pushing the timing of rate hikes out to the first half of 2020, at least—and the announcement of new TLTROs. We think this is a bridge too far, but the stage is certainly set for a dovish session next week," says Claus Vistesen, chief Eurozone economist at Pantheon Macroeconomics.
Friday's core inflation figure paints a picture that is by-now very familiar for ECB policymakers. Core inflation has risen by only 0.4% since the ECB cut its deposit rate into negative territory and began quantitative easing back in 2015.
Core inflation has not been any higher than 1.2% since the ECB began the record-setting stimulus programme that was intended to lift consumer price growth back to its target level by encouraging an economic recovery through the artificial compression of market interest rates like bond yields.
The ECB said in September 208 that it would ended its quantitative easing programme in December, after declaring victory in its years-long fight against below-target inflation. That victory declaration has since begun to look premature.
Europe's economy decelerated rapidly in recent months and inflation pressures are now ebbing again. This has left markets looking to the ECB for fresh round of stimulus, altough mainly in the form of cheap loans for the banking sector rather than quantitative easing.
"This decline in core inflation knocks on the head any hopes that the previous increase, from 0.9% in December to 1.1% in January, was the start of an upward trend. Accordingly, there is nothing in the data to justify ECB policy-makers' view that underlying inflation will converge towards its near-2% target. With the economy slowing, we expect core inflation to remain closer to 1%," says Andrew Kenningham, chief Europe economist at Capital Economics.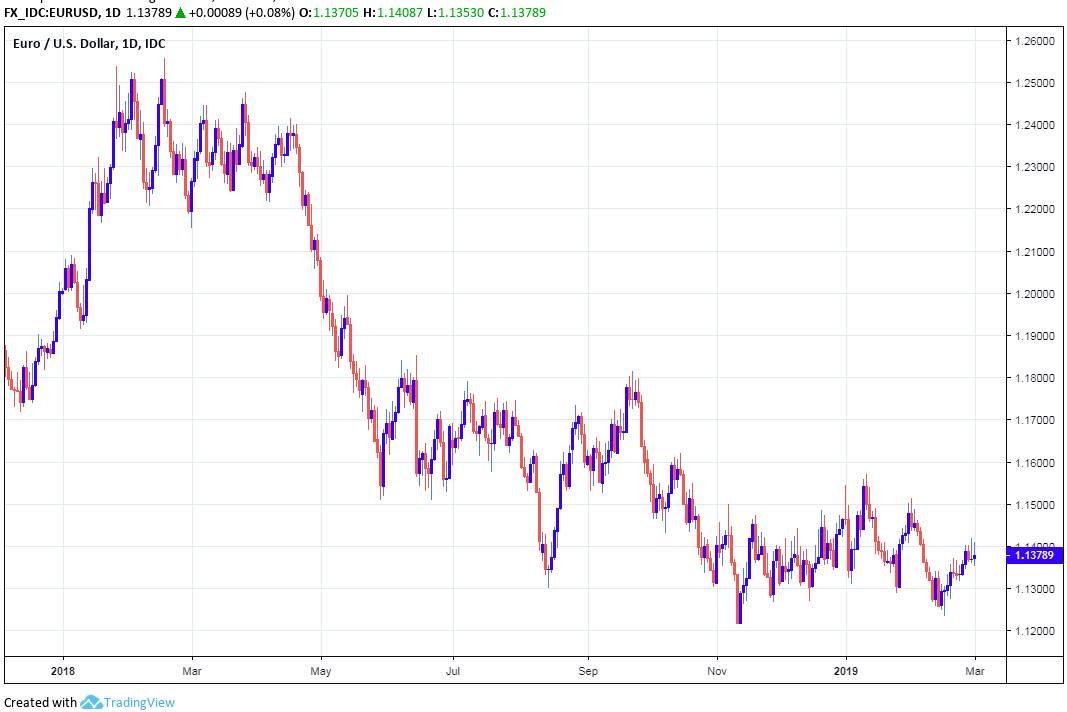 Above: Euro-to-Dollar rate shown at daily intervals.
The Euro-to-Dollar rate was quoted 0.22% higher at 1.1386 during the noon session Friday after rising from 1.1348 ahead of the inflation figures' release. The Euro-to-Pound rate was 0.30% higher at 0.8601. Both exchange rates are lower for 2019 though, by -0.74% and -4.34% respectively.
"The ECB is expected to revise lower its Eurozone GDP growth profile and possibility push out its forward interest rate guidance. The likelihood the ECB introduces new targeted long‑term refinancing operation (TLTRO) cannot be ruled out either. This can further undermine EUR," warns Elias Haddad, a currency strategist at Commonwealth Bank of Australia.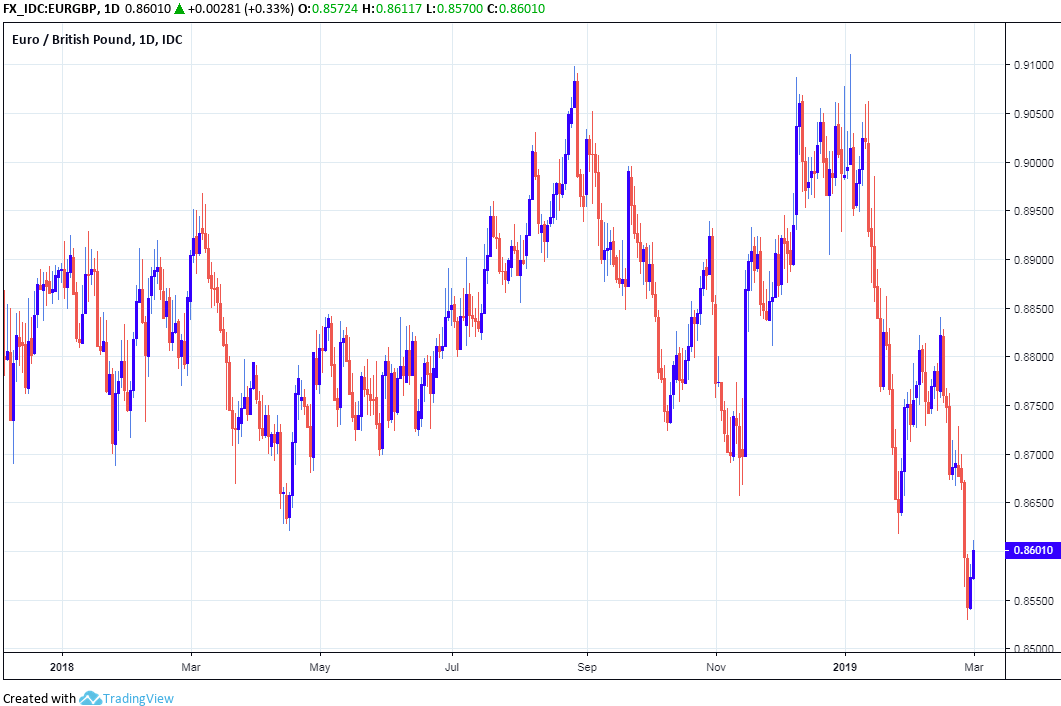 Above: Euro-to-Pound rate shown at daily intervals.
Separately, the Eurozone unemployment rate came in at 7.8%, which is unchanged from its January level but only because the earlier estimate of 8% for the New Year was revised donward on Friday.
This suggests that, despite all of international headwinds that have buffeted the Eurozone during recent months, the domestic side of the economy is still holding up relatively well and so it has continued to create jobs.
That keeps alive the hope among Euro bulls that Eurozone workers will one day see their wages rise at a more pronounced pace, which is good news for the ECB and Euro because faster wage growth can lead to greater economic demand and higher inflation.
"The positive headlines suggest that GDP growth remains strong enough to drive a continued improvement, despite easing recently. That said, the pace of decline in joblessness will slow this year as a lagged response to weaker GDP growth, but it won't stall. Across the major economies, unemployment fell a touch in Germany and France, to 3.2% and 8.8% respectively, while it dipped by 0.2pp in Spain, to 14.1%. In Italy, however, it rose slightly to 10.5%," says Pantheon's Vistesen.
Friday's data comes days ahead of the March European Central Bank interest rate decision and press conference. This will see the bank publish new economic forecasts, alongside any updates to its interest rate guidance.
There is a solidifying consensus that's looking for the ECB to officially acknowledge to markets that it will not be able to raise its interest rates in 2019, given Eurozone GDP growth halved to 0.2% in the third and final quarters of 2019, and looks to have slowed again in the New Year.
The bank's current guidance is that it could hike "once through the summer of 2019". But markets have increasingly come to doubt that a rate rise will come much before the final quarter of 2020.
This could explain the Euro's positive reaction Friday's, because in summary, the only new piece of information contained in the various releases was that Eurozone unemployment has fallen further than investors previously thought.
"We expect sharp downward revisions to growth and inflation prospects, risks still tilted to the downside, but no new TLTROs and no formal changes to forward guidance," says James Rossiter, a strategist at TD Securities. "With EURUSD anchored around 1.14, we think we would need a large (dovish) surprise to break recent ranges."
Time to move your money? Get 3-5% more currency than your bank would offer by using the services of foreign exchange specialists at RationalFX. A specialist broker can deliver you an exchange rate closer to the real market rate, thereby saving you substantial quantities of currency. Find out more here.

* Advertisement