Banks Getting Stricter on Unsecured Lending Shows Latest Bank of England Credit Conditions Survey
Banks are becoming more discerning on consumer credit after rise in default rates.
Mortgage supply and demand is stable while costs have come down.
Credit demand from businesses has dipped after an unexplained rise in loan costs.
Default rates on credit cards and other types of unsecured loan rose during the third quarter, according to a Bank of England latest Quarterly Credit Conditions Survey.
In response, commercial banks told the Bank of England the availability of unsecured credit would likely fall further than was previously expected in the fourth quarter.
Recent changes to bank capital requirements enacted by the Bank of England for different types of consumer loans had already been expected to slow the pace of lending to households during the months ahead.
But a rise in default rates over the third quarter looks as if it might accelerate the pace at which banks cut back lending to consumers.
"Lenders reported that the availability of unsecured credit to households decreased in Q3 and expected a significant decrease in Q4," reports the Bank of England, in a report covering the findings of the survey, released October 12.
Credit scoring criteria for credit card lending and other types of secured loan already tightened in the third quarter, leading to a sharp fall in the number of applications that were approved.
"Default rates on credit card lending were reported to have increased slightly in Q3, while those on other unsecured lending increased significantly," the bank says.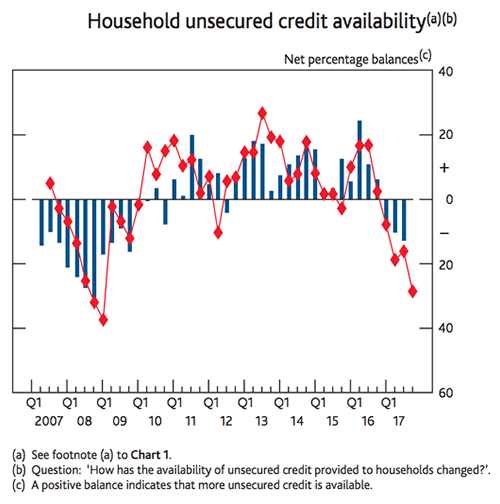 Banks and building societies told the BoE that they expect a further, but only slight, increase in credit card defaults during the fourth quarter.
"Demand for both credit card and other unsecured lending products was reported to be unchanged in Q3, and was expected to be unchanged again in Q4," says
A tighter outlook for consumer credit comes just weeks away from the Bank of England's November interest rate announcement.
Rate setters are widely expected to raise the base rate to 0.50%, marking a withdrawal of the emergency stimulus injected into the economy following the June 2016 vote for Brexit.
Mortgage Lending Holds Steady, Outlook Stable
Mortgage lending held steady during the third quarter while supply of, and demand for, mortgage credit is seen remaining broadly stable over the course of the fourth quarter.
"The availability of secured credit to households was reported to have increased slightly in the three months to mid-September 2017," the BoE says. "This was focused on borrowers with low loan to value ratios (75% or less) and was driven by lenders' market share objectives."
Overall demand for secured mortgage credit inched lower by a fraction during the three months to the end of September but banks and building societies reported to the BoE that they expect it to hold steady over the fourth quarter.
Demand For Business Credit Dips As Loan Prices Rise
Credit availability for businesses remained stable during the third quarter although demand dipped a touch from its earlier level.
Businesses of all sizes curtailed their appetite for credit during the period although it is unclear whether this is a symptom of a deteriorating outlook for returns, linked to the economy, or if it is the result of unfavourable dynamics in loan pricing.
Lending costs rose for businesses during the third quarter while mortgage loan pricing came down, a function of banks competing fiercely for market share, while the price of unsecured credit to consumers held steady despite an increase in default rates.
"Spreads on lending to businesses of all sizes widened in Q3," says the Bank of England. "They were expected to widen further on lending to small and large businesses in Q4."
The term spreads refers to the difference between the Bank of England base rate and the interest rate charged to customers.
At a time when the base rate has held stable, spreads can only widen if the interest rates charged to customers increases.
Business lending was the only category in the survey to see a widening of "spreads" during the period.