Canadian Dollar Forecast
Canadian Dollar forecasts against Pound, Euro, Dollar, Australian Dollar, New Zealand Dollar and other G10 majors. Predictions come from market pricing sources, investment banks and technical analysts.
Market Implied Expectations for GBP/CAD:

Market Implied Expectations for USD/CAD:

Click Here for the US Dollar to Canadian Dollar Forecast page.
Market Implied Expectations for EUR/CAD:

Institutional Forecasts: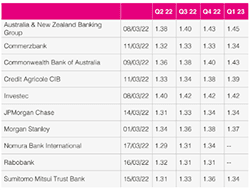 Corpay maintains a PDF forecast report showing major investment bank forecasts. The report includes the average forecast of all banks surveyed by Bloomberg as well as the highest and lowest forecast points over numerous timelines. Request your report:
GBP/EUR, GBP/USD, EUR/USD, GBP/AUD, GBP/NZD, GBP/CAD.
Latest Canadian Dollar Forecast News on Pound Sterling Live: