Pound-to-Canadian Dollar Rate 5 Day Forecast: Turning Increasingly Bullish
Image © Adobe Stock
- GBP/CAD has recovered on NAFTA risks and Brexit progress

- The pair may be reversing the down-trend on a short-term basis

- Main release for the Pound is sector PMI data and for CAD it is the meeting of the Bank of Canada
The Pound-to-Canadian Dollar exchange rate is trading at 1.6894 on the interbank market at the time of writing up over a cent from the 1.6730 close of the week before.
The Pound has rebounded versus the Canadian Dollar on increased progress in Brexit talks while the Loonie lost ground after a failure to secure a NAFTA deal led to fears of increased tariffs between the US and Canada strangling trade.
From a technical perspective the pair appears to be poised to reverse its medium-term downtrend after forming a double bottom bullish reversal pattern at the base of its falling channel.
The exchange rate subsequently rallied to highs of 1.6987 before pulling back down to 1.6894 on Friday.
The pair will probably continue rallying if the exchange rate can provide more confirmation of the uptrend by breaking above the 1.6987 week's highs.
Such a break would only be expected to lead to a constrained move up, however, to a target at 1.7075 where the 50-day MA is situated.
Major moving averages tend to act as dynamic support and resistance levels where a trending exchange rate often stalls, pulls-back or reverses, so this makes it the ideal place to for the next target.
The constructive RSI momentum in the lower pane which is showing strong momentum on the recent move higher supports the possibility of an extension higher.
The bullish potential for the pair is less obvious on the 4-hr chart. The pair has formed peaks and troughs higher, but not two clear higher highs and higher lows as would be required for stronger confirmation of a short-term trend reversal higher.
After the most recent pull-back, however, a break above the 1.6987 highs would indicate peak and trough progression had rotated higher with two higher highs and lows, indicating the up-trend was now dominant.
The weekly chart shows another reason biasing the pair to continue rising.
The pair has fallen in an ABCD pattern ever since the March highs and this now looks complete as legs A-B and C-D appear to be of similar length.
Once the pattern is complete the market is forecast to start rising in a new move higher, which is possibly underway now.
Advertisement


Get up to 5% more foreign exchange for international payments by using a specialist provider to get closer to the real market rate and avoid the gaping spreads charged by your bank when providing currency. Learn more here
The Canadian Dollar: What to Watch this Week
NAFTA negotiations aside, there are a number of potential drivers of the Canadian Dollar on the calendar.
The main event for the Canadian Dollar in the week ahead is the meeting of the Bank of Canada (BOC) on Wednesday, September 5 at 15.00 B.S.T.
Surprisingly flat economic growth in June has cast a shadow of doubt on the likelihood of the BOC raising interest rates at the September meeting.
"The in-line GDP figures, and flat June, are enough reason for the Bank of Canada to wait until October to hike again, particularly if we don't get a clear and favourable outcome to NAFTA and the tariffs on steel/aluminum are left in place," says Avery Shenfeld, chief economist at Toronto-headquartered CIBC Capital Markets.
The Canadian Dollar is sensitive to GDP data because economic growth results in higher inflation which forces central banks to raise interest rates.
Higher relative interest rates support currencies as the attract greater inflows of foreign capital drawn by the promise of higher returns.
Given the rate hike in July, a rate rise at Wednesday's September meeting would constitute two rate hikes in a row. This is unlikely to happen, however, given the BOC has said it wants to raise rates "gradually" say analysts at the Royal Bank of Canada.
The main hard data release for the Canadian Dollar in the week ahead, meanwhile, is labour market data, which is forecast to show a rise of 5k in August, when it is released on Friday, at 13.30 B.S.T.
The unemployment rate is out at the same time and is expected to rise a basis point to 5.9% and the participation rate to stay at 65.4%.
Canadian labour data has been very good recently, with July showing an unexpected increase of 54.1k and further unexpected gains would probably support the Loonie even though NAFTA risks are probably more pressing at the moment.
These seem to have worsened after talks stalled between Canada and US last week, with Prime Minister Trudeau rejecting the US's demands for Canada to relinquish tariffs on US dairy products.
Trump further riled markets after saying there was "no political necessity" for negotiating a deal with Canada.
The Pound this Week: The Calendar Heats up Again
Beware, politicians return to work from their summer holidays; cue the inevitable bickering on what Brexit should look like.
Therefore headline risks rise again and Sterling might prove sensitive to any notable developments. Of course, politics is impossible to call so we will be watching for the unexpected.
The calendar does however have some economic releases to watch as the new month commences.
The main releases to watch in the week ahead are manufacturing, construction and services Purchasing Manager Indices (PMI) data for August.
PMI's provide relevant, timely, data which often provides a reliable guide to future, broader, economic trends.
Manufacturing PMI is expected to slip from a 3-month low of 54.0 in July down to 53.8 in August when it is released at 9.30 B.S.T on Monday, September 3.
Manufacturing PMI has been in decline recently and further greater-than-expected weakness could weigh on Sterling, but as long as it remains above 50 - the level which differentiates expansion from contraction - it is unlikely to heavily influence the exchange rate.
Image courtesy of tradingeconomics
The construction PMI is less significant than the other two but it is released at the same time on Tuesday and is forecast to fall to 54.9 in August from 55.8 in July.
Services PMI is the most important release of the three as this sector accounts for over 80% of the UK's economy - economists are forecast a rise to 53.8 in August from 53.5 previously, when it is out at 9.30 on Wednesday. It is showing a more resilient if volatile progression.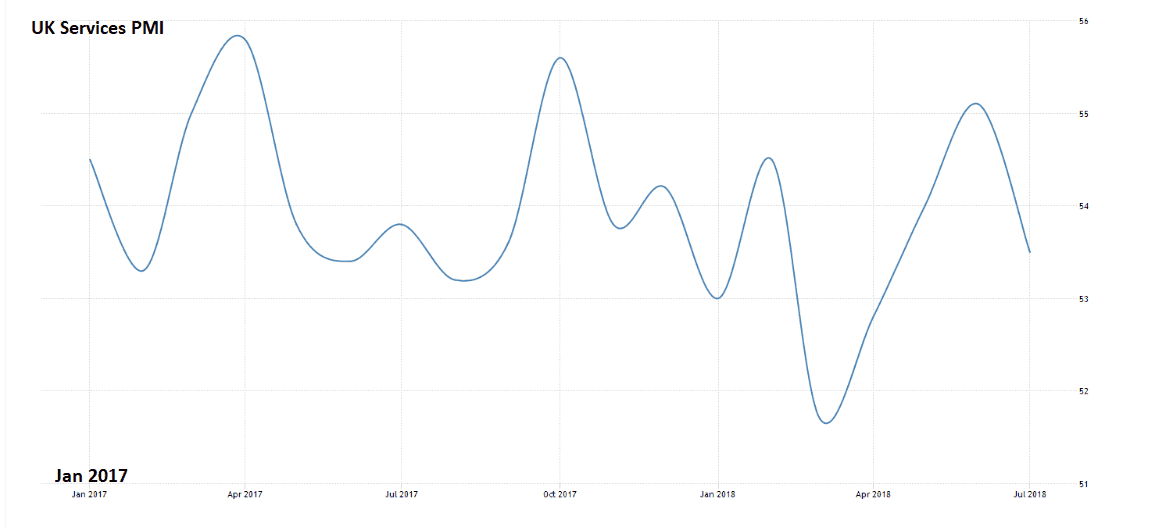 Image courtesy of tradingeconomics.
Another key release for the Pound in the week ahead is the British Retail Consortium (BRC) retail sales monitor, which provides a useful leading indicator for broader high-street sales.
Halifax house price data for August is forecast to show a -0.2% fall compared to July but a 3.9% rise compared to August last year, when it is released on Friday at 8.30.
Although fluctuations in house prices can alert economists to the onset of deeper economic malaise with repercussions for Sterling, they have remained resilient of late and continue to rise overall.

Image courtesy of tradingeconomics.
Advertisement


Get up to 5% more foreign exchange for international payments by using a specialist provider to get closer to the real market rate and avoid the gaping spreads charged by your bank when providing currency. Learn more here