Canadian Job Market Win Keeps Pound-Canadian Dollar Rate On Back Foot into Weekend
Image © Adobe Stock
The Pound-to-Canadian Dollar rate was left flailing on Friday as the Loonie celebrated a better-than-expected July jobs report with gains over other major currencies, while all remained on the back foot against the U.S. Dollar.
Canada's economy either created or recovered 418.5k jobs from the coronavirus in July when markets had looked for an increase of only 395k, although both numbers were far lower than the 952.9k seen in the prior month.
"That still only retraces a little more than half of the 3 million losses over March and April. And the pace of improvement from July on is likely to continue to slow," says Nathan Janzen, an economist at RBC Capital Markets. "Job markets, like the broader economy, will still likely be operating well-below capacity by the end of the year."
Job gains drove a steep fall in the unemployment rate from 12.3% to 10.9%, which should have been made more difficult by an increase in so-called participation that returned to within an inch of its pre-coronavirus levels.
Movements in particpation can drive changes in the unemployment rate as much as job gains themselves because official definitions require an unemployed person to actively look for work in order for them to be counted.
"If those who wanted to work but did not look for a job were included as unemployed in July, the adjusted unemployment rate would be 13.8%, a decline of 2.5 percentage points compared with the adjusted rate in June but still higher than the 7.3% recorded in February," Statistics Canada says.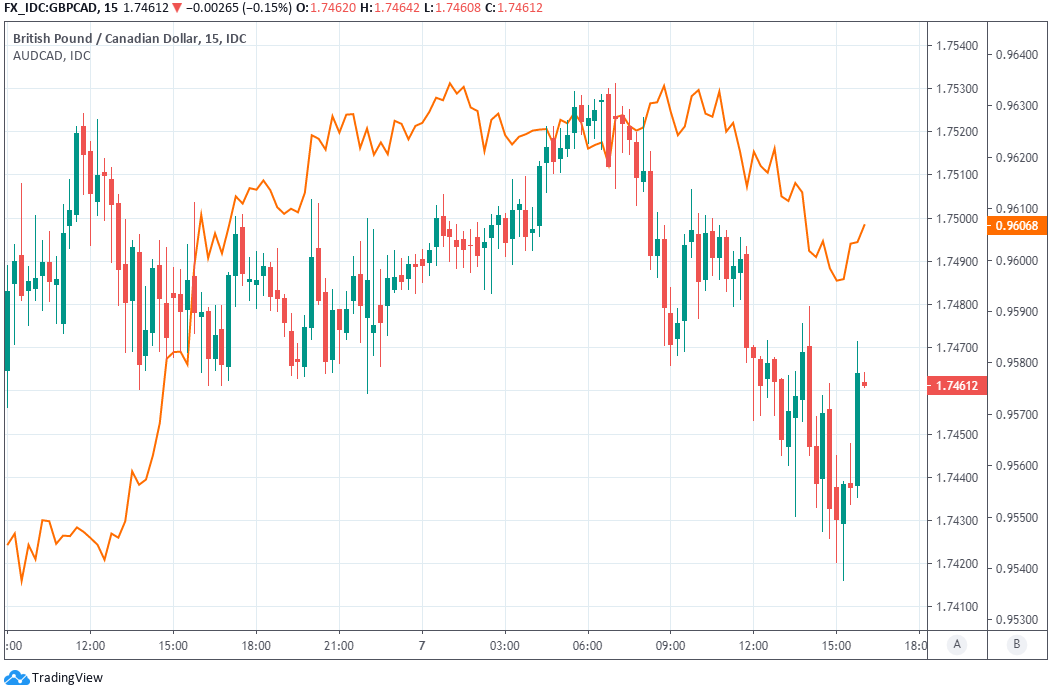 Above: Pound-to-Canadian Dollar rate shown at 15-minute intervals alongside AUD/CAD (orange line, right axis)
Many workers have been idled by government actions in response to the pandemic and subsequently prevented from looking for new employment by the same or similar measures, leading official statistics to understate the true level of unemployment much more so than usual.
The recovery slowed last month despite more provinces having taken greater steps toward reopening but Friday's numbers still beat market expectations and came alongside a similar surprise over in the U.S., with both buttressing the two Dollars' outperformance of other majors.
Both currencies were relative winners Friday even as risk appetite faded and despite a new trade dispute between the U.S. and Canada, which has arisen from a U.S. decision to reimpose levies on imports of Canadian aluminium.
"This is more of a story for provincial spreads (especially Quebec) rather than the CAD as the aluminum industry makes up only 0.25% of the economy. The bulk of jobs in the aluminum sector are located in Quebec," says Bipan Rai, North American head of FX strategy at CIBC Capital Markets.
The U.S. alleges non-compliance with an earlier agreement, leading Canadian officials to take exception with the U.S. assertion that imports from another part of North America are a threat to national security, before threatening retaliation.
President Donald Trump initially complained of long-held differences over dairy trade with Canada on Thursday in remarks made at a Whirlpool Inc manufacturing facitlity that was located in the dairy farming state of Ohio. He later announced in the same address that aluminium tariffs would be reimposed.
A restrained increase in USD/CAD came concurrent with more notable GBP/USD losses that helped keep the Pound-to-Canadian Dollar rate in retreat ahead of the weekend. GBP/CAD rallied nearly 3% last week but failed to extend that move higher on Monday and has since been downward biased.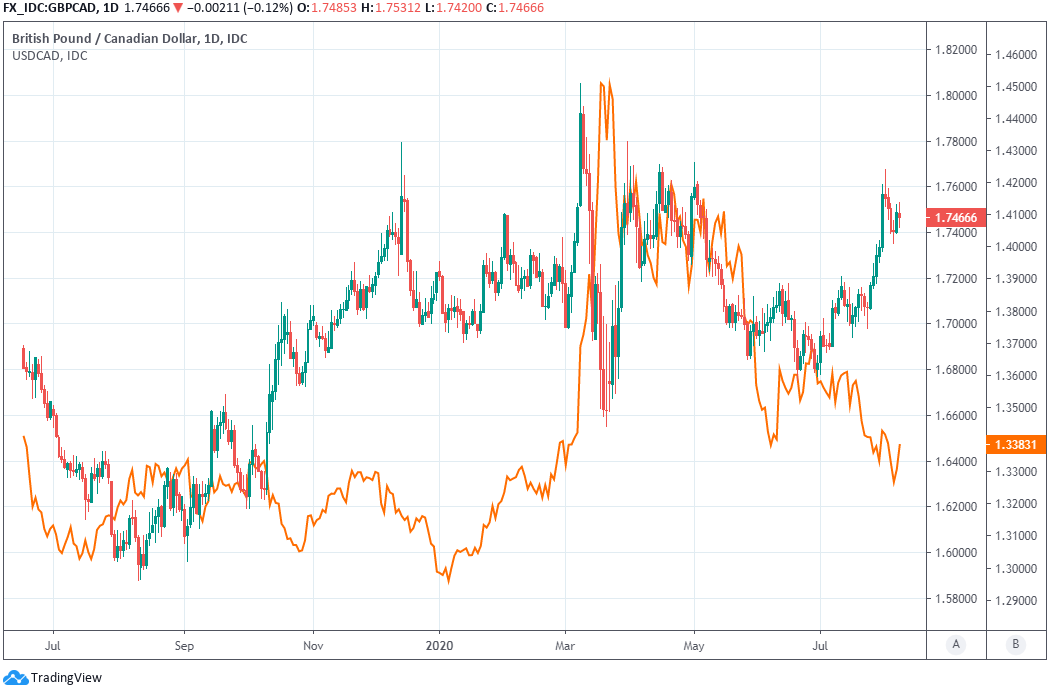 Above: Pound-to-Canadian Dollar rate at daily intervals alongside USD/CAD (orange line, right axis)
"We see good USD resistance intraday at 1.3290/00 and expect the low/mid 1.33 zone to represent stiff resistance to USD gains more broadly. Support is 1.3200/05 but, as we have mentioned previously, there is not much (or anything from a technical perspective) standing in the way of a push back to the mid 1.29s (the low from the turn of the year) now," says Juan Manuel Herrera, a strategist at Scotiabank, before turning to GBP/USD. "The big figure will stand as a firm resistance mark for the pound—after it crossed above Friday's high of 1.3170—but there is little between there and 1.35 aside from the 1.3250 area.
Last week's Pound-to-Canadian Dollar rate rally began just above 1.7150 but took Sterling above 1.7650 and to its highest since early May.
However, the rally resulted as much from a sideways USD/CAD movement within a narrow range as it did a short-lived outperformance by GBP/USD, which are the mechanical components of GBP/CAD.
Sterling did eventually achieve new highs against the U.S. Dollar this week but those were outdone by declines in the previously sidelined USD/CAD, leading the Pound-to-Canadian Dollar rate trading just above the 1.74 handle while carrying around a half a percent loss for the period.
The Pound-to-Canadian Dollar rate would still be found trading around 1.7425 in the event that GBP/USD and USD/CAD both achieved their respective 1.32 levels seen as the next destination by Scotiabank.
However, market mechanics dictate that a USD/CAD move down to 1.2950 would force GBP/CAD as far back as 1.7090 if GBP/USD proves unable to attain 1.35 alongside the Loonie's advance.
The Pound-to-Canadian Dollar would lift to 1.7482 in the event that both Sterling and the Loonie met 1.35 and 1.2950 respectively which, when taken with the other possibilities, indicates that another period of sideways consolidation may be afoot of GBP/CAD.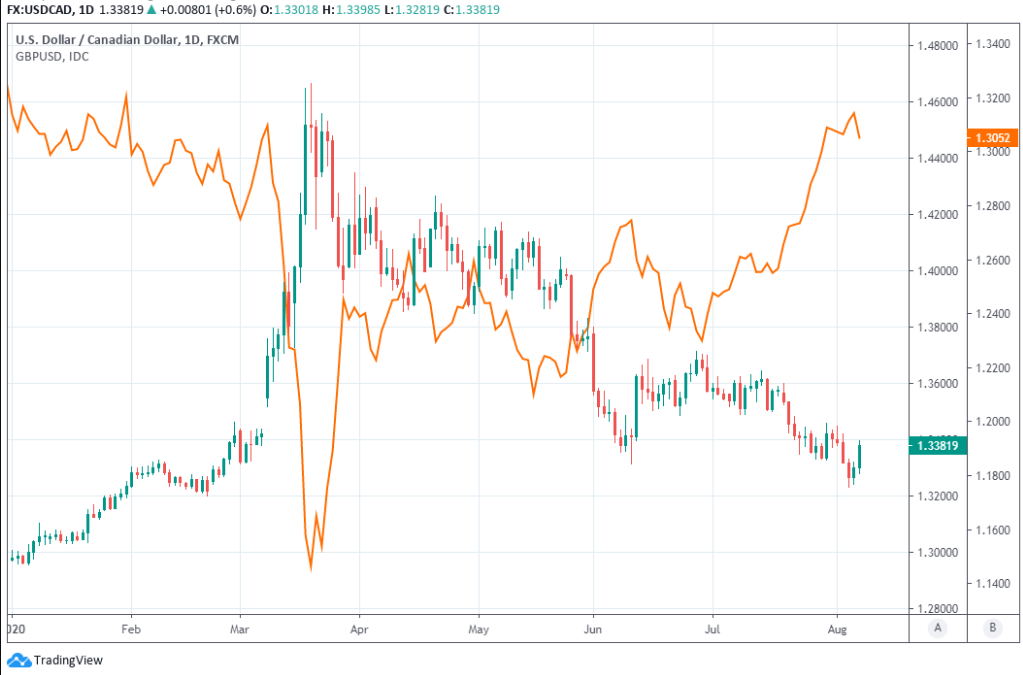 Above: USD/CAD shown at daily intervals alongside GBP/USD (orange line, right axis).
---
Achieve 3-5% More Currency: The Global Reach Best Exchange Rate Guarantee maximises your currency purchasing power. Find out more.
Brexit Helpline: Free one-on-one financial, currency, pension and legal guidance and preparations for 2021.
Find out more

Invest in Spanish Property. A selection of discounted properties due to the covid-19 crisis, online viewings and transactions possible. Download the guide. Download the Guide
Featured Content
Mortgage Direct - a Spanish mortgage broker specialising in the provision of mortgages for expats - have confirmed they have secured their Spanish license.