Canadian Dollar: November Trade Data Points to Soft Month for Economy 
Image © Jess Yu, Adobe Images
- CAD unfazed by sharp widening in trade deficit in November.
- But the deterioration will hurt CAD over coming days says CIBC.
- As wider deficit poses yet another threat to growth for final quarter.
The Canadian Dollar was unfazed Tuesday by official data revealing a sharp increase in the goods trade deficit for November but local economists say the trade numbers might hurt the Loonie over the coming days.
Canada's goods trade deficit widened from -$900 million in October to -$2.1 billion in November, Statistics Canada data showed on Tuesday, as exports fell at a faster pace than the decline in imports for the period.
And it wasn't just a bust in the oil market that exacerbated the trade mismatch during the month. Falling oil prices and transportation problems did mean the energy sector made a substantial contribution to the deterioration, but exports from eight out of a total of 11 sectors also fell during the month.
"Exports fell even outside of the decline in oil prices, a disappointing first sign for November's monthly GDP tracking. While the Canadian dollar had been gaining ground in recent days on the back of rebounding crude prices, the latest trade data should put a bit of a lid on near-term loonie strength," says Royce Mendes, an economist at Toronto-headquartered CIBC Capital Markets.
The value of total exports from Canada fell by -2.9% to $48.3 billion in November, the fourth consecutive decline, although export volumes also decline too. Volumes were down -1.8% for the month.
Meanwhile import values declined by only 0.5% to $50.4 billion, while volumes were just 0.3% lower. Seven out of a total of 11 sectors imported a lesser value or number of goods during November.
The difference between the import and export values, of some -$2.1 billion, is the trade in goods deficit for November. Canada had a $500 million goods trade surplus in August 2018 but this has since been more-than reversed.
"The monthly international trade data is notoriously volatile. The pullback in November oil exports does, though, add to the evidence (which was already pretty strong) that lower activity in the oil & gas sector is going to weigh at least temporarily on Q4/18 GDP growth with another likely drag in Q1/19 when Alberta's government mandated oil production cuts kick in," warns Nathan Janzen, an economist at Toronto-headquartered RBC Capital Markets.
Trade balance data measures the difference in value between a nation's imports and its exports. Currency markets care about it because the data provides insight into supply and demand of a currency in the "real economy", while also giving a steer on the likely pace of GDP growth in a given period.
The size and trajectory of a trade surplus or deficit is important for economic growth because imports are a subtraction in the calculation of GDP, while exports represent a credit to the value of economic output. As a result, rising exports and, or, falling imports can help boost an economy.
For exchange rates a narrowing deficit suggests either that exports and their associated demand for a currency are rising, or that imports and their associated supply of a currency are falling. Both are typically good for a currency while a steadily narrowing trade surplus, or a widening deficit, is a negative influence.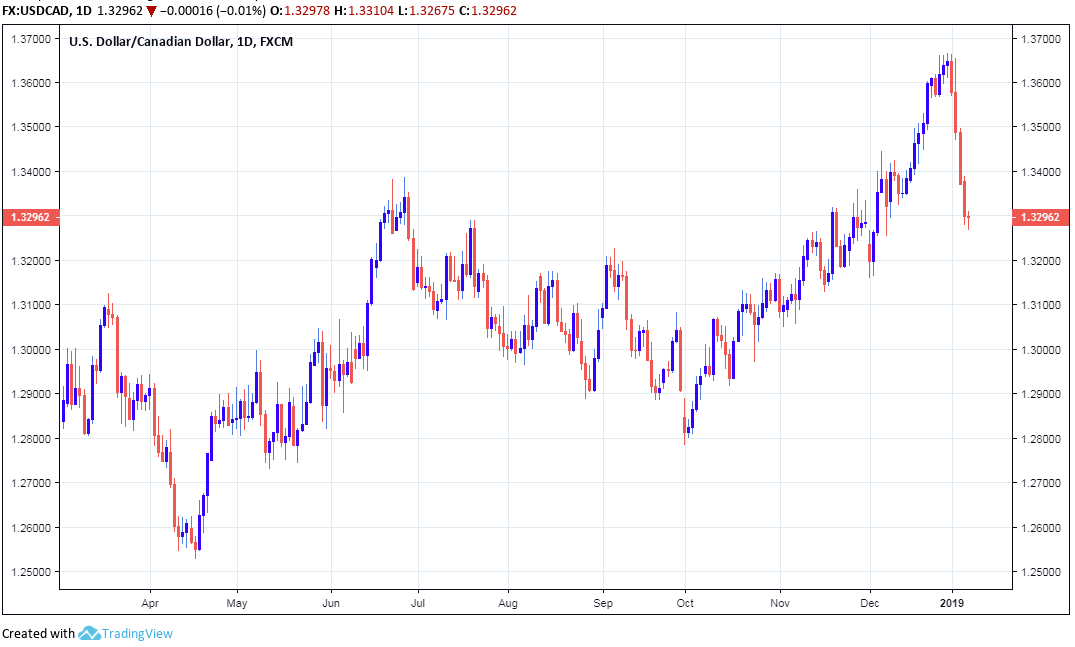 Above: USD/CAD rate shown at daily intervals.
The USD/CAD rate was quoted 0.07% higher at 1.3299 during noon trading Tuesday but has declined by -2.2% this year so far. The Pound-to-Canadian-Dollar rate was was down -0.45% at 1.6924 and has fallen -2.74% in 2019.
Canada's Dollar has enjoyed a strong start to the week, gaining ground over all G10 currencies after selling of the Loonie reached a cresendo at the open of the New Year.
The Loonie was higher against all other than the U.S. Dollar on Tuesday but if analysts are right then that strength is now likely to dissipate over the coming days.
Above: The Pound-to-Canadian-Dollar rate shown at daily intervals.
"Looking through near-term data-wiggles, though, the Canadian economy still looks to be operating close to capacity. Businesses seem to be continuing to invest on balance and labour markets still look strong. We expect that conditions will remain strong enough for the Bank of Canada to ultimately continue hiking interest rates at a gradual pace this year — although very likely not at tomorrow's policy rate decision," says RBC's Jansen.
The growth signal from Tuesday's data is important for the Loonie because of what it might mean for the Bank of Canada (BoC) interest rate outlook.
The BoC, which will announce its latest policy decision at 13:30 London time Wednesday, raised its interest rate to 1.75% in October and said that it could lift the benchmark all the way up to 3.5% over the coming quarters.
But it backed away from that guidance in December following a series of disappointing economic figures and a rout in the oil market that saw Western Canadian Select plumb new record lows..

Fears over the health of the U.S. and Chinese economies, as well as the likely impact President Donald Trump's so-called trade war might yet have on global growth, have led markets to check their expectations of asset prices and economies the world over in recent weeks.
Canada has been no exception in that since the beginning of November markets have gone from anticipating between two and three BoC rate hikes for 2019, to betting the central bank will not raise interest rates at all this year.
Governor Stephen Poloz may well attempt to dispel that latter notion in Wednesday's interest rate statement but whether markets are willing to change their view on the Canadian policy outlook any time soon might depend more on the economic data that emerges over the coming months.
GDP data for November, due for release toward the end of January, will be important in this regard. So too will inflation and labour market statistics for December, which are due out later this month.
"The disappointing details in today's trade numbers should put some pressure on the Canadian dollar," says CIBC's Mendes. "The decline in real exports isn't a great first indicator for monthly GDP, suggesting that Q4 growth may have come in closer to 1 ½% than 2%. That said, we're still very early in the data calendar for Q4."
Advertisement
Bank-beating exchange rates. Get up to 5% more foreign exchange by using a specialist provider to get closer to the real market rate and avoid the gaping spreads charged by your bank when providing currency. Learn more here