Australian dollar vs Pound Sterling: AUD Powers Ahead as Chinese Seek to Liberalise Yuan Control Regime
The Australian dollar (AUD) is one of the driving forces in global FX on Tuesday morning; the Reserve Bank of Australia (RBA) has failed in its latest attempt to talk the currency lower.
In mid-morning London we see the pound sterling to Australian dollar exchange rate trading 0.6 pct down on last night's close at 1.7083.
(Be aware that all quotes here are taken from the wholesale spot markets; your bank will affix a discretionary spread when delivering you FX. However, an independent FX provider will guarantee to undercut your bank's offer and deliver up to 5% more currency. Please learn more here.)
Update - Omer Esiner at Commonwealth Foreign Exchange reckons the RBA is sanguine about the strength of the AUD:
"The Aussie rose after the minutes of the Reserve Bank of Australia's early November Policy Board meeting noted the positive impact of previous lending rate cuts and sounded a relatively sanguine tone on the AUD strength."
This view has been shared by a number of commentators and we thus attribute most of the Aussies gains to the Chinese Yuan liberalisation move.
Below: GBP/AUD slumps through the course of overnight trade: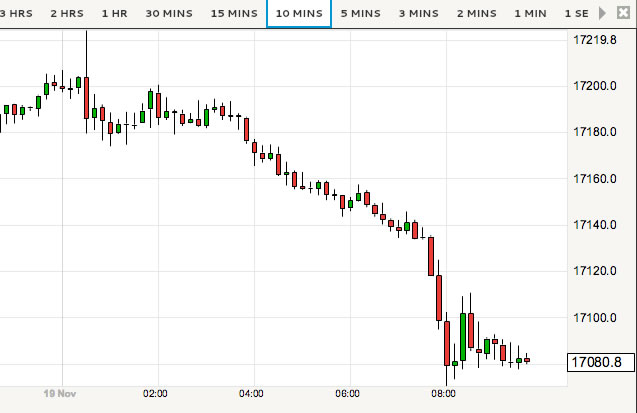 RBA attempts to talk Australian exchange rates lower
---
As had been foreshadowed by the November Statement on Monetary Policy, the RBA retained a weak easing bias.
The board did not want to "close off the possibility of reducing [the cash rate] further should that be appropriate to support sustainable growth in economic activity, consistent with the inflation target".
"We continue to view the main purpose of the bias as placing some downward pressure on the exchange rate given that the minutes noted that earlier rate cuts were providing a further boost to growth with more of this stimulus to come," says Kieran Davies at Barclays.
Thus, tThe Australia dollar rose against the greenback after the minutes of the Reserve Bank's November 5th Policy Board meeting noted the positive impact of previous lending rate cuts on the economy.
"The RBA's minutes also sounded slightly less concerned with the strong value of the Aussie than many had expected," confirms Esiner.
While the central bank did say that further declines in the AUD would be needed to foster more sustainable growth in the economy, many were expecting more forceful objections to the currency's strength.
Furthermore, the Aussie is also being supported by a global rally in risk assets that continues to be fueled by expectations of easy monetary policy in the U.S, the euro zone and Japan.