Pound Sterling Outlook: Barclays "Turning Neutral After the Recent Rally"
- Bank of England tipped to raise interest rates in May and February 2019
- But analysts warn impetus for further gains now limited
- Danske Bank say recent transitional deal no game-changer
Pound Sterling's recent advance against the likes of the Dollar and Euro might be at an end for now argue analysts at UK high-street lender Barclays.
"Our expectations for near-term GBP appreciation materialised last week after the UK and the EU reached an agreement for a 21-month transition period, while higher wage growth solidified market expectations for a May BoE rate hike," says Hamish Pepper, a foreign exchange analyst with Barclays.
The call is made at the start of a new holiday-shortened week that has an empty even calendar which suggests any fundamental triggers to fresh moves in either direction for the Pound and other major currencies will be limited while technical considerations might become more prominent. Indeed, as we note here technicals do bode for further Sterling gains.
The Pound-to-Euro exchange rate is quoted at 1.1457 at the time of writing, which places the pair at the top of its longer-term range. We saw Sterling attempt to crack the ceiling in the 1.15 area last week, but the move found no sustained buying interest from market participants which suggests that from a technical perspective the UK currency is knocking its head on wood.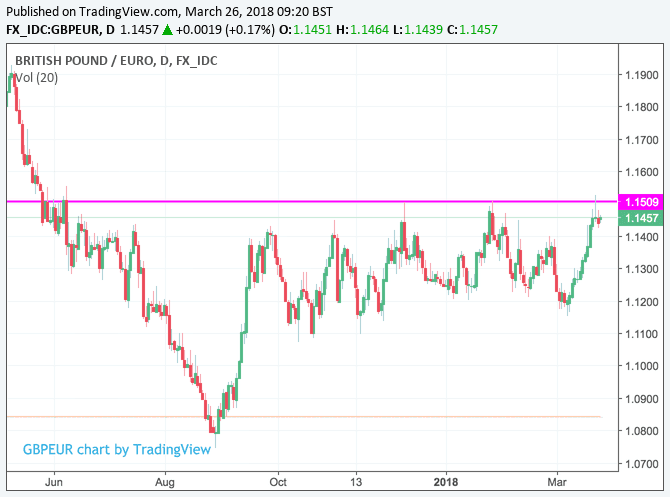 The Pound-to-Dollar exchange rate is meanwhile back above the 1.40 level which represents a key psychological point; but we note there is nothing too concerning by way of market barriers until the mid-1.42s. The rate is quoted at 1.4180 at the present time and we see little technical reason to doubt further gains are possible near-term.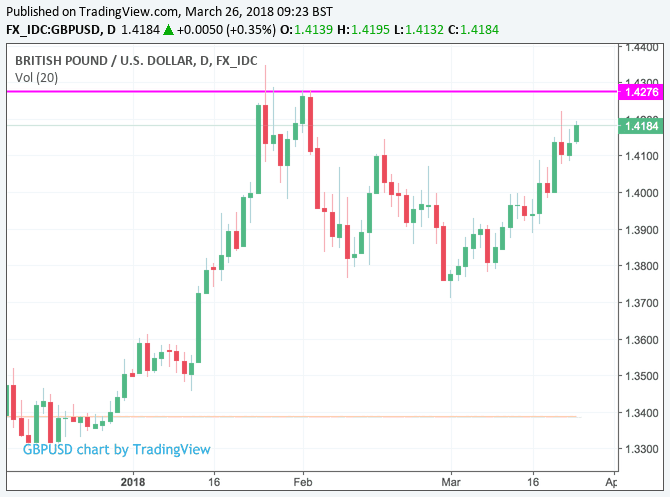 The assessment made by Barclays is that the Bank of England is happy with current interest rate expectations following last month's press conference. Accordingly, Barclays have revised their BoE call and now expect a 25bp rate hike in May 2018 and February 2019, broadly in line with market pricing.
"While we continue to envision some GBP appreciation over the forecast horizon, we see little impetus for further near-term Sterling gains and are neutral at current levels," says Pepper.
Mikael Olai Milhøj, Senior Analyst with Danske Bank agrees with this sentiment and notes that "while positive" the recent agreement of a Brexit transitional deal "is not the game changer" the Pound requires to go substantially higher.
"In any case a deal was widely expected," says Milhøj. "The negotiations on the future relationship are going to be much more complicated, not least with respect to the outstanding Irish border issue. EUR/GBP fell on the transition agreement but we do not expect EUR/GBP to move significantly lower before we get more clarification on what the future relationship is going to look like."
European leaders last week OK'd talks to transition from phase 2 to phase 3 on the basis that sufficient progress had been made on the terms of the UK's withdrawal from the EU. Coming months now see the difficult task of settling on a final trade deal take place.
The deadline for the negotiations is set for October 2018 and the European Council and European Parliament will either give or decline their consent to what has been negotiated in November.
Jane Foley, a foreign exchange analyst with Rabobank believes the run up to the deadline will offer volatility:
"In December sterling's better tone soon soured as the market began to contemplate that the Brexit procedure could still run into significant hurdles. Although the Brexit process has clearly progressed since then, the forthcoming trade talks could still unsettle GBP bulls."
On the assumption that uncertainty regarding Brexit could undermine GBP in the coming months Rabobank still see risk of a move back to 1.12 on a three month view.
However, assuming that the bones of a free trade deal is in place by the end of March 2019 Rabobank forecast GBP to recover to the 1.19 level.
And there are still analysts out there who reckon Sterling can go higher over the near-term. "GBP sentiment is turning, as transition deal a sign of willingness of compromise and interest rate hike looming," says Magne Østnor with DNB Markets.
The call by Barclays and Danske Bank for a pause in Sterling gains comes days after we report one of the world's largest foreign exchange dealers told clients they are now turning "tactically bullish" on the Pound.
Deutsche Bank have been bearish on Sterling, since the EU referendum of 2016 but have had to upgrade their expectations for the currency on its recent performance.
Analysts expect more gains to come, particularly agains the Euro where they see positioning as being flat, i.e. the market is structurally favourable to rises in the Pound-to-Euro exchange rate.
It appears that the Brexit to journey has gone more smoothly than initially expected by analysts at Deutsche Bank, particularly now that a Brexit transitional deal has been achieved on schedule and the risks of a disruptive break with Europe are greatly diminished.
Following recent progress in Brexit negotiations, Deutsche Bank now expect, "a muddle through scenario for the rest of the year, even if disagreements over the future trade relationship are likely to rumble on."
Advertisement


Get up to 5% more foreign exchange by using a specialist provider to get closer to the real market rate and avoid the gaping spreads charged by your bank when providing currency. Learn more here.