Pound Sterling Falls Against Euro, Dollar After Retail Sales Slump to Covid-era Volumes
Image © Adobe Images
---
The British Pound fell against the Euro, Dollar and other major currencies after UK retail sales volumes fell to levels last seen during the pandemic lockdowns, but one economist says a sharp rebound in retail sales volumes beckons as real incomes are set to rise.
The UK currency looked set for another weekly decline against key peers after retail sales were reported to have fallen 2.4% in the year to October, down from -1.5% in September and below consensus expectations for -1.5%.
Sales were expected to rise by 0.3% month-on-month in October, recovering from September's downwardly revised -1.1%, but came in at -0.3%.
The Pound to Euro exchange rate dropped in the wake of the data release to 1.1418, the Pound to Dollar exchange rate slid to 1.2318. "Sterling slips through 1.24 after weak retail sales across the board," says Justin McQueen, a Reuters market analyst. "First BoE rate cut remains priced as a 50/50 call in May 2024."
---
---
These retail sales figures will cement market bets that the Bank of England will deliver a number of interest rate cuts in 2024 in response to a weakening economy, further weighing on Pound Sterling.
The ONS says its findings continue to show a divergence between quantities bought (volume) and the amount spent (value) in retail sales over time because of price increases.
In fact, retail sales volumes in October 2023 were at their lowest level since February 2021 when widespread and extensive Covid restrictions were in place.
---
Above: Pound-Euro at 5-minute intervals.
---
The volume of goods sold continues to fall in the face of rising costs, with headline CPI inflation reported at 4.6% in October, which is well above the long-term average.
"No part of the high street remained unaffected last month. Grocery volumes fell, even as food price inflation approached single digits for the first time in over a year, with stable supermarket volumes not making up for falls in speciality food store and off-licence sales," says Lisa Hooker, Leader of Industry for Consumer Markets at PwC.
The Bank of England will view these retail numbers as confirmation that demand in the economy continues to falter in the face of high inflation and multi-year highs in interest rates, which will ensure inflation continues to fall.
---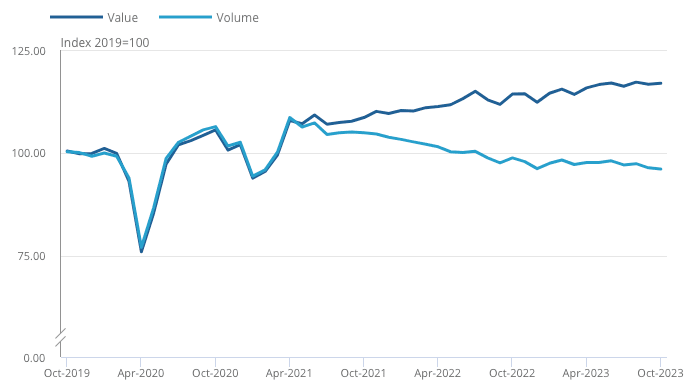 Above: Despite an increase in the value of sales, consumers are walking away with less. Image: ONS. Image shows Volume and value sales, seasonally adjusted, Great Britain, October 2019 to October 2023.
---
Looking ahead, PwC says November typically provides better news for retailers with the arrival of Black Friday.
However, PwC's research suggests that the cost-of-living crisis will mean £1.5BN less is spent on the event, "the omens for the sector appear finely balanced," says Hooker.
For the Pound, the numbers provide yet more evidence of a slowing economy that some economists don't believe will turn around until the second half of 2024.
"Consumption will remain weak, with higher mortgage costs next year; a gradual recovery is likely only in the second half of 2024," says David Alexander Meier, an economist at Julius Baer. "With rate expectations trimmed down, the best for the pound sterling is over."
However, it is not all doom and gloom, with one economist saying a recovery in the sector beckons.
"The further fall in retail sales in October, which left sales 3.9% below their 2022 average level, likely will be reversed in the coming months, due to robust growth in households' real disposable incomes," says Gabriella Dickens, Senior UK Economist at Pantheon Macroeconomics.
Dickens also points out that weather played a sizeable role in last month's disappointing reading: "Retailers suggested that the fall in October was partly due to the wetter than usual weather in the second half of the month. According to Met Office statistics, 172mm of rain fell, well above the usual October average, 115mm."
Pantheon Macroeconomics says volumes will pick up over the coming months because wages are now rising faster than inflation, particularly goods inflation.
"We look for quarter-on-quarter growth in households' real expenditure of 0.5% in Q4, reversing the 0.4% decline in Q3," says Dickens.