Pound Sterling's 'False Dawn' as Bailey Struggles to Convince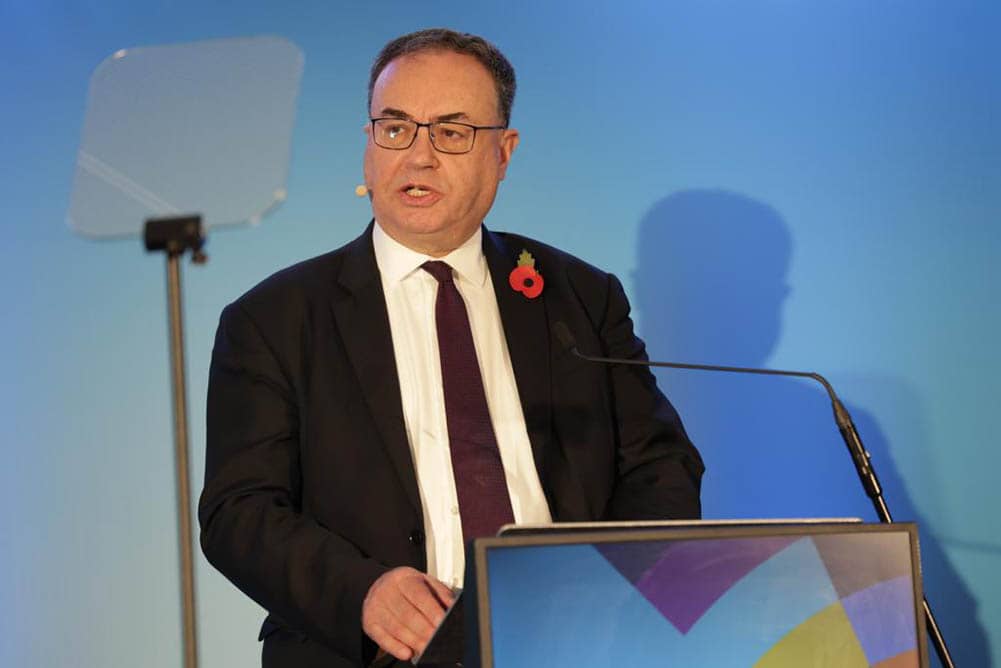 Above: Bank of England Governor Andrew Bailey addresses the Central Bank of Ireland's Financial System Conference. Image: Central Bank of Ireland.
---
The jump in the value of Pound Sterling seen last week appears to be something of a false dawn for those wanting a stronger exchange rate as the UK currency comes back under pressure amidst a softening global market backdrop and increased bets the Bank of England will cut interest rates before long.
Bank of England Governor Andrew Bailey was in focus midweek, telling delegates at a conference hosted by the Central Bank of Ireland that it was too soon to start talking about rate cuts.
The message was another attempt by Bailey to resist the market's urge to bring forward rate cut expectations, a development that has been weighing on the Pound since August.
Bailey said there was a need to "maintain rates policy to curb inflation... it's really too early to be talking about cutting rates."
The market is nevertheless looking through Bailey's protestations, instead focussing on his comments that inflation is set to come in "quite a bit lower" in this month's inflation release from the ONS. He also said the Bank's policy settings were now restrictive, and UK economic growth was "very subdued".
---
---
A soft Pound and subdued UK bond yields suggest the market is placing greater emphasis on the comments regarding falling inflation and a slowing economy, messages that further rate hikes won't be required and that the conditions for rate cuts are not far off.
"Our view is that economic conditions ultimately matter more for markets than central banks' posturing at any given point in time," explains Thomas Mathews, Senior Market Economist at Capital Economics.
The Pound to Euro exchange rate is now two-thirds of a per cent below Monday's peak and is quoted at 1.1489 at the time of writing; the Pound to Dollar exchange rate is meanwhile 1.40% below Monday's peak at 1.2252.
---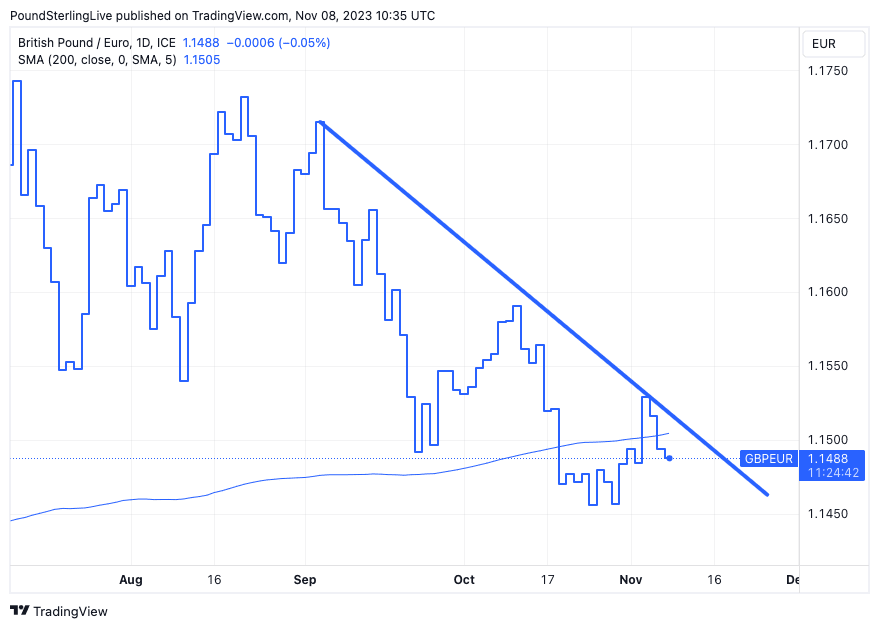 Above: Pound-Euro remains in a short-term downtrend. Set up a daily rate alert email to track your exchange rate OR set an alert for when your ideal exchange rate is triggered ➡ find out more.
---
Bailey's comments follow those of the Bank's Chief Economist, Huw Pill, who on Monday openly entertained the prospect of rate cuts.
Pill said financial market bets for rate cuts as soon as August 2024 were not "totally unreasonable".
"This is a bit of a contrast to last week's BoE meeting, where officials stressed rates will remain high for an extended period," says George Vessey, Senior FX Strategist at Convera.
"Traders seized on the dovish remarks and markets are now pricing in at least three 25 basis point rate cuts in the main bank rate over the course of 2024," he adds. "Yield spreads remain in favour of GBP/USD downside in the short-term."
---
Image courtesy of Convera.
---
Also underpinning a weaker Pound was a softer market backdrop, with equities coming off the highs that were triggered by last week's U.S. jobs report that suggested the economy was slowing enough to prevent the Federal Reserve from raising interest rates again.
Expectations for lower interest rates in the U.S. are supportive of global equities and risk-associated assets such as the Pound.
But the market has been unable to materially follow through with last week's gains, which has, in turn, contributed to the softer tone in the Pound.
To be sure, there has been no decisive fundamental development or data release that suggests last Friday's post-payroll report rally should be discounted, and what we could be witnessing is a paring of those gains.
If this is the case, risk can stay supported over the coming weeks, limiting any downside risks to the British Pound.