UK Data and SA Energy Woe Brings 21.0 into View for Pound to Rand Rate
GBP/ZAR at multi-week highs & attempting recovery of 21.0
Sturdy UK labour market & resilient economy aiding Sterling
Rand held back by load-shedding & risk aversion in markets
Dual inflation data & central bank policy implications in focus
Image © Adobe Images
The Pound to Rand exchange rate climbed to one-month highs early in the new week and appeared on course to rise back above the 21.0 handle for a period of time in the days ahead but much likely depends on the central bank policy implications of dual inflation reports due out on Wednesday.
South Africa's Rand scraped the bottom of the G20 currency bucket for the week to Tuesday having been underperformed by only the Russian Rouble while slipping more than two percent against some counterparts including the Mexican Peso, Indonesian Rupiah and Japanese Yen.
The Rand's underperformance was mild, however, in comparison to the economic disruption caused by some of the most significant load-shedding seen to date at state-owned energy monopoly Eskom where the failure of power-generating equipment all but crippled the country at times last week.
"The ZAR demonstrated significant resilience in the face of escalating power outages, known as load-shedding, and many people returning to work," says Sebastian Steyne, an FX hedging specialist at Sable International.
#POWERALERT1

Stage 4 load-shedding will be implemented at 05:00 - 16:00 on Tuesday, followed by Stage 5
loadshedding at 16:00 – 05:00 on Wednesday pic.twitter.com/5xGUPaKQ7d

— Eskom Hld SOC Ltd (@Eskom_SA) January 16, 2023
Eskom said on Monday 16.17 gigawatts of generating capacity remained offline, equal to almost 30% of national capacity, and that severe load-shedding would likely continue in the days ahead.
---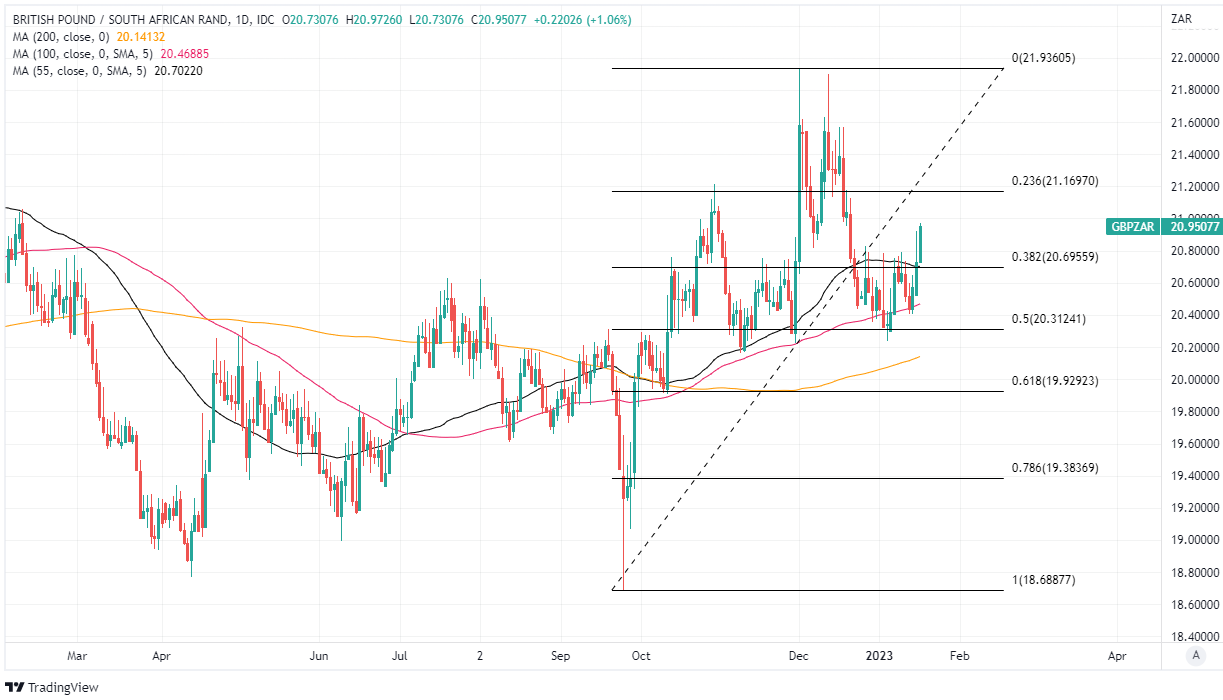 Above: Pound to Rand rate shown at daily intervals with selected moving averages and Fibonacci retracements of September recovery indicating possible areas of technical support for Sterling. Click image for closer inspection.
---
The Rand remained an underperformer on Tuesday though in a market where U.S. Dollar exchange rates were stronger almost across the board and Chinese Renminbi exchange rates were universally weaker following the release of local data covering final quarter GDP and its components.
Meanwhile, Sterling outperformed the Dollar and many others but lagged behind the Swiss Franc after Office for National Statistics figures told of a sturdy December labour market in which pay growth remained at levels that may be a cause for concern at the inflation-targeting Bank of England (BoE).
"Inflation expectations and outlook locally have deteriorated over the recent past. This, combined with broadly weaker risk sentiment and a lack of liquidity yesterday, contributed to a decline in the rand, which traded rapidly weaker," says Walter de Wet, a fixed income and currency strategist at Nedbank.
Tuesday's price action precedes the mid-week release of December inflation figures from the UK and South Africa, which could have implications for central bank interest rate outlooks on both sides of the Pound to Rand equation.
Consensus suggests South Africa's inflation rate rose by 0.3% last month, unchanged from in November and likely enough to ensure the annual pace of price growth slipped from 7.4% to 7.1% at year-end, which would take it back toward the upper limit of the three-to-six percent inflation target.
---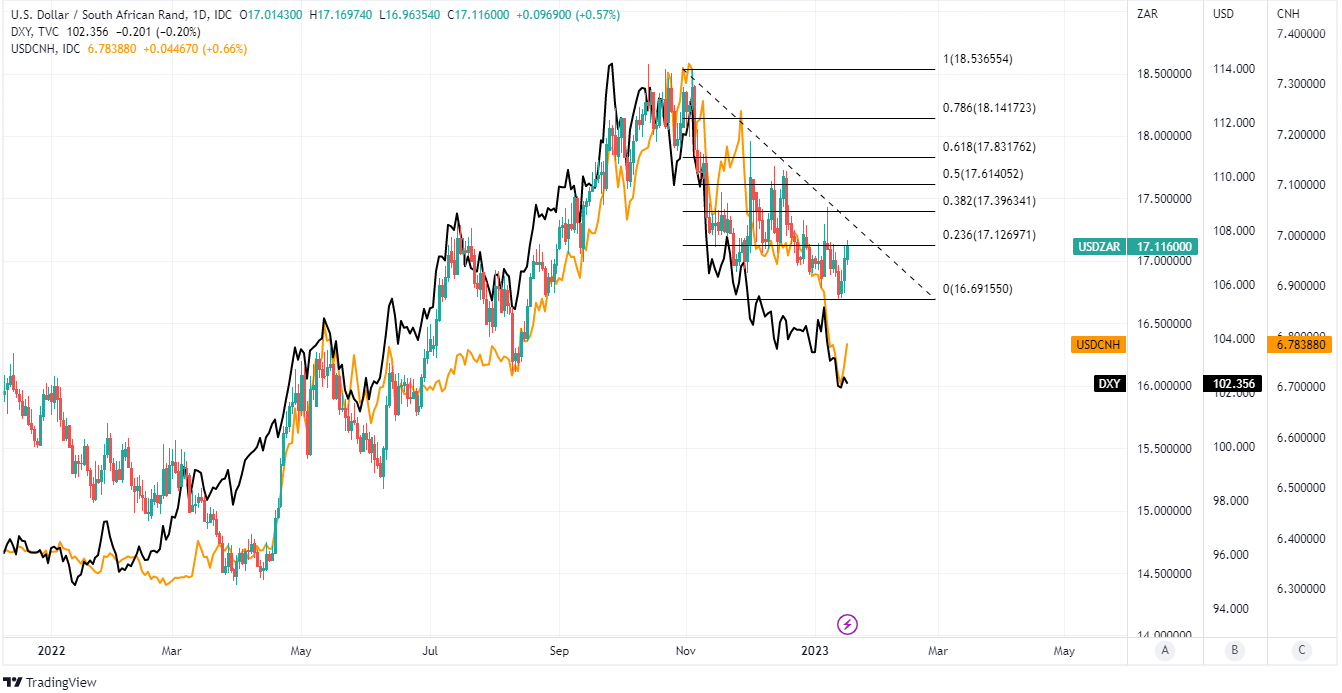 Above: USD/ZAR shown at daily intervals alongside U.S. Dollar Index and Dollar-Renminbi rate. Fibonacci retracements of November decline indicating possible areas of short-term technical resistance. Click image for closer inspection. If you are looking to protect or boost your international payment budget you could consider securing today's rate for use in the future, or set an order for your ideal rate when it is achieved, more information can be found here.
---
"So far, the fall in domestic inflation has been slow over H2.22, from 7.8% y/y in July to 7.4% y/y in November, and December 2022's figure risks coming out higher than expected if inflation pressures broadened," warns Annabel Bishop, chief economist at Investec.
"H2.23 will likely see a fairly flattish inflation environment, with South Africa's CPI inflation rate running around 4.5%, although risk factors persist to all the forecasts, particularly higher commodity prices from a quick China reopening," she writes in a recent research briefing.
Meanwhile, in the UK consensus suggests inflation fell from 10.7% to 10.5% last month and declined from 6.3% to 6.2% after energy and food items are removed from the basket of goods for which prices are analysed.
There are many factors that could yet ensure inflation is slower to fall in the UK than in other countries including rising pay growth for workers, a forthcoming April increase to the government's energy price cap and last year's depreciation of Sterling.
"We continue to expect the Monetary Policy Committee (MPC) to hike by 50 basis points (bps) in February but tomorrow's inflation figures will remain important. Slack is increasing gradually, but rising wages are likely to continue to see the MPC lean against inflationary pressures," says Modupe Adegbembo, a G7 economist at AXA Investment Managers.
"In real terms (adjusted for
inflation
), total and regular pay both fell by 2.6%. The labour market is showing signs of some slack emerging – but the evidence is far from conclusive given strengthening pay growth and high inactivity," she writes in a Tuesday review of the UK economic outlook.