New Zealand Dollar Forecasts: Socialist Policy Moves by Labour a Concern, GBP/NZD seen Higher on Sterling Recovery
- GBP/NZD currently pressured after poor week for NZD

- Pound likely to be in "driving seat" as Brexit risks unwind
- NZD seen close to fair value

The Pound-to-New Zealand Dollar exchange rate appears to be basing around the key 1.90 mark as a couple of poor data releases out of New Zealand caps the Kiwi's recent advances and the Pound remains hamstrung by a fresh impulse of Brexit uncertainty.
A dip in global dairy prices on Tuesday did not help the Kiwi - dairy products being its biggest export - while poor 'building work done' data for Q1 released mid-week undershot expectations (-0.9 vs 0.5 expected), providing "another piece of evidence pointing to a soft Q1 GDP result," says Jason Wong, senior markets strategist at New Zealand lender BNZ.
Yet it is New Zealand's political situation which concerns Wong more, as he sees risks to the currency from dramatic labour market reforms being enacted by Jacinta Arden's Labour-led coalition government, including an expected 20% rise in the minimum wage and a possible "return to the days of centralised wage bargaining."
"Consider it a risk, rather than likelihood at this stage, but policies like this can only serve to keep business confidence depressed as the new government makes its mark," adds Wong.
Overall, however, he sees the NZD as finely balanced at - or very close to - fair value, thus the main driver of the pair is likely to be the Pound.
"The more the NZD falls, the further it moves away from fundamentals," says the strategist.
Whilst the Kiwi has lost its advantage due to having higher interest rates than the rest of the G10, and it is probably the only currency whose central bank is actively considering a rate cut, other offsetting factors neutralise this downside.
New Zealand's formidable exports and 'terms of trade', which means the difference between its export prices and import prices, has compensated for the loss of an interest rate advantage.
But with regards to Sterling-Kiwi specifically, the Pound is undervalued due to pressure from Brexit fears and this means that there is a risk that if Brexit concerns ease, the currency will rise.
"GBP is expected to be in the driving seat, recovering from its depressed level when viewed in a medium-long term context," says Wong, adding, "ultimately we see common sense prevailing and this argues for the discount still built into GBP being eaten away, driving a lower NZD/GBP trend," says Wong.
On the subject of the Bank of England, Wong expects a rate hike to come back on the radar "later in the year, supporting GBP".
BNZ's official forecast is for NZD/GBP to fall to 0.50 by end of September, 0.48 by end of December and 0.47 by end of Q1 2019.
For GBP/NZD this translates to 1.98 by end of September 2018, 2.08 by December 2018 and 2.12 by Q1 2019.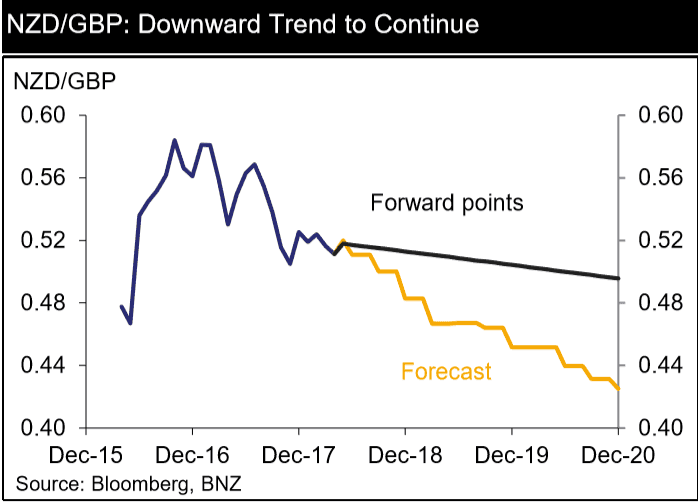 Advertisement


Get up to 5% more foreign exchange by using a specialist provider to get closer to the real market rate and avoid the gaping spreads charged by your bank when providing currency. Learn more here.