Pound Jumps 1.0% on Vaccine Boost and Hints of Compromise on Fishing in Trade Negotiations
- GBP/EUR cements ground above 1.11
- GBP/USD hits 1.32 on Pfizer vaccine news
- Progress towards Brexit deal continues
- UK said to be willing to consider shift on fisheries
Image © Adobe Images
Market rates: GBP/EUR: 1.1247 | GBP/USD: 1.3258
Bank transfer rates: 1.1032 | 1.2987
Specialist transfer rates: 1.1120 | 1.3140
Learn more about market beating exchange rates, here
Lock in today's rate for use at a future point in coming months, here.
A jump in the value of Pound Sterling means some key exchange rates are at fresh multi-month highs.
The Pound-Euro exchange rate has hit 1.12 on Tuesday, the first time it has done so since September 03, the Pound-Dollar exchange rate has reached 1.3244, the first time it has done so since September 07.
The rally in Sterling comes amidst ongoing expectations that the EU and UK will reach a post-Brexit trade deal before year-end, with next week's EU Council meeting set as a near-term deadline to focus on.
However, a major catalyst also appears to be news of a successful covid-19 vaccine candidate from Pfizer. Crucially, the UK is in line to receive this vaccine first alongside the U.S., meaning the country could steal a march on other economies when it comes to unlocking.
EU and UK negotiators are this week locked in talks in London to try and secure a breakthrough on the issues of future 'level playing field' arrangements for businesses and the future access of EU fishing fleets to UK waters.
The UK's Environment Secretary George Eustice on Monday hinted the UK might be willing to move on the matter of fishing rights, a development that kept market expectations for a deal to be reached this November alive.
Eustice suggested that agreements setting the "ground rules" on access for EU fleets could cover several years - an apparent shift from the UK's previous demand that negotiations happen annually.
"On fisheries, we've always been open to doing a sensible approach looking particularly at agreements that might span a couple, three years for instance," said Eustice in an interview with Sky News. "We're going to be sensible in how we approach this but making sure that we have control of our own waters again and controlled access to our waters has always been a red line for us in these negotiations."
Eustice added: "The issue will become what are the sharing arrangements, how much mutual access do we allow in one another's waters and that's obviously a discussion that will happen annually, but there may also be a partnership agreement that sets out the ground rules as to how we will work on that."
"The Pound is on a tear this morning, cable trading at 2-month highs above 1.32, though I'm inclined to be a little cautious given the apparent lack of anything concrete behind the move, plus the ongoing Brexit talks, which I still think will, eventually, result in a deal," says Michael Brown, Senior Market Analyst at CaxtonFX.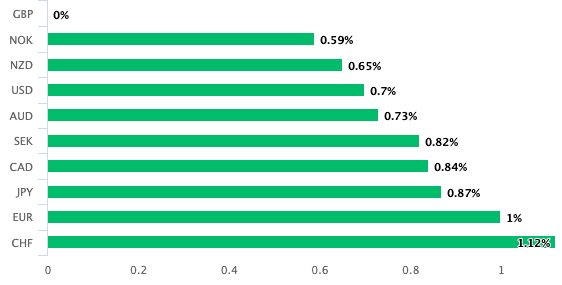 Above: The Pound advances against all its peers on Tuesday
The market maintains a 'base case' expectation that the two sides will ultimately come together and agree a deal, a view confirmed by Sterling's steady rise against the Euro. The Pound-to-Euro exchange rate has risen to 1.1150, thereby continuing an uptrend that has been in place since September.
Analysis from Axel Rudolph, Senior FICC Technical Analyst at Commerzbank, shows Sterling to maintain a short-term positive bias against the Euro.
In a research note out Tuesday, Rudolph notes the dip experienced by GBP/EUR last week "was not enough to overcome the 55 day moving average", which was located at 1.1036 as well as the 1.1024 short-term uptrend support line.
While supported here a positive bias will persist says the analyst, who looks for an extension of gains to the 200-day moving average at 1.1205 "which we suspect will hold the initial test."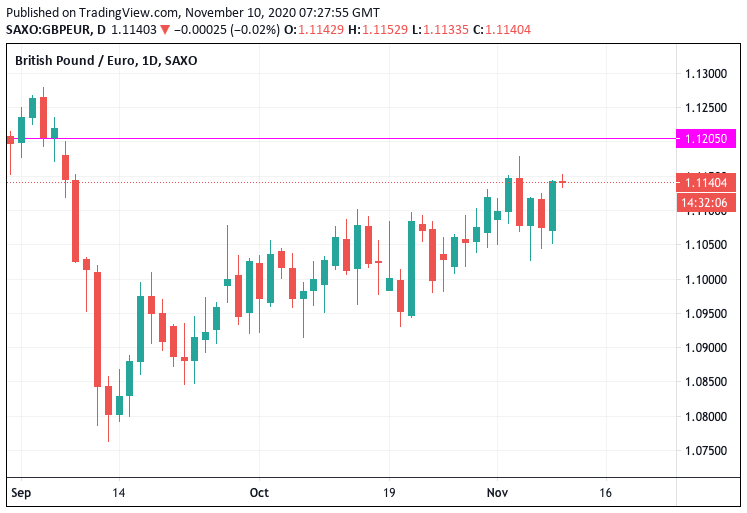 Above: GBP/EUR with potential target. Automatically secure your ideal rate when it hits using a 'limit order', learn more here.
A break here "would probably target" 1.1280, the June and September highs, according to Rudolph.
However, this is a risk that the EU fails to make any compromises on their end, with some commentators suggesting the win of Joe Biden in the U.S. election will see them push a harder position given their view that Biden is hostile to Brexit.
As such, readers should still be wary of the potential for sentiment towards negotiations to deteriorate.
The Pound-to-Dollar exchange rate meanwhile hit is strongest level since September when it went to 1.32 in reaction to news of a successful vaccine candidate being achieved by Pfizer-BioNtech, confirming Sterling's responsiveness to broader trends in investor appetite.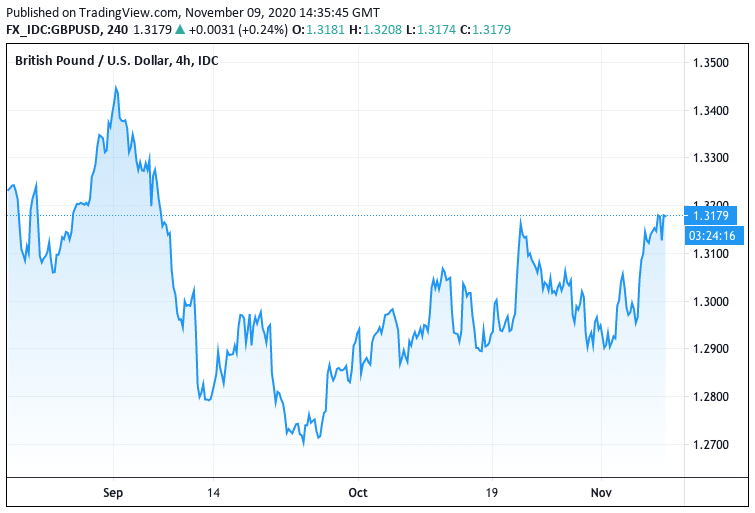 Above: GBP/USD rallied to its highest level since September on Monday. If you are looking to protect your international payments budget, consider locking in today's rate for use over coming months, learn more here.
Pfizer said on Monday its vaccine candidate was found to be more than 90% effective in preventing COVID-19 in participants without evidence of prior SARS-CoV-2 infection in the first interim efficacy analysis. By comparison, a typical flu vaccine is expected to be 40-60% effective.
Submission for Emergency Use Authorization (EUA) to the U.S. Food and Drug Administration (FDA) is planned for soon after the required safety milestone is achieved, which is currently expected to occur in the third week of November
"From a market perspective the Pfizer announcement was received very positively and the market is in our view now starting to price a scenario in which COVID-19 restrictions can be lifted in the spring and importantly, uncertainty is now much smaller," says Christin Tuxen, Head of FX Research at Danske Bank. "CHF, JPY the big currency 'losers' from vaccine news yesterday - both via the risk and via the inflation channel - as this supported global recovery and reflation trades alike in FX space."
The Pound meanwhile outperformed the Euro and Dollar on the news.
"The risk-sensitive GBP often benefits when risk appetite rises," says Robert Howard, a Reuters market analyst, on the impact the news has had on Sterling.
Further gains in global stock markets could therefore provide some further support to Sterling going forward.
"Stock markets are looking a little more cautious after yesterday's massive surge on news that Pfizer and Biontech have a vaccine that is 90% effective – investors will now show a tad more caution that the knee-jerk rally is out of the way. Markets have a habit of overshooting on the way down, and on the way back up. Nevertheless, an effective vaccine changes the game for investors, at the very least in terms of relative valuations and the premium we are willing to pay for growth.," says Neil Wilson, Chief Market Analyst at Markets.com.
"All we need now is a Brexit deal this week as the cherry on the cake. What we in Britain and Europe need more than anything is a confidence injection – and a working vaccine does that. A comprehensive FTA with the EU would help, too," adds Wilson.
---
Achieve 3-5% More Currency: The Global Reach Best Exchange Rate Guarantee maximises your currency purchasing power. Find out more.
Invest in Spanish Property. A selection of discounted properties due to the covid-19 crisis, online viewings and transactions possible. Download the Guide
Invest in Portuguese Property. A selection of discounted properties, online viewings and transactions possible. Download the Guide
Featured Content
Mortgage Direct - a Spanish mortgage broker specialising in the provision of mortgages for expats - have confirmed they have secured their Spanish license.