Pound-to-Australian Dollar Rate Forecast for the Week Ahead: Hemmed in
Image © Andrey Popov, Adobe Stock
- GBP/AUD continues to trade within a narrow range with no clear directional trend
- Australian retail sales data is the major release for AUD in the coming week
- For GBP the Bank of England meeting promises potential fireworks on Thursday
Pound Sterling is seen trading with a positive tone at the start of the new week with 1 GBP buying 1.7731 AUD on the interbank markets, the week's open is at 1.7689.
The rate is a familiar one that has been on offer at some point in the past eight trading days, confirming the market remains locked near familiar levels thank's to the competing and contradictory forces being imposed on the Aussie Dollar.
"Recent indicators out of Australia have been on the strong side, while in New Zealand, they've been mostly softer. However, ongoing trade uncertainty has confined the Australian and New Zealand dollars to a range," says a comment from ActionForex.
As can be seen immediately from the chart below, GBP/AUD has been locked in a broader sideways trend between 1.74 and 1.84 since the start of the year.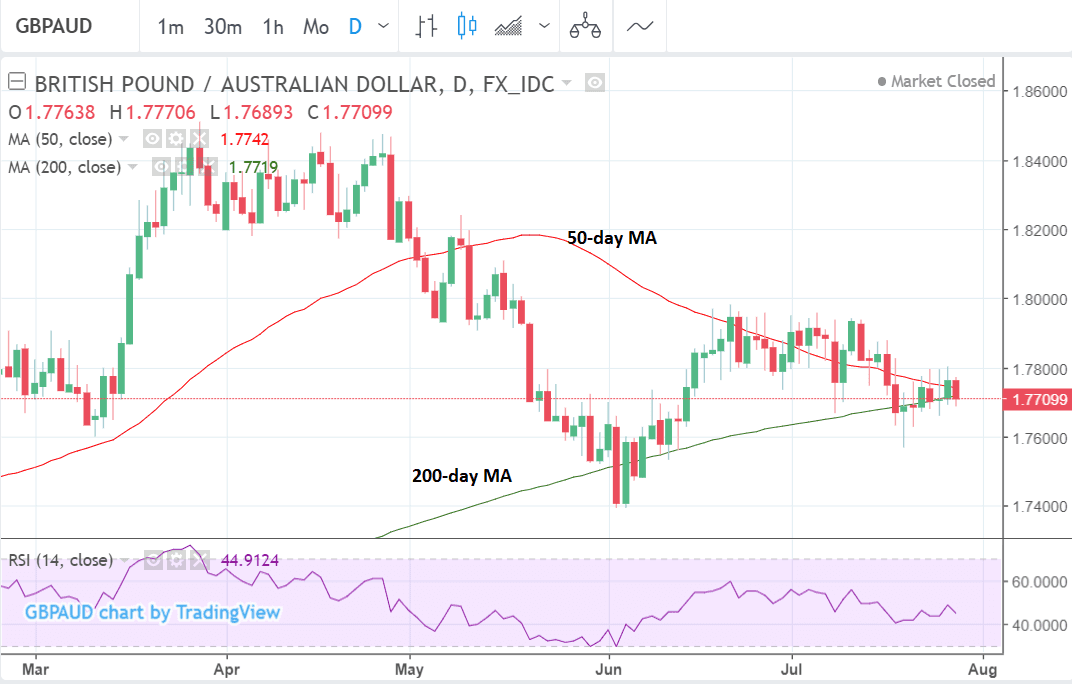 Bordering this range on both sides are the 50 and 200-week Moving Averages (MAs), reinforcing the edges with their strength.
These two MAs act like barriers to price action, hemming it in, and preventing a trend from developing higher or lower.
MAs have this quality because they are popular decision-making tools for both institutional and private traders, signalling buy and sell levels, which lead to heightened liquidity and volatility.
The up-and-down nature of the price action is difficult to forecast and essentially represents a 'random walk' with little technical bias one way or another.
We have decided, therefore, to continue to adopt a neutral stance towards the exchange rate as we did in last week's analysis.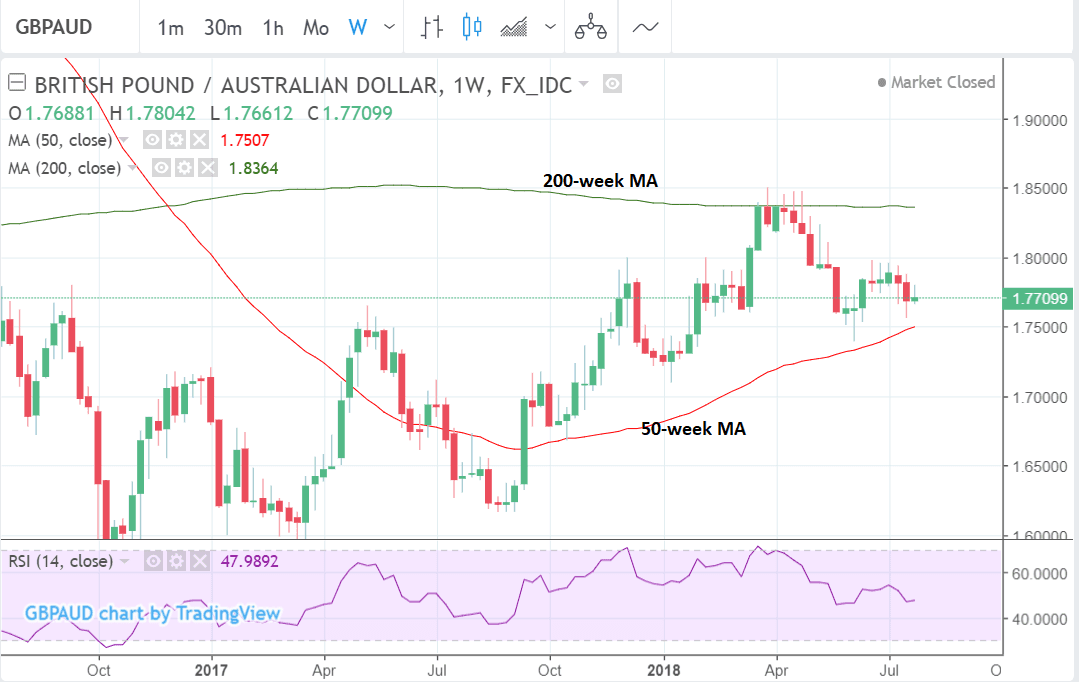 Advertisement




Get up to 5% more foreign exchange by using a specialist provider to get closer to the real market rate and avoid the gaping spreads charged by your bank when providing currency. Learn more

here
What to Watch for the Australian Dollar
The main release for the Australian Dollar is retail sales which is forecast to show a rise of 0.3% in June from 0.4% in the previous month, when it is released on Friday at 2.30 B.S.T.
"We see risks as skewed to the upside for the retail print, but we'd use any rally there to reset shorts. Our analysis shows that retail sales have only a temporary effect on the currency. But, importantly, we think relentless USD strength plus a likely escalation in USChina argy-bargy makes it hard to see the AUD doing anything other than underperform," says Daniel Been, a FX strategist with ANZ Bank.
Beyond retail sales, the domestic calendar offers only second tier interest.
The trade balance is expected to show a rise in the surplus to 0.91bn in June from 0.83 in May, when it comes out at 2.30 on Thursday.
Tuesday sees the release of the AIG Manufacturing Index at 23.30 which came out at 57.4 in the previous week.
New Home Sales is out at 2.00 on Tuesday.
Australian data should be judged against a backdrop of improving economic stats in general.
A major risk however is the rising level of indebtedness in the country which Private Sector credit may shine a light on when it is released at 2.30 on Tuesday, and is forecast to show a 0.3% rise in June from 0.2% in May.
Increase indebtedness is likely to weaken the AUD as it is seen as one of the obstacles to the Reserve Bank of Australia raising interest rates, and higher interest rates are a driver of a stronger Aussie Dollar.
Key Events to Watch For Sterling this Week
The main event for Sterling on the economic calendar in the week ahead, is the Bank of England policy meeting on Thursday at 11.00 GMT, followed by governor Carney's press conference at 11.30.
The BOE's quarterly inflation report will also be released at the same time.
The current consensus expectation is for the Bank to announce a rise of 0.25% in the base interest rate in the UK to 0.75%.
A hike will probably result in only limited upside for the Pound as the move is already widely telegraphed and lacks the 'element of surprise' for an explosive thrust higher.
The probability of a hike has been hovering at around circa 80%, supported most recently by last week's positive data releases.
Therefore, what will matter is whether the Bank hints at further interest rate rises in coming months. If the Bank strikes a hawkish tone on the matter then Sterling might well extend higher. If the market gets the sense that this is a 'dovish hike' i.e. one that is unlikely to be followed by another rate rise in coming months then the currency might fall.
"We fear that sterling, which has not benefited so far from prospects of tighter monetary policy at home, may suffer," says Roberto Mialich, FX Strategist at UniCredit Bank in Milan who adds Sterling is damned if the BoE hikes, damned if it does not."
"If the BoE hikes, as we also expect, we would see this as a policy mistake hurting the economy, and thus the currency, over the medium term. If the bank leaves the rate unchanged, investors' disappointment will likely lead to new GBP sales," says Mialich.
The one spoiler to a rate hike are Brexit risks.
EU chief negotiator Barnier's recent criticisms of key aspects of the Chequer's plan, such as goods' tracking and variable tariffing, make it possible the BOE could opt for caution and not raise rates at all.
"On data grounds a rate rise would seem justified after the weakness in Q1 proved to be temporary, however the uncertainty seen at the end of July might stay the banks hand," says Michael Hewson, analyst at CMC Markets.
Given the heightened expectations of a hike the shock of a no-change is a major risk for Sterling in the week ahead.
The other main data releases for the Pound are Purchasing Manager Survey Indices (PMIs).
The first PMI to be released is manufacturing out on Wednesday at 9.30 B.S.T, which is forecast to show a slide to 54.2 in July from 54.4 in June, although any result above 50 is indicative of growth.
Construction PMI is out on Thursday at the same time and forecast to show a fall to 52.9 from 53.1.
Services PMI is out on Friday at the same time and is expected to show a fall to 54.7 from 55.1.
PMI's are calculated using the answers from surveys of industry purchasing managers who have a pivotal view of conditions. They are seen as an important leading indicator for the economy and, therefore, impact on Sterling, to which they are positively correlated.
Advertisement




Get up to 5% more foreign exchange by using a specialist provider to get closer to the real market rate and avoid the gaping spreads charged by your bank when providing currency. Learn more

here