Pound-to-Australian Dollar Week Ahead: Strong Start for Aussie, but GBP/AUD seen Forming a Base
- Positive data releases give AUD boost at start of new week
- But, Sterling appears intent on forming a base against the Aussie
- Data highlights include Australian GDP out mid-week and UK services PMI on Tuesday
© DragonImages, Adobe Stock
The Australian Dollar is seen to be an outperformer at the start of a new week thanks to the publication of a set of better-than-forecast economic data. GBP/AUD is down 0.5% at 1.7558, the AUD/USD is up 0.61% at 0.7615.
Australian retail sales beat expectations by reading at 0.4%, markets had been preparing for a read of 0.2%. Company gross operating profits for the first quarter read at 5.9%, up from 2.8% in the previous quarter and well ahead of consensus forecasts for a reading of 3.0%.
Business inventories read at 0.7% for the first quarter, which is up on the previous quarter's 0.2% and well ahead of consensus forecasts for a reading of 0.1%.
"On balance the Q1 business indicators data were stronger than we anticipated, with profits much higher than our forecasts and inventories also stronger. Growth in the wage bill was a little disappointing. Together, these numbers provide upside bias to our forecast for a 0.9% q/q rise in Q1 GDP, due for release on Wednesday," says Felicity Emmett at ANZ Research.
The GDP print for the first quarter, due mid-week, will form the data highlight for the Aussie Dollar this week.
Concerning the outlook, the Pound-to-Australian Dollar exchange rate appears intent on finding a floor around the 200-day moving average we believe.
In 2017 the pair rallied to the top of its 18-month range at around 1.8500 but there it encountered a wall of resistance in the form of the 200-week Moving Average (MA), and this forced it back down. It is currently trading at 1.7663 and the short-term trend is down.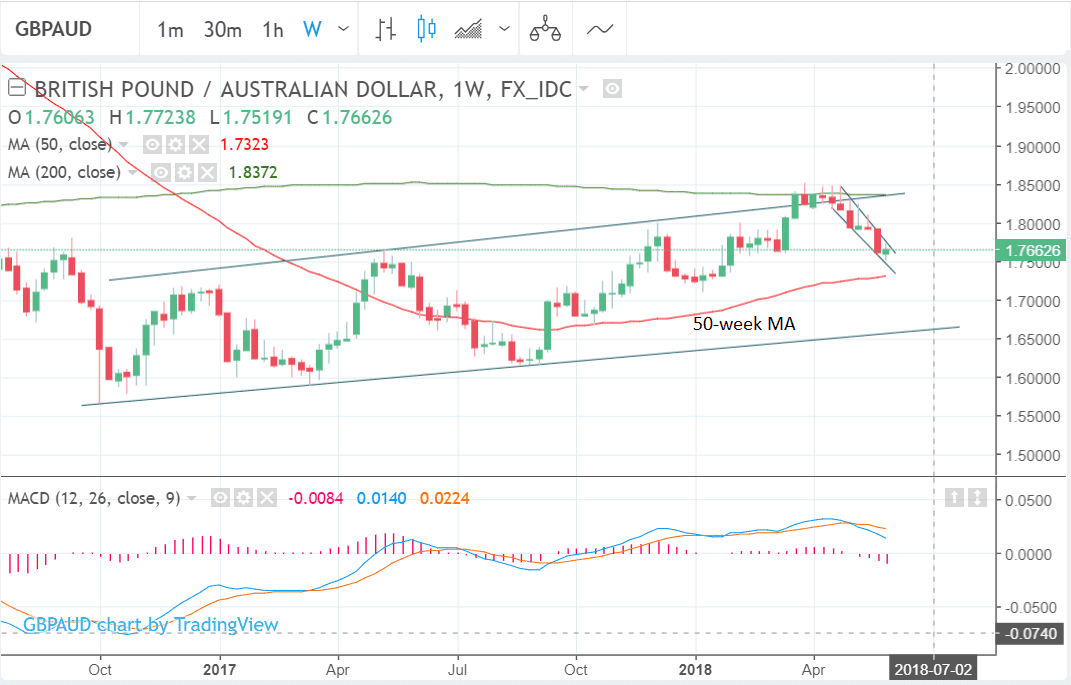 If it were not for the 200-day MA located just below the recent 1.7504 lows we would simply be expecting an extension of the downtrend now, towards a target at the long-term range lows, at circa 1.6750; however, as this is not the case there is a possibility the 200-day will present an immovable obstacle, which could result in a strong recovery or even a complete reversal of the bear trend.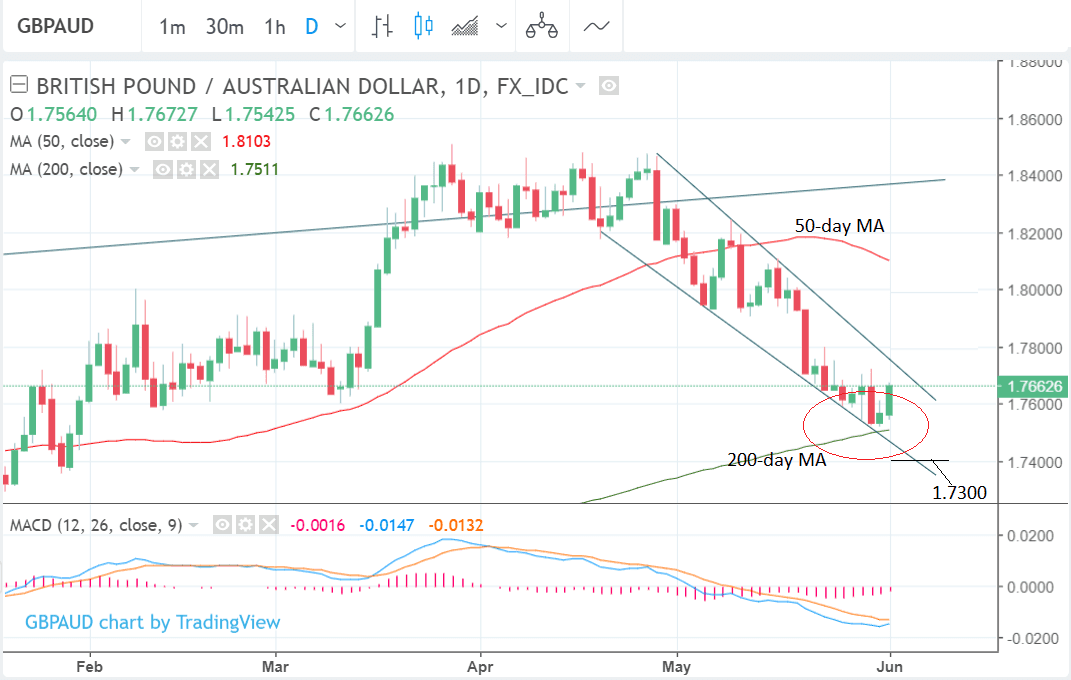 In the absence of a strong rally in price action and as long as the exchange rate remains below the 1.7800 level, we remain bearish.
Assuming a clear break below the MA, confirmed by a break below 1.7400, we see the downtrend extending quite a bit further yet, towards the range lows at 1.6750 eventually, perhaps, but initially to 1.7300.
Get up to 5% more foreign exchange by using a specialist provider to get closer to the real market rate and avoid the gaping spreads charged by your bank when providing currency. Learn more here.
Week Ahead: AUD
As mentioned, data already out this week has been good, but we believe the Australian Dollar will most likely take direction from global factors over coming days, with the growing global trade war likely to be the prime source of sentiment towards currencies like the Aussie, so keep an eye on headlines and overall risk sentiment.
On the domestic scene there are are number of releases and events to watch out for.
Tuesday, June 5: The RBA interest rate decision and associated statement are released at 05:30 B.S.T. This should give a steer as to what that Reserve Bank of Australia is thinking with regards to the next move on interest rates.
A confident tone, and hints of the need for higher rates in the future would likely support the Australian currency, whereas a more sombre tone that highlights global risks (trade war) would likely see the AUD come under pressure.
Wednesday, June 6: GDP numbers are out at 02:30 B.S.T. Consensus forecasts are eyeing a reading of 0.8% growth for the first quarter, up on the 0.4% growth seen in the previous quarter. Annualised growth is forecast to read at 2.7%, up from 2.4%.
A beat on expectations would likely be good for the Aussie currency, a miss would likely weigh.
Thursday, June 7: Second-tier trade balance numbers could provide some interest, particularly from a longer-term viewpoint. The trade balance is forecast to stand at 1BN as exports outstrip imports; a scenario that provides a solid fundamental underpinning to any currency.
Week Ahead: GBP
Monday, June 4: Construction PMI for May, consensus forecast is for 51.9, the previous month read at 52.5.
Typically the construction PMI is ignored by markets, but owing to the slowdown we saw at the start of the year, and a focus on future Bank of England policy, foreign exchange markets will be paying more attention to this release than normal.
They will be looking for a clear sign that growth in this sector - a sector that has struggled over recent months - is back. A beat on expectations could help Sterling, a miss will likely weigh on the currency.
Tuesday, June 5: Services PMI for May, consensus forecast is for 53.1, up on April's 52.8.
The services sector accounts for over 80% of UK economic activity and it is therefore no wonder this is likely to form the highlight for Sterling in the coming week.
Thursday, June 7: We get a slew of house price data which is unlikely to hurt or help Sterling. Nevertheless, surprises will catch some attention. The RICS house price balance is forecast to deliver a reading of -1% and the Halifax house price index is forecast to show a reading of 1% on a month-on-month basis.
Friday, June 8: Industrial and manufacturing production numbers are on the docket. Consensus forecasts for industrial production for April is at 3.1% on an annualised basis, up from the previous month's 2.9%.
Consensus forecasts for manufacturing production are for -0.2% for April on an annualised basis, down on the previous month's -0.1%.
With sentiment towards Sterling rather dreary on the economic front we would suggest the risk-reward ratio lies to the upside, as positive surprises tend to deliver the greatest impact when consensus is poor. In short, bad economic news is largely in the price of Sterling.
Advertisement


Get up to 5% more foreign exchange by using a specialist provider to get closer to the real market rate and avoid the gaping spreads charged by your bank when providing currency. Learn more here.