Pound / Australian Dollar Rate Higher as UK House Prices Surge; 1.80 Now Targeted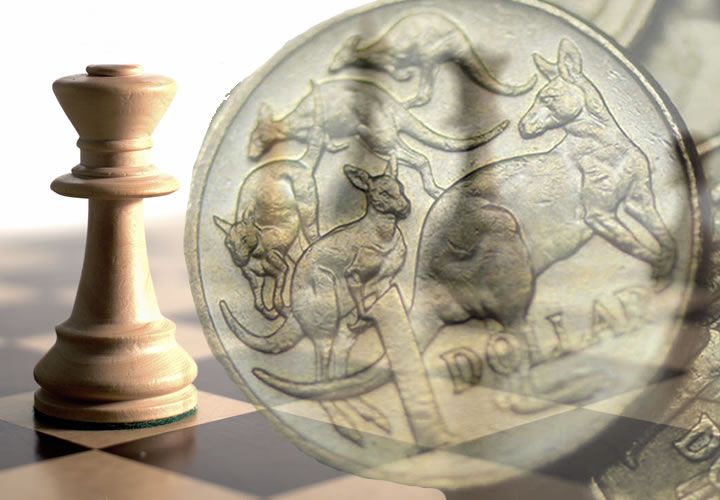 Pound Sterling starts the new month on the offensive after UK house prices rebounded solidly in January, leading to hope of a brighter economic outlook.
Sterling is off to a strong start against the Australian Dollar in February with the GBP to AUD exchange rate rising by over a percent at one stage to reach a best at 1.7817.
The gains are largely symptomatic of Sterling's across-the-board outperformance with strong multi-week momentum being behind the move.
What has certainly helped the UK currency was news that UK house prices are rising following a period of consolidation with data from estate agent Nationwide, revealing an unexpected surge of 3.2% in January compared with the previous year.
This is quite a big step up from the previous January's 2.6% rise and a shock to the market who had been expecting a slight slowdown to 2.5%. Although house prices have slowed long-term, all in all, it appears house price inflation has gone up a gear.
The Nationwide data confirms improving consumer sentiment in the UK and comes a week after data revealed the economy grew a solid 0.5% in the final quarter of 2017 which is ahead of analyst expectations.
Housing is so integral to the economy that when it rises suddenly it is generally a positive longer-term sign. There is an old market saying that 'housing leads the economy' which encapsulates the importance of the metric.
Most people's only real wealth derives from the value of their home. House price inflation is likely to drive core inflation as homeowners feel richer and so, therefore, are likely to spend more or remortgage and spend more.
Higher inflation recommends higher interest rates, and these are a direct driver of the Pound because they attract more inflows from foreign investors who tend to prefer parking their money somewhere where it is going to earn a lot of interest.
The improved economic underpinnings means the outlook for Sterling in February is looking quite good with analysts at Investec presenting data that shows Sterling tends to have a good year if January goes its way.
Advertisement


Get up to 5% more foreign exchange by using a specialist provider to get closer to the real market rate and avoid the gaping spreads charged by your bank when providing currency. Learn more here.
GBP/AUD Rally Extension Likely, Despite the Aussie's Strong Start to the Year
From the perspective of the Pound-to-Australian Dollar exchange rate, the data has extended the existing rally into the third day.
We are also looking at a probable resumption of a rally which started back in January at the 1.7200 trough lows and has since - with a few ups and downs granted - reached the current 1.7760 level.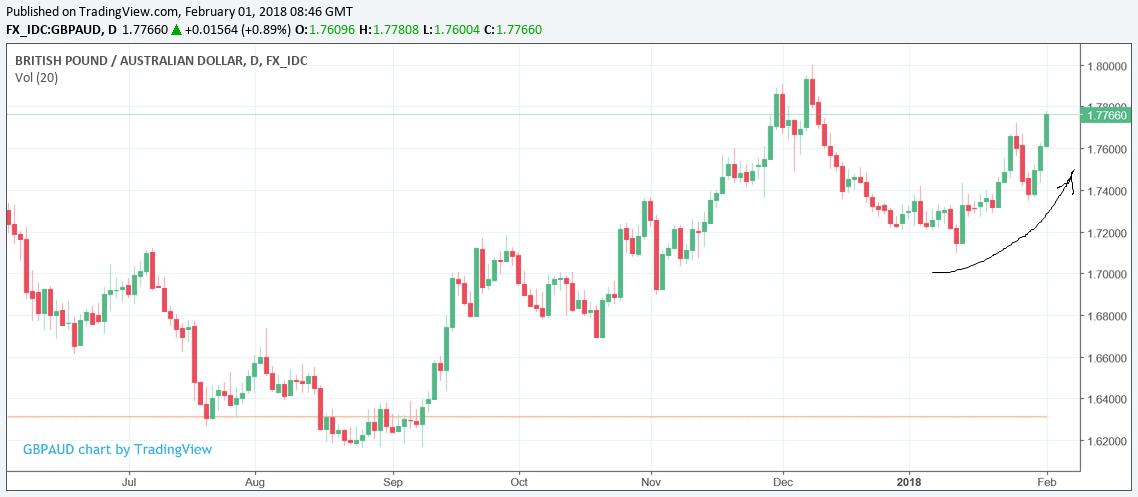 The rise in GBP/AUD is an anomaly because against most currencies the Australian Dollar has been the stronger partner not the weaker.
This can be seen on the chart of the real effective exchange rate (REER) of the Australian Dollar below - which is an average rate for the Aussie versus a basket of counterparts:
The REER has risen even though the Aussie fell against the Pound which means that although the Australian Dollar has had a strong start to the year the Pound has done even better.
The Aussie firstb gained a boost at the start of January after positive Caixin Manufacturing PMI data from China ghostbusted another China-slowdown myth.
China is Australia's biggest customer so when things are going well there Australia benefits.
Australia's main exports to China are its metals and minerals and so the general rise in the price of commodities which has occurred lately, especially aluminum, nickel, lead, and copper all also helped the Aussie Dollar, because all these have to be bought using AUD.
Another important factor in AUD's advance has been an increase in export volumes, as noted by analysts at Swiss bank UBS who are bullish AUD.
Their view is that regardless of whether commodity prices rise or fall, volumes will rise, thus demand for AUD from volume will continue.
This seems to be backed up by a coterie of analysts pushing the global growth theme - if they are right then the sheer volume of demand will push up demand for AUD regardless of price.
One factor which has pressured AUD lower recently has been low inflation data for Q4.
This lessens the chances of the Reserve Bank of Australia (RBA) will raise interest rates anytime soon - and given there wasn't much of a chance they would before there is even less now.
On the domestic front, the main positive is the vibrant labour market, which is now getting quite tight, and this could lead to inflation pressures in the not too distant future as a dwindling pool of available labour can command higher pay deals.
As far as an overall forecast goes, purely from a technical POV, we see a good chance the pair will revisit the 1.8000 December highs, perhaps even in February.
Get up to 5% more foreign exchange by using a specialist provider to get closer to the real market rate and avoid the gaping spreads charged by your bank when providing currency. Learn more here.