Pound-to-Australian Dollar Exchange Rate Looks to Secure Fourth Successive Day of Gains
- GBP/AUD sees bout of appreciation
- But trend ultimately remains pointed lower
- "AUD/GBP will outperform over the remainder of 2020" - CBA
Image © Adobe Images
Achieve up to 3-5% more currency for your money transfers. Beat your bank's rate by using a specialist FX provider: find out how.
Pound Sterling is undergoing another relatively rare patch of outperformance against the Australian Dollar, with the GBP/AUD exchange rate looking to clutch a fourth successive day of gains if Tuesday's advance is held into the close.
The GBP/AUD pair has risen from last week's multi-month low at 1.7695 to trade at 1.8045 at the time of writing, which will offer those looking to transact from Sterling into Aussies a window of opportunity given that there is little written into the charts or elsewhere to suggest the post-April decline in the exchange rate is over.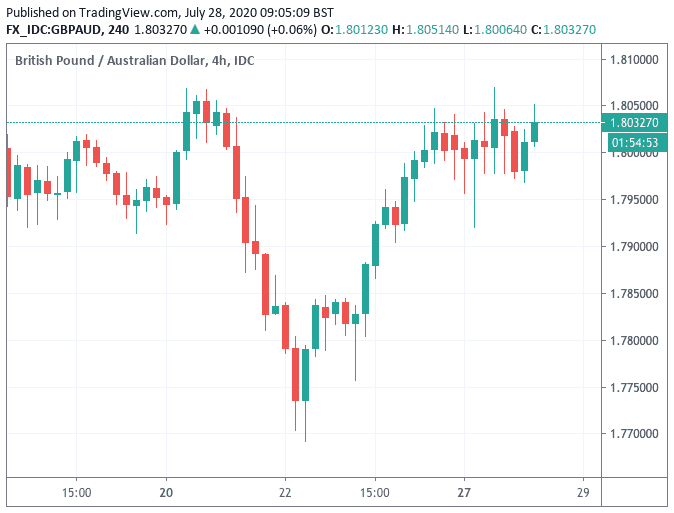 Indeed, we wrote last week that a potential base to the decline was falling as much of July had seen GBP/AUD consolidate, but a sudden dip on July 21 cast serious doubt on Sterling's ability to keep the Aussie at bay and prove such expectations as being premature.
If the market does turn lower from around current levels it would be a sign that markets are still respecting a broader downtrend that has been in place since early April: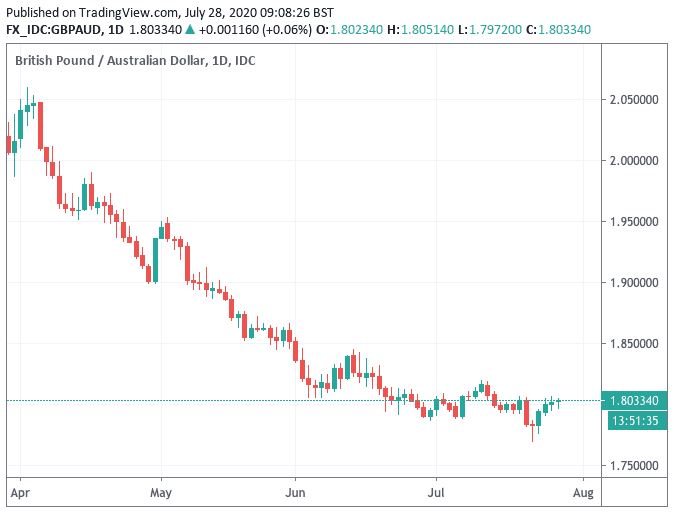 Analysts at Commonwealth Bank of Australia are maintaining a view that the Aussie will maintain a trend of appreciation against its British cousin, saying a combination of supportive commodity prices and Brexit uncertainties should pressure GBP/AUD (lift AUD/GBP).
"In our view, AUD/GBP will outperform over the remainder of 2020 because of solid Australian bulk commodity prices. Uncertainty about Brexit developments can support AUD/GBP in the near term. However, once Brexit uncertainty has passed, we expect some consolidation in AUD/GBP reflecting GBP's strong underlying fundamentals," says Joseph Capurso, Head of International Economics at CBA.
While the outlook does appear to still favour the Aussie it cannot be denied that the pace of decline in GBP/AUD has faded, and there are indeed hints of the move stalling.
This is particularly evident in the weekly chart where the solid run of weekly declines has given away to more sideways action in July, indeed, of the past four weeks three have been up:
From a fundamental perspective, the Australian Dollar does remain heavily reliant on global investor sentiment which is best expressed via the movements of the S&P 500 index which topped out last week and underwent something of a correction lower.
We would need to see global markets find a fresh wind before betting on further Australian Dollar gains, and with the global covid-19 case load continuing to rise - including in the U.S. - this is a questionable ask in the near-term. Geopolitical tensions between China and the U.S., as well as domestic political jockeying over another round of covid fiscal support, are further reasons to expect investor wariness.
Please Get in Touch Using the Below Form
"The boost from the risk-on rally and the still very relaxed Reserve Bank of Australia comments around the strength of the AUD has now worn off. If market sentiment fails to show yet another proof of extraordinary resilience (this) week, AUD appears to be the most vulnerable to downside corrections due to: a) the highest correlation in G10 with CNY, b) lingering virus emergency situation in Australia and c) a worsening recovery outlook," says Francesco Pesole, FX Strategist at ING Bank N.V.
But, CBA reckon bouts of anxiety are ultimately likely to be short-lived and the Aussie will find its feet once more.
"We believe US‑China tensions will only spark short‑term bouts of AUD weakness. In our view a more serious and sustained breakdown in relations (such as the abandonment of the US‑China trade deal) would be required to push AUD substantially lower," says Capurso.
Featured Content
Mortgage Direct - a Spanish mortgage broker specialising in the provision of mortgages for expats - have confirmed they have secured their Spanish license.