Dollar-Yen Rally Just Getting Started: New Analysis
Image © Adobe Stock
---
A new technical analysis of the Dollar to Yen exchange rate charts suggests the recent rally is just getting started.
Markus Wachter, Technical Analyst for Julius Baer, the Swiss bank, says he upgrades his stance on Dollar-Yen to bullish following recent developments that saw the pair break above the July 2023 high.
"The USD/JPY is continuing its uptrend as it crossed again above 147 after breaking above its July 2023 high at 145 this month and a short consolidation phase," says Wachter in a new research note.
---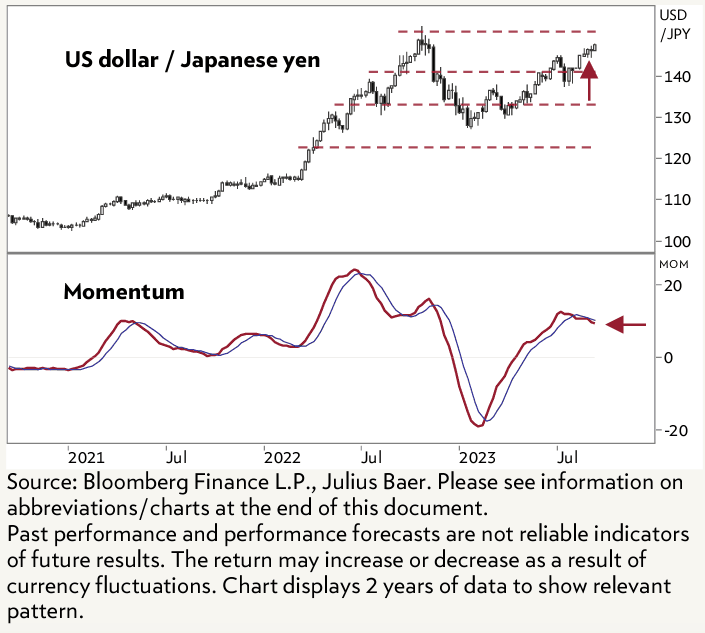 Above: "USD/JPY is making new highs" - Julius Baer.
---
"Whilst last week it could not stay above 147, crossing above that resistance for a second time could lead to further gains and adds a short-term bullish signal for the continuation of the previous uptrend," he adds.
Although the trend is positive Wachter warns the weekly momentum indicator is positive but is showing signs of topping – "a divergence which could slow down the uptrend a bit".
The next resistances are identified at 148 and at the October 2022 high at 152.
"Downside support levels to watch are 145 and 137. The overall chart picture is bullish, and the currency pair is likely to approach the old high from October 2022. We therefore upgrade the USD/JPY to Bullish," says Wachter.