Pound Forecast to Fall Back to Multi-Year Lows vs. the Euro But Hold Ground Against the Dollar
Investment banks JP Morgan and UBS have confirmed they see the Pound weakening versus the Euro in 2018 while the UK currency should hold ground against the Dollar.
The views set them apart from those in the analyst community that believe Pound Sterling will continue to edge higher over coming months and extend a recent recovery as uncertainty relating to Brexit dissipates and the UK economy continues to add jobs.
Indeed, the pro-Sterling story is becoming a popular one and readers must therefore be wary of alternate views.
Where you expect the Pound to go depends on what fundamental drivers you are focussing on, and for UBS and JP Morgan emphasis must be placed on external factors; particularly the relative performance between the UK economy and that of other countries.
Eurozone economic growth continues to eclipse that of the UK and this will give the Euro an advantage; in short the UK will be left behind in the economic performance stakes which has implications for GBP/EUR, regardless of what happens in Brexit negotiations.
"We believe that continued Eurozone outperformance will, at the margin, push the Euro higher relative to Sterling. As for the Dollar, we think its period of strength has drawn to a close. The pound should hold onto its recent gains versus the greenback, in our view," says Dean Turner, an economist with UBS.
The debate surrounding Sterling's performance in 2018 comes at a time of appreciation in the Pound-to-Dollar exchange rate which this week hit a fresh 18 month high at 1.3943 which means the Pound is well on track to recover its post-brexit referendum losses.
The Pound-to-Euro exchange rate is meanwhile well off the lows at 1.08 recorded in August 2017 but appears unable to break out of the region around 1.13, which gels with the idea that this could be a stubborn customer in 2018.
JP Morgan sit above consensus with their forecasts for the UK to record a healthy 2.0% growth rate in the year ahead, this would represent a pickup from 2017's growth rates.
But, for Paul Meggyesi, foreign exchange analyst with JP Morgan in London, the main threat to the Pound comes from other regions outperforming and global growth is expected to still eclipse the 2.0% growth rate of the UK.
Accelerating global growth will open up more attractive investment propositions outside of the UK resulting in more Pound-selling - or less buying - as funds exit the country or are diverted away in favour of alternative investments overseas.
Above: Even amongst the G7 the UK is at the bottom of the league table
Interestingly, this dynamic is hurting the US Dollar at present with the Dollar enduring a poor start to 2018 having been one of the worst-performing major currencies of 2017.
Analysts identify better growth outside of the US as being behind the decision by traders and investors to dump the Dollar. Could the same fate befall Sterling?
"The UK economy risks being eclipsed by an increasingly powerful global uptrend," says Meggyesi.
UBS are however notably more bearish on the growth prospects facing the UK in 2018 and forecast UK economic growth at 1.1% in 2018 due to a continued fall in investment because of Brexit risk, a worsening labour market, falling consumption due to the fall in real earnings from inflation and higher borrowing rates as a result of the Bank of England's (BOE) recent rate hike.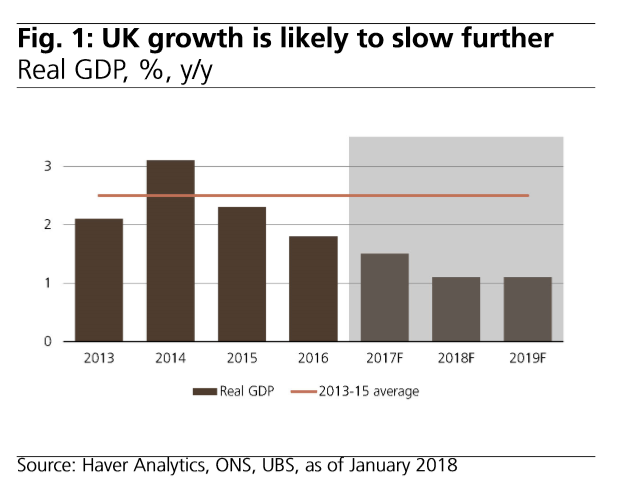 Above: UBS see UK growth trending lower.
"The uncertainties of Brexit are likely to weigh further on business investment, and we expect consumers to pare their spending even more in light of weak real wage growth, rising borrowing costs and a more challenging labor market outlook," says Turner.
Interestingly, the BOE growth forecast plows a middle way between these two at 1.6% for 2018 and 1.7% for 2019.
Forecasts for the Pound
Despite the nine-point divergence in growth forecast both share the same view of Sterling.
JP Morgan forecast a fall in GBP/EUR to 1.0880 (equivalent to a rise in EUR/GBP to 0.9200) by the end of 2018.
This takes Sterling back towards the multi-year lows of September 2018.
They officially forecast and end of year GBP/USD rate of 1.34, but anecdotally suggest a broader consolidation within the mid 1.30s:
"We expect GBP to weaken by a few percent vs EUR to 0.92 by year-end but to consolidate against a moderately weaker USD in the mid 1.30s," says Meggyesi.
UBS are largely in agreement - if even slightly more bullish for GBP/USD - which is forecast to trade at 1.36 over the next 12 months.
For EUR/GBP, UBS, likewise see a rally to 0.92 as likely due to Eurozone growth outperformance. This gives a Pound-to-Euro exchange rate 1.0880.
Advertisement


Get up to 5% more foreign exchange by using a specialist provider to get closer to the real market rate and avoid the gaping spreads charged by your bank when providing currency. Learn more here.