British Pound "Gets Our Vote" say HSBC, Raise their Forecasts vs. Euro and U.S. Dollar
Image © Pound Sterling Live
- No Brexit must now be considered in Sterling forecast models
- Sterling forecasts vs. Euro and Dollar raise sharply higher
- Pound-to-Euro exchange rate @ 1.1405, Pound-to-Dollar exchange rate @ 1.2862
UK high-street lender HSBC have raised their forecasts for the British Pound in 2019, saying the currency "gets our vote".
The call for a stronger Pound is based on scenario modelling that tries to anticipate the eventual Brexit endgame.
Under HSBC's current modelling three options are preferred: no deal, deal and no Brexit.
Each scenario has its own set of Sterling forecasts attached, and crucially, each scenario has a similar weighting.
"We do not expect that everyone will agree with our decision to apply equal weightings to all three outcomes," says David Bloom, a currency analyst at HSBC in London. "We simply believe our equal weightings are the most plausible when uncertainty is so high and visibility on how Brexit will play out is so low."
Previously, forecasting Sterling at HSBC was based on modelling just two scenarios, 'deal' and 'no deal':
"We have long viewed GBP as a probability-weighted distribution of different outcomes. Prior to the vote on PM May's deal with the EU, we simplified this to a binary choice between some form of Brexit deal and the alternative 'no deal' outcome. We argued a deal could see GBP/USD rally to 1.45, whereas a "no deal" outcome could see it fall to 1.10. With little clarity on which outcome was more likely, we attached identical probabilities to each, suggesting therefore that GBP/USD should trade roughly around 1.25 to 1.30."
Since the Brexit deal was defeated by parliament in January, HSBC have taken another look at their models, and come to the conclusion that the Brexit outcome was no longer simply a binary outcome.
A third possible outcome has been identified in the form of 'no Brexit'.
"This would imply a complete reversal of the weakness evident since the EU referendum result, and could see GBP/USD revert towards 1.55, the level prevailing before Brexit was a focus for the market," says Bloom.
Inject a third outcome into the model, and the forecast is naturally rises.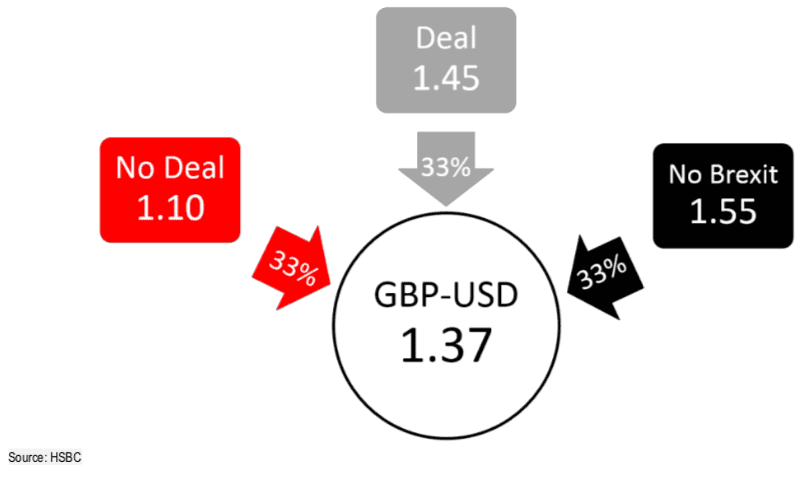 How a 'no Brexit' might be achieved is not made clear, but Bloom does cite Prime Minister May and other members of government warning their Conservative party colleagues opposed to the Brexit deal that rejection of the deal could see the likelihood of 'no Brexit' rising.
"So we can no longer think in binary terms. A third strand of possibilities has emerged that needs to incorporated in a more meaningful way following the scale of defeat for PM May's deal and the subsequent strategy to shift to a cross-party process. The likelihood of "no Brexit" is moving from a distant prospect to a meaningful one," says Bloom.
Blending together a 'no deal' outcome (1.10), a deal (1.45) and 'no Brexit' (1.55) would be consistent with GBP/USD around 1.37. Previously HSBC had forecast the exchange rate to trade at 1.30 in 2019.
The equivalent adjustment puts EUR/GBP at 0.80. This gives a GBP/EUR exchange rate of 1.25, making it an above consensus forecast and sharply higher than HSBC's previous forecast for 1.176.
These forecasts are applied to the entire 2019 period.
"Amid the gloom and uncertainty, GBP looks cheap on a risk-reward basis," says Bloom.
Time to move your money? Get 3-5% more currency than your bank would offer by using the services of foreign exchange specialists at RationalFX. A specialist broker can deliver you an exchange rate closer to the real market rate, thereby saving you substantial quantities of currency. Find out more here.

* Advertisement
Sterling Today: Parliament Eyes 2nd Chance at Delaying Brexit
All eyes are on Prime Minister Theresa May who will speak in parliament today but expectations that she will announce a decisive solution to the Brexit stalemate are low.
The BBC reports May is to tell lawmakers they must hold their nerve in order to get a deal from the EU.
There will be a fresh vote on Thursday for Parliament to authorise May's plans to offer MPs another say on the direction of Brexit by February 27 at the latest if there is still no deal.
With further amendable motions likely over coming weeks we would expect MPs to attempt to force the government to request an extension to Article 50 and delay Brexit. The Sun's Tom Newton Dunn today reports "a new revolt" by ministers is possible as they want May to promise to hand over Parliamentary time to backbenchers at the end of the month if there is no progress and then allow a bill to pass that will enforce an extension to Article 50 and delay Brexit.
For Sterling this is a positive outcome as the currency tends to trade with strength when the probability of a 'no deal' declines.
However, the best possible outcome for those wanting a stronger Pound would be the passing of the deal as this would automatically erase a significant amount of uncertainty that hangs over the UK currency.
"Given that the 'meaningful' vote has been postponed, we do not expect the debate on Thursday to change the Brexit outlook and we thus expect the 0.86-0.89 (EUR/GBP) range to hold near term," says Allan von Mehren, Chief Analyst with Danske Bank.