Pound Sterling is Trading as a Safe-Haven as Geopolitical Pressures Mount
The British Pound retains a positive bias in the mid-week session having enjoyed strong gains over the course of the previous 24 hours.
The British Pound was the second-best performing currency in a group of the world's ten biggest currencies on Tuesday, April 11 following a ratcheting up of global geopolitical tensions.
Only the traditional safe-haven Japanese Yen was seen outperforming the UK currency as traders opted to take to the sidelines amidst increased tensions between the United States and North Korea.
In a tweet that caught the attention of traders, US President Donald Trump warned that "North Korea is looking for trouble", insisting that if China "does not decide to help", the US "will solve the problem without them".
North Korea is looking for trouble. If China decides to help, that would be great. If not, we will solve the problem without them! U.S.A.

— Donald J. Trump (@realDonaldTrump) April 11, 2017
"Comments by US secretary of state Tillerson (on Russia/Syria) and by US president Trump (on North Korea) confirmed the US' recent tougher stance, stressing geopolitical tensions and creating some new risk aversion," says Piet Lammens, an analyst at KBC Markets in Brussels explaining the weakness seen in the Dollar.
All the tell-tale signs of investor nerves were present: the German stock market was seen nearly a percent in the red, Wall Street half a percent in the red, the Australian, New Zealand and Canadian Dollars were also seen suffering losses.
Commodity prices were down and the chat on investor channels was of these recent political developments.
US treasuries were meanwhile in demand as investors opt for the safety of bonds - this in turn pushed down their yield and so with it demand for the US Dollar.
The ultimate safe-haven, the Japanese Yen, was meanwhile outperforming all other rivals.
"The Yen surged on geopolitical tensions. The ever-hot twitter account from Trump dampened the risk sentiment as he tweeted 'North Korea is looking for trouble'. Dollar was mixed. The GBP was also stronger for the same driver as the Yen," says Holger Sandte, analyst with Nordea Markets.
Indeed, the Pound appears to benefit from risk-off conditions. With the Eurozone not exactly being considered a safe-haven ahead of the French elections it would appear that the UK is turning out to be a safer bet.
Following the escalation in tensions there was a notable confirmation of Sterling's status via increased demand:
The Pound to Euro exchange rate was up 0.50% at 1.1774, near a daily high at 1.1778.
The Pound to Dollar exchange rate was up 0.57% at 1.2486.
The Pound to Australian Dollar exchange rate was up at 0.75% at 1.6676.
While the Pound has long been associated with risk since the Brexit vote it must be noted that Brexit is now a well-flagged risk that is priced by markets; Brexit does therefore differ from the geopolitical issues we are now witnessing.
If the situation gets more worrying we could well see further gains in Sterling.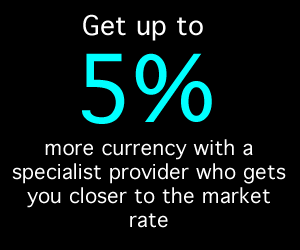 High-Stakes Poker Underway
The US President wrote the extraordinary message on Twitter after revealing he had urged his Chinese counterpart Xi Jinping to pressure Pyongyang in to stopping its nuclear programme.
Trump has since told Fox Business Network in an intereview that "we are sending an armada. Very powerful. We have submarines. Very powerful. Far more powerful than the aircraft carrier. That I can tell you."
"Donald Trump is clearly playing a game of high-stakes poker with North Korea and China of late, yet the only problem is that he is doing so against a hugely unpredictable nation," says Joshua Mahony, Market Analyst at IG. "Trump's decision to tweet the offer of a better trade deal with China in exchange for help placating North Korea is remarkable and seems like something that would ordinarily take place behind closed doors."
Trump says the US is willing to go it alone against North Korea, and Mahony adds that whilst markets are aware that this is mostly a game of chicken, the decision to move naval ships into the region could enrage the unpredictable Kim Jong Un into an action that could see things escalate quickly.
Trump's warning came as Russia admitted it is 'extremely worried' the US will attack Kim Jong-Un after North Korea warned it has US bases 'in its nuclear sights'. Pyongyang had earlier threatened 'catastrophic consequences' after Trump sent an armada of warships to the Korean Peninsula.
North Korean state media warned on Tuesday of a nuclear attack on the United States at any sign of American aggression as a U.S. Navy strike group steamed toward the western Pacific.
Tension has escalated sharply on the Korean peninsula amid concerns that reclusive North Korea may soon conduct a sixth nuclear test and after Washington said at the weekend it was diverting U.S. Navy strike group Carl Vinson from port calls to Australia toward the Korean peninsula as a show of force.
Meanwhile, Secretary of State Rex W. Tillerson said on Tuesday that President Bashar al-Assad's reign in Syria was "coming to an end" and warned that Russia was at risk of becoming irrelevant in the Middle East by continuing to support him.
Tillerson is set to meet the Russian foreign minister Sergey Lavrov today and if this goes well he might meet Putin.
Commentators are saying this would be a good signal of progress which will help cool tensions.
This could see the British pound reverse some of its gains.
Indeed, we have also heard Trump seek to put a lid on tensions saying the US has no further plans there and is "not going into" that country's civil war.
The meeting is currently underway and if a constructive tone is struck between the pair then we could well see Sterling give back some of those gains made as tensions were ratcheted up.