Pound-to-Euro Exchange Rate Outlook: AFEX Eye Big Breakout
Image © John Gomez, Adobe Stock
- Sideways trend maturing, big mover higher or lower beckons

- GBP/EUR hugs 1.1250 as markets await Brexit deal
- 1.10 key support, 1.16 is resistance point to watch
We are told coming weeks could see a sizeable move by Pound Sterling that would take it into fresh territory against the Euro.
The Pound-to-Euro exchange rate has over recent days seen its recovery die as markets grow increasingly nervous over the prospect of a Brexit deal being done in 2018; without such a deal the prospect of a hard exit from the E.U. in March 2019 is likely. This is a worst-case scenario for Sterling.
However, the decline also comes as the GBP/EUR exchange rate reaches expensive levels by the standards of its longer-term rally: post-2016 it rarely strays too far above 1.14, could we in fact be seeing the currency pair being driven by technical considerations?
If we take a step back we are able to observe that the Pound-to-Euro exchange rate is in fact caught in a familiar range that more-or-less pivots around 1.1250.
Could this be where markets are intent to keep the exchange rate until the outcome of negotiations are known?
"The market here continues to track sideways at present either side of 1.1250 or so in effect," says Trevor Charsley, a foreign exchange analyst with currency brokers AFEX.
According to consensus forecasts by 48 of the world's leading investment banks the Pound-Euro exchange rate will remain in a range for a while yet. To see where the likes of Goldman Sachs, Citi and J.P. Morgan are forecasting Sterling-Euro over 3, 6 and 12 month timeframes, please download a special report on the matter curated by Horizon Currency Ltd.
But those watching the Sterling-Euro rate over coming weeks must be aware that a big move is in the offing.
"Studies suggest this re-consolidative pattern is gradually narrowing/maturing and enough compression already exists to enable a significant break-out going forward," says Charsley.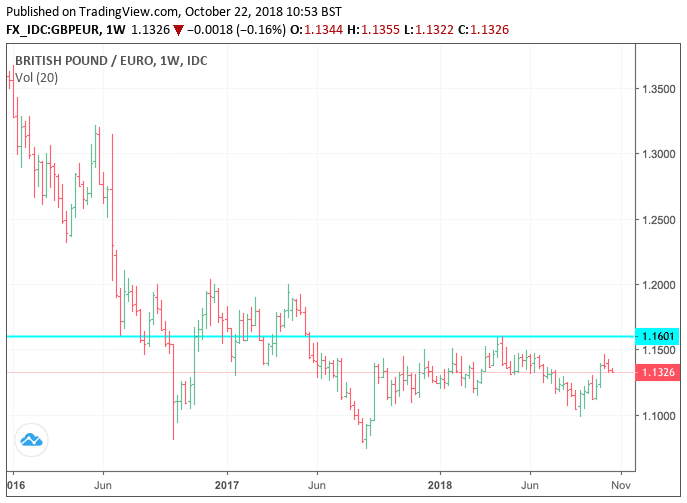 Whether that breakout is to the top, or bottom will of course be dependent on how Brexit talks resolve.
While we can't predict this volatile political puzzle, we can pencil in the key numbers that will signal to market watchers a sustained move is underway.
"An extension above the previous 1.1600 cycle peak remains necessary to suggest an improvement in underlying GBP fortunes," says Charsley.
1.1000 support is meanwhile forecast to rebuff declines over coming sessions; a break here though could however well signal a move into softer territory.
Advertisement


Bank-beating GBP/EUR exchange rates: Get up to

5% more

foreign exchange

for international payments

by using a specialist provider to get closer to the real market rate and avoid the gaping spreads charged by your bank when providing currency. Learn more here
The latest pulse lower by Sterling comes as markets question the security of Theresa May's Premiership amidst ongoing talk of a looming vote of no confidence by her own party.
The prospect of a no confidence vote is one that markets don't like: foreign exchange markets crave stability and certainty and any chance of the U.K. replacing its leader introduces the potential for another move lower.
A change in leadership could derail U.K.-E.U. negotiations and would sharply raise the prospect of no deal being reached before Brexit day in March 2019; this creates an environment in which Sterling is likely to struggle we are told.
"The U.K. and E.U. could be moving closer to a deal, but investors have heard this before, and are unlikely to take too much comfort before the actual deal is signed. We expect continued volatility, and for Sterling to weaken gradually against the Euro towards year-end," says Ingvild Borgen Gjerde, an analyst with DNB Markets.
Prime Minister Theresa May's spokesman, when asked if the PM was expecting a no confidence vote, said that the PM is still focused on getting a Brexit deal and that PM May continues to believe we can secure a deal that all lawmakers can support.
He said that PM May will bring forward a proposal on regulation for the Irish backstop, and the work is being carried out on that.
May also now plans weekly update to ministers on deal and no deal scenarios.
Euro Outlook Darkens Amidst Notable Slowdown in Activity
Survey data for October point to a significant slowdown in the Eurozone economy at the start of the final quarter of 2018, primarily due to weakness in Germany and broad-based sluggishness in manufacturing.
The Markit Eurozone Manufacturing PMI for October read at 52.1 where markets had forecast a reading of 53.0. The Service PMI read at 53.3, below the forecast for 54.5. The composite PMI read at 52.7, markets had forecast a reading of 53.9.
The data confirms business growth to now be at its slowest in two years.
"We see little to cheer about in the headlines from Markit. New orders growth slowed across the board, and output growth in both manufacturing and services slid to multi-year lows. To boot, executives' outlook deteriorated sharply too," says Claus Vistesen, Chief Eurozone Economist with Pantheon Macroeconomics.
Vistesen believes these poor data will put the ECB, and its new-found confidence, on notice.
"Mr. Draghi's words will be weighed carefully tomorrow," says Vistesen referencing Thursday's European Central Bank meeting which forms this week's highlight for the Euro exchange rate complex.
Advertisement


Bank-beating GBP/EUR exchange rates: Get up to

5% more

foreign exchange

for international payments

by using a specialist provider to get closer to the real market rate and avoid the gaping spreads charged by your bank when providing currency. Learn more here