Underwhelming U.S. Retail Sales Show Washington's Boots Too Large For Households to Fill Alone
Image © Adobe Images
GBP/USD spot rate at time of writing: 1.2970
Bank transfer rate (indicative guide): 1.2631-1.2722
FX specialist providers (indicative guide): 1.2791-1.2869
More information on FX specialist rates here
Retail sales figures underwhelmed for the month of August on Wednesday, casting a shadow over the outlook for recovery in the world's largest economy after Washington lawmakers' pre-election political jockeying left households with a pair of boots that have so-far proven too large for them to fill.
U.S. retail sales rose by just 0.6% in August when consensus had looked for a 1.2% increase, while a downward revision from 2% to just 1.2% for July's estimate added insult to injury.
Core retail sales, which ignore sales of expensive items like cars because of the distorting impact they can have on underlying trends, rose by a still-meagre 0.7% against expectations for an increase of 1.9%. Consolation was offered by core sales, a more closely watched barometer U.S. consumer activity, when July's estimate of 1.9% remained unchanged.
"Control group of sales, which excludes autos, food services, gasoline, and building materials, and is a better gauge of underlying demand, fell by 0.1% on the month, as consumers became more cautious, leaving sporting goods purchases down by almost 6%, while sales at department stores also contracted, along with a drop in receipts from grocery stores," says Katherine Judge at CIBC Capital Markets. "Online sales were flat, another worrisome sign which also likely reflected uncertainty around government income support."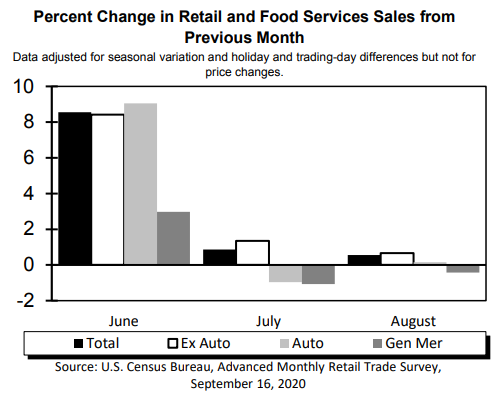 Above: Month-on-month changes in various measures of U.S. retail sales. Source: Census Bureau.
U.S. retail sales had enjoyed three months of solid back-to-back increases as households enjoyed support afforded by the $2trillion CARES Act, which gave coronavirus-impacted households up to $600 per week of federal funding in addition to their state level benefits.
The Act, which won bipartisan support in March, meant that sales quickly rebounded after collapsing by -15.2% in April when much of the world's largest economy wallowed in a form of 'lockdown' imposed at the state level. But funding from the act expired with the month of July and pre-election politics have since scuppered all attempts to renew it in any capacity.
The White House and lawmakers from both sides of Congress have several times attempted to renew the CARES Act support programmes in one guise or another, although each attempt has culminated in failure with differences between the opposing sides too great to bridge.
"These are disappointing numbers, and they're probably a hint of what's to come in the wake of the ending of enhanced unemployment benefits, which were worth about $80B per month - nearly 15% of the value of monthly retail sales - to people rendered jobless by the pandemic," says Ian Shepherdson, chief economist at Pantheon Macroeconomics. "The loss of so much cashflow will depress activity. We think core retail sales are poised to fall outright in Q4, unless Congress acts quickly."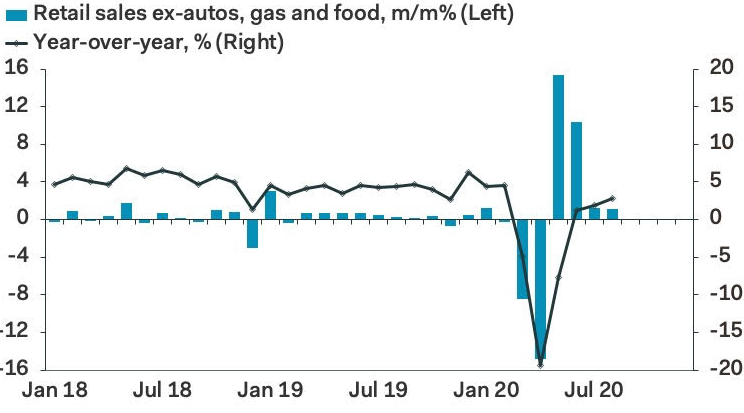 Source: Pantheon Macroeconomics.
Like with many economies; government and household spending account for the lion's share of GDP so if government tightens its purse strings, growth or recovery could be undermined. This would be likely anyway, but it's especially so if that tightening is felt directly in households' wallets.
U.S. retail sales are still expected to grow in August and September, but there's now a major congressional question mark over the final quarter.
Meanwhile, the economy is still expected to recover strongly this quarter, although that has more to do with the sheer scale of the -32.9% fall in GDP recorded previously and emergence of states from so-called 'lockdown'.
Theoretically, it shouldn't be difficult for an economy that wasn't moving to perform better once it starts moving again but the loss of CARES Act support means the rebound will be lesser than it might've been otherwise, and this will make it that bit easier for others to outperform the U.S.. A recipe for Dollar weakness if there ever was one.
"The consumer has performed well so far given the health and economic impact from Covid, but there is still a long way to go in the recovery story. Given Covid is still not beaten we remain cautious on the growth outlook. Moreover, there is still huge unemployment, there is little prospect of meaningful fiscal stimulus in the next few months and there is the clear threat that a fractious election could hurt sentiment and spending," says James Knightley, chief international economist at ING. "Retail sales only make up around half of consumer spending with education, healthcare, travel and hotel stays also contributing to the total – areas that have been hit far harder by the pandemic. While we have been able to substitute some of our spending towards "things" (measured in retail sales) and away from "experiences", it doesn't fully make up the shortfall."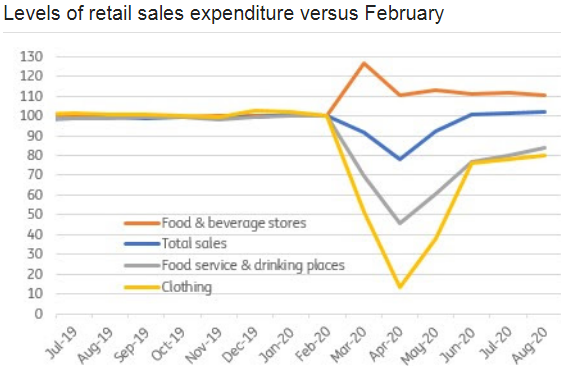 Source: ING Group, Macrobond.