Australian Dollar Could Resist Pound Strength Above 2.04 Levels Say Westpac

The British pound (GBP) retains a strong upward bias against the Australian dollar (AUD) - however limits to sterling's strength are seen lying ahead.
The pound sterling to Australian dollar exchange rate (GBPAUD) is forecast to extend its rally above the 2.0 level according to just-released research issued by Westpac Bank.
Underlying technical trends that favour of the British pound remain strong while the outlook for the Aussie dollar remains fundamentally compromised.
However, charts show that after a solid start to 2015 the GBPAUD has seen its rally halted with February failing to deliver fresh highs and concerns remain alive as to just how far sterling can advance in coming months.
Aus Dollar Rates to Reference
For your reference, the currency markets are showing the following A$ levels:
The pound to Australian dollar exchange rate is 0.34 pct lower on a day-on-day comparison, 1 GBP = 1.9688 AUD.
The euro to Australian dollar exchange rate is unchanged, 1 EUR = 1.4355.
The Australian to US dollar exchange rate is 0.24 pct higher, 1 AUD = 0.7819.
NOTE: The above quotes and graphic representations are taken off the wholesale markets. Your bank will affix a spread at their discretion when passing on currency. However, an independent FX provider will seek to undercut your bank's offer, thereby delivering up to 5% more currency in some instances. Find out more.
Forecasting a Mildly Stronger Pound Sterling v Aus Dollar
Those watching the GBP to AUD currency pair should be advised that the most likely direction to be taken is to the upside as this is the path of least resistance.
In currency analysis, advocating for the advance of an established trend is considered favourable to the riskier call of suggesting the said trend will reverse.
In a note to clients, analyst Sean Callow in Sydney says he believes GBP/AUD will ultimately extend its two-year rally to 2.02-2.04 in coming weeks.
However, as the below graphic shows, the rate at which sterling has been climbing against the Australian dollar has stalled somewhat: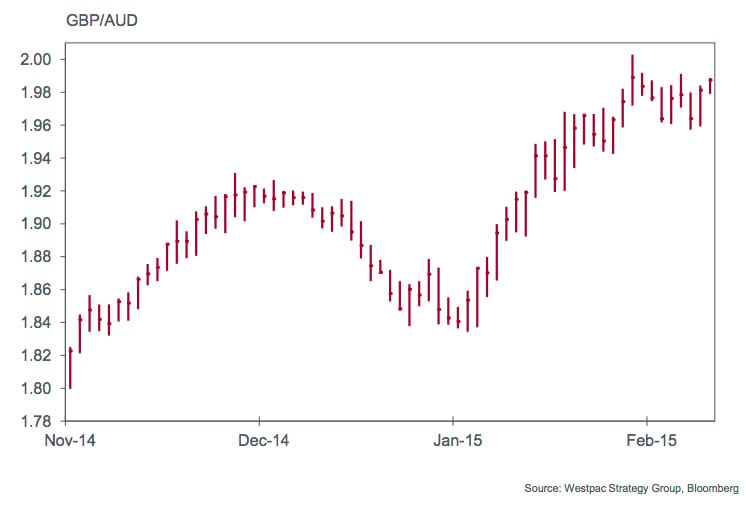 Indeed, "BoE tightening is probably distant enough to limit GBP/AUD upside beyond 2.04 any time soon," says Callow, acknowledging that constraints on the pair's rallying power do exist.
Fundamentals do Favour Further GBP Advances
While the upside potential in sterling appears to be slowing, the fundamental outlook continues to favour the UK unit.
"The Bank of England keeps alive talk of higher rates while AUD struggles for traction against the backdrop of the RBA's easing bias and commodity prices yet to form a base," says Callow.
Interesting though, Callow does further muddy the waters with his assertion that the AUD is also arguably close to fair value after its steep 2013-2014 decline.
The view is somewhat negated though by the observation that GBP/AUD has no real prospect of sustained decline so long as the Australian economy is soft enough to keep markets leaning towards RBA cuts.
Nearing the Long-Term Average GBP/AUD
Here is another interesting observation from Westpac concerning the historical norm at which the pound should trade against the Aussie dollar.
According to research, GBP is closing in on its long term average rate versus AUD, now about 9% below average.
"The 1.90-2.05 range accounts for 8% of days since the 1983 AUD float while trade within 2.05-2.20 totals a hefty 20% of daily closes," says Callow.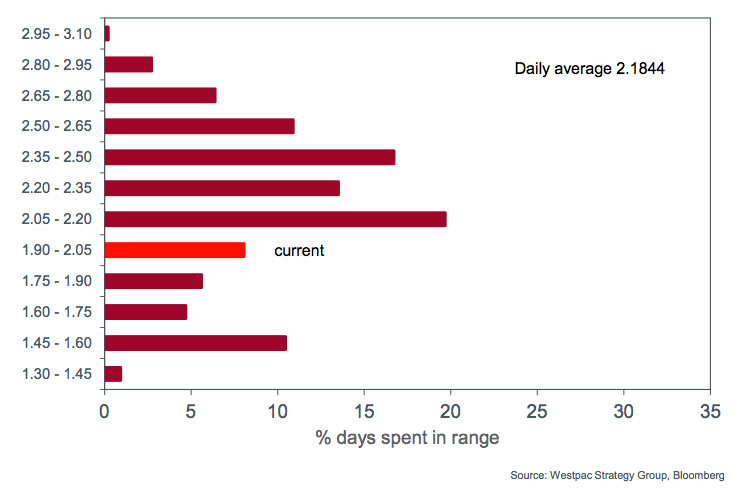 Of course, averages are just that - and the potential for the GBP to advance above these levels is high as such a move would be needed to counteract the period at which the pair traded below average.
Indeed, "the cyclical divergence between Australia and the UK suggests there is a good chance the pair at least approaches the 2.18 average at some point over the next 12 months," notes Callow.
Technically Speaking…
Callow's colleague at Westpac, David Coloretti who specialises in forecasting currencies based on their chart histories, says he believes the next target of note is at 2.05/2.07.
This target represents the zone where 2 long-term Fibonacci retracement levels coincide.
"A month end close above 1.9650 is key to confirming this target," says Coloretti.