South African Rand's Abundant Headwinds Tilting GBP/ZAR Risk Higher 
"A hawkish 50bps might be enough to push the pair through the level, but the domestic situation makes it too hard for anyone to jump on the carry too aggressively" - Jefferies.
Image © Eskom SOC
The Pound to Rand exchange rate is one of the best performing Sterling pairs of the year thus far and could be set to retain an upside bias in the days ahead owing to abundant headwinds weighing on the South African currency.
Pound Sterling came under pressure across the board on Tuesday after S&P Global PMI surveys warned of a deepening contraction in the UK's breadwinning services sector but the South African Rand also remained an underperformer in price action that has limited losses for GBP/ZAR.
The Pound to Rand pair was lower by a fraction on Tuesday but remained higher for the recent week and month of January overall following a weeks-long period over which South Africa's ailing energy infrastructure has further dampened the outlook for an already-fragile economy.
"The focus has been the loadshedding situation in the country, with stage 6 loadshedding causing havoc to consumers and industries alike," says Sebastian Steyne, an FX hedging specialist at Sable International.
"The announcement of a 18% increase in electricity prices has riled up the country, with many voicing concerns about this and the stability of the South African power grid," Steyne writes in a Monday research briefing.
---
Above: Pound to Rand rate shown at daily intervals with selected moving averages and Fibonacci retracements of recovery from September lows indicating possible areas of technical support for Sterling. Click image for closer inspection.
---
South Africa's economy has endured its most disruptive rolling power cuts so far this January after equipment failures placed more than a fifth of the country's power generation capacity out of action, prompting loadshedding at Eskom.
With equipment failing as fast or otherwise faster than it can be restored across the different parts of the power network, Eskom said on Monday that Stage 3 and Stage 4 loadshedding is expected throughout the week.
This imposes limits on economic activity and is the backdrop against which the South African Reserve Bank (SARB) is set to raise its interest rate on Thursday.
"The FRA curve has fully factored in a 50bp hike, but only factored in a 75bp hike at close to 10% chance of it occurring. Only one more hike this year is currently being factored in by the FRAs, 25bp, also in H1.23," says Annabel Bishop, chief economist at Investec.
"The rand could gain somewhat on a 75bp increase in the repo rate instead of 50bp this week, although the ongoing loadshedding remains a substantial, overshadowing negative effect on the domestic currency," Bishop writes in a Tuesday research briefing.
---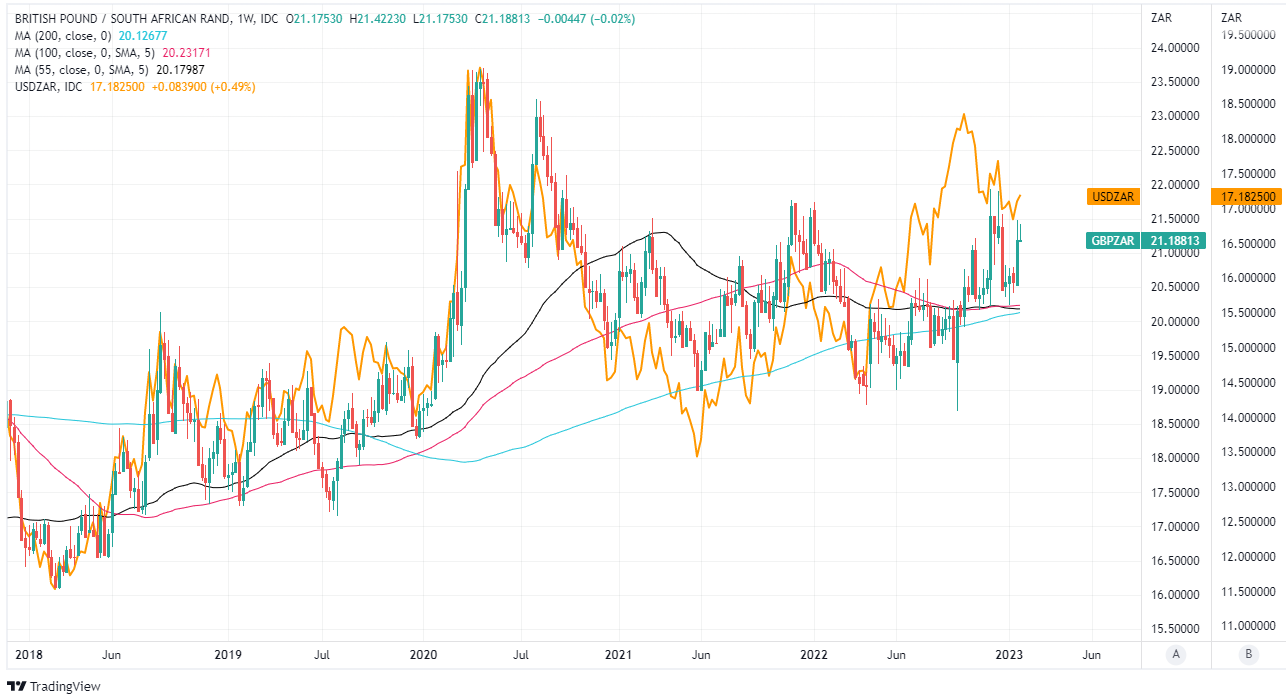 Above: Pound to Rand rate shown at weekly intervals alongside USD/ZAR. Click image for closer inspection. If you are looking to protect or boost your international payment budget you could consider securing today's rate for use in the future, or set an order for your ideal rate when it is achieved, more information can be found here.
---
Rising interest rates are an added burden for the South African economy and currency but both GBP/ZAR and USD/ZAR are also likely to be responsive this week to Thursday's U.S. GDP figures for the final quarter and Friday's Personal Consumption Expenditures inflation data.
Consensus suggests the U.S. economy built further on its rebound out of the technical recession seen over the first half of last year and it's possible that anything along the lines of the anticipated 2.7% increase in GDP would support risky currencies while weighing on the likes of GBP/ZAR and USD/ZAR.
The same could be said of Friday's reading of the Core Personal Consumption Expenditures Price Index for December if it confirms the seemingly downward turn seen in the official consumer price index inflation rates over recent months.
"USD/ZAR has been slightly better offered since October but has had trouble getting through its 200dma which today comes in at 16.8989," says Brad Bechtel, global head of FX at Jefferies.
"A hawkish 50bps might be enough to push the pair through the level, but the domestic situation makes it too hard for anyone to jump on the carry too aggressively," Bechtel adds in Tuesday market commentary.