USD/JPY to Respect Trendlines into Month-End
- USD/JPY in a range between 112.00-113.00

- 'Month-end' flows and option expiries the cause

- Moving avgs cap upside trendline downside
USD/JPY is likely to remain trapped inside a rangebound market in the short-term as a host of factors, including moving averages, trendlines, 'month end' flows and option expiry levels limit the pair's freedom of movement.
The recent attempted breakdown may even have been a 'false break' according to some analysts, now that the exchange rate has been safely escorted back above the trendline again.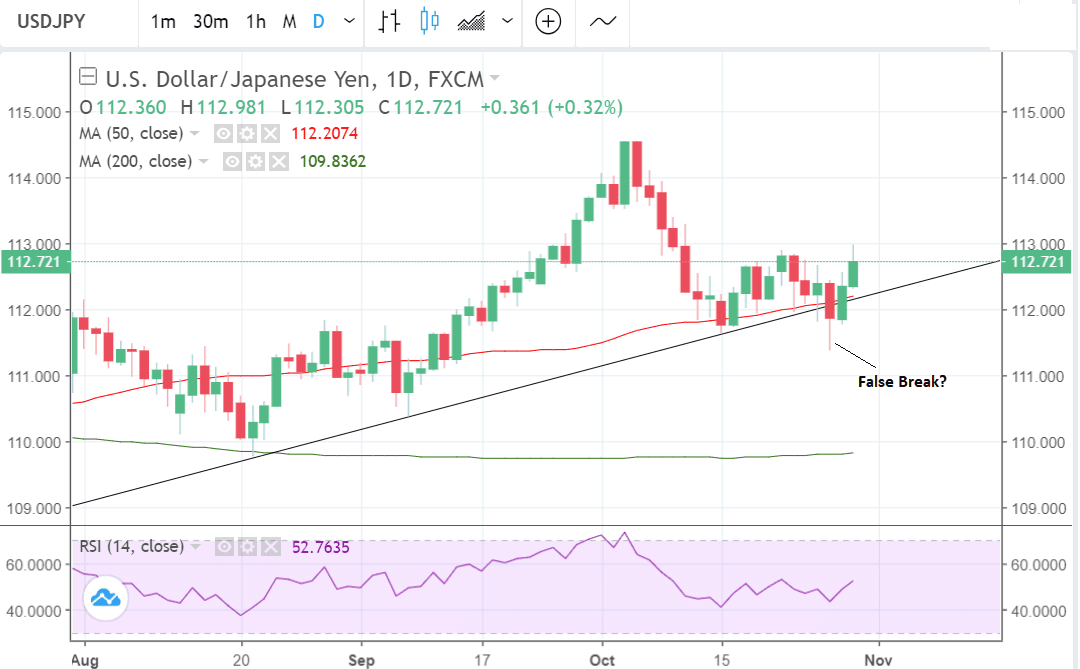 The pair now looks like it is locked in a new range into month end.
"USD/JPY seemed to have broken out of its recent 111.50-113.50 range on Friday with a drop to 111.38, but has since bounced and looks to be back in familiar territory, possibly in a slightly lower 111.00-113.00 range into month-end," says Haruya Ida, an analyst on the Thomson Reuters currency desk.
Large option expiry levels, especially at 110.60 and between 112.35-75 are the main reason for expecting the exchange rate to stay rangebound over the short-term.
The expiry levels correspond to the options' strike prices - the level the market needs to beat for the options to make a profit.
Option expiries impact on market direction via a process known as 'pinning' in which option writers try to manipulate the market price to avoid costly losses. In practice 'pinning' results in the exchange rate remaining stuck around the expiry level.
When an option becomes profitable to its holder it becomes loss-making for the writer, and the process of 'pinning' occurs when option writers try to manipulate the market down and away from profit.
Only larger expiries, valued at over $600m, tend to cause a measurable impact, says Jarratt Davis, a renowned forex trader, and hedge fund manager.
"Very often an options expiration of a certain price will act almost like a magnet. For example, if you got an options expiration of a billion on EUR/USD at 1.10 the price will tend to gravitate around 1.10. It might come up maybe beyond 1.10 a little bit but most likely it will eventually come back down. In a way it will just hover around options expiration price until the time of the cut," says Davis.
Other factors contributing to the sideways outlook are the impact of 'month end' flows which can create complex cross-currents for currencies, especially those, like the Japanese, hose domestic investors hold large foreign positions.
Month-end is the process by which those investors alter FX hedges on their stocks to reflect emerging risks or rebalance the composition of their actual portfolios to reflect changes in stock markets.
Despite the recent recovery back above the trendline the pair continues to be pressured lower by technical resistance from the 50-month and 200-week moving averages in the 113s.
These are likely to prove a tough obstacle for market bulls to overcome and a rebuttal of the exchange rate lower is a more likely outcome from a meeting of the two.
In a previous report, we cited the trendline break on October 26 as providing confirmation the pair had penetrated the trendline and was going lower.
Although the pair has since recovered, we still see a risk of further weakness emerging and should the lows of the 26th at 111.38 be re-broken, we think it would signal a bearish capitulation back down to a target at 110.30, at least, if not lower, based on typical technical methods of forecasting follow-throughs using the length of the prior move.