Pound / Dollar Rate in Dramatic Reversal
The British Pound endured a sharp reversal in fortunes against a resurgent US Dollar take place in late trade on Thursday, May 18.
On Friday, May 19 we see the GBP/USD exchange rate at 1.2950 having surged to a fresh eight-month high at 1.3048 only 24 hours earlier.
The reversal appears to be purely a function of a recovering US Dollar which has been under pressure all week as the US Trump administration bats allegation after allegation of wrongdoings and incompetence.
That the Dollar was looking oversold had concerned some analysts who warned a rebound was becoming increasingly overdue.
It would appear that this recovery has taken place sending the GBP/USD down to a daily low of 1.2886. The EUR/USD suffered a fall to 1.1075 having been as high as 1.1172 earlier in the day.
The US Dollar index - a broad measure of Dollar strength against a basket of currencies - was seen higher at 97.73 having been as low as 97.13 earlier in the day.
Some in the trading community have attributed the recovery in the Dollar on a fading of the prospect of Donald Trump being potentially forced out of the Oval Office.
The reasons for this change in fortunes for USD are rather cryptic.
Stocks and the Dollar rose to their session highs after a CSPAN video from earlier in the month circulated on trading floors that some traders falsely interpreted as former FBI Director James Comey saying he was never pressured to end an FBI probe. In the video, however, Comey is answering a question specific to the U.S. Attorney General or "senior officials at the Department of Justice," not Trump.
"You take obstruction out of the equation, then impeachment becomes moot," said Andy Brenner, head of international fixed income securities at National Alliance Securities told CNBC. "Hence risk on is running and vol is falling."
Despite some calmer waters yesterday, impeachment of President Trump is likely to remain a hot market topic in the near term.
But, we will need to see a notable escalation in the saga to justify a materially lower US Dollar.
"We have divided the topic into a number of digestible questions and answers regarding the political, economic and financial outlook. A lot more would need to happen for this saga to have a more material impact on the outlook," says Johnny Bo Jakobsen at Nordea Markets.
For now, the damage to the Dollar might be done.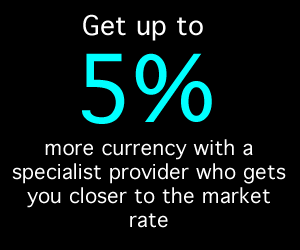 Pound Outlook Still Bullish
Despite the late-day setback for Sterling-Dollar, the technical outlook remains resolutely positive.
Sterling jumped against the Dollar on Thursday, May 18 thanks to some consensus-beating economic data from the UK.
The Pound to Dollar exchange rate rose to 1.3029 following a report that UK retail sales rose 2.3% in April, an impressive beat on the 1.0% figure expected by economists.
This is the exchange rate's best level for over six months.
Dealers are buying Sterling under the presumption that the UK economy will actually put in quite a decent performance for the second quarter.
There had been growing concern that the all-important consumer was reigning in their spending in the face of rising inflation and stagnating wage growth.
GBP/USD was moving in a sideways range over recent days as political risk associated with talk of Donald Trump's impeachment has weighed increasingly on the Dollar side of the pair.
However, the data for Retail Sales this morning broke the spell and saw the Pound burst forth higher.
The pair has now successfully broken above the 1.3000 level confirming a move higher to a target at 1.3080.
The target is calculated according to rules of technical forecasting which recommend a breakout from a range normally reaches a minimum of 61.8% of the height of the range extrapolated higher from the breakout point.
We have meanwhile reported elsewhere that analysts see gains to 1.33 being likely over a multi-day timeframe.
Political Scandal Undermines the Dollar
The Dollar is once again trading under a pall of political risk associated with a Watergate-style scandal involving President Trump.
On Thursday, May 18 it is reported Michael Flynn and other advisers to Donald Trump's campaign were in contact with Russian officials and others with Kremlin ties in at least 18 calls and emails during the last seven months of the 2016 presidential race.
The previously undisclosed interactions form part of the record now being reviewed by FBI and congressional investigators probing Russian interference in the U.S. presidential election and contacts between Trump's campaign and Russia.
The week got off to a bad start for the Dollar and risk-linked financial assets after it was reported Trump was said to have forced the head of the FBI to quit investigating one of his defence advisors in order to ascertain whether he had conflicting ties with Russia.
Trump had been criticised for gaining office as a result of help from the Russian authorities who, it was claimed, may have had a hand in fermenting the email scandal used to discredit Hillary Clinton.
Although Trump vigorously denied the allegations he then chose as a special defence advisor, Michael Flynn, who was known to have close connections with Russia.
During an investigation into these ties in order to ascertain whether they compromised national security the head of the FBI, James Comey, was instructed by President Trump to wind up the investigations early.
When Comey declined, Trump sacked him.
The interference from Trump as well as allegations he told Comey to jail journalists who reported on the investigation has led to calls for Trump's impeachment.
If Trump is forced to quit office it will weigh on global risk appetite and the Dollar.
In such a situation, the currencies to buy would be the safe-havens of the Euro, Yen and Swiss Franc.
The probability of an impeachment being successful is low given it has to be called by Congress which is dominated by Republicans, who would be averse to bringing down a Republican President.
Further data out this week for the Dollar still includes the Philadelphia Fed Manufacturing Index which is scheduled for release at 13.30 on Thursday, May 18. The data is expected to show activity falling to 19.5 from 22.0.
Save
Featured Content
Mortgage Direct - a Spanish mortgage broker specialising in the provision of mortgages for expats - have confirmed they have secured their Spanish license.