Dollar Rally Set to Resume, Say Analysts, But Charts Remain Inconclusive
The Trump reflation rally has restarted and pushed up the Dollar along with other assets, say analysts.
Donald Trump's comments to pharmaceutical bosses, in which he said that "something phenomenal on tax" would be announced in the next two to three weeks made markets jump higher on Friday as they sparked speculation he had put stimulus plans at the top of his agenda again.
Tax cuts are expected to be stimulatory and inject growth into the economy and, for the Dollar, lead to higher inflation, interest rates and ultimately a stronger currency.
Other drivers are also at work, though, according to Capital Economics' John Higgins, including a softening of his stance on China and the judiciary's counterbalancing of his attempt at extreme executive power play, such as banning residents of seven countries from entering the US.
"This resurgence has partly reflected an easing of concerns about the president's trade and foreign policy agenda, which had intensified following his salvo of executive orders and highly-controversial tweets upon moving into the White House. Nerves have been soothed in particular by Trump's inability to ride roughshod over the US judiciary and by his volte-face over the one-China policy," said Higgins.
Combine this with an unchanged monetary policy outlook in which the Federal Reserve looks poised to raise interest rates again soon and it creates a strong bullish cocktail for the Dollar.
As positive as this may seem from a fundamental perspective, the charts are showing much less bullish scenario – in fact, there are some worryingly bearish signs which should encourage caution in Dollar bulls.
The trend is now definitely up for the Dollar Index, which is overall a supportive technical sign.
The crossing of the 200-month moving average by the 50-month moving average is also bullish, but it does not quite qualify as a very bullish 'Golden' cross as the 200-MA is not rising.
On the negative front, there are several indicators which suggest the possibility of short-term weakness -which on the monthly charts suggests several months to a year.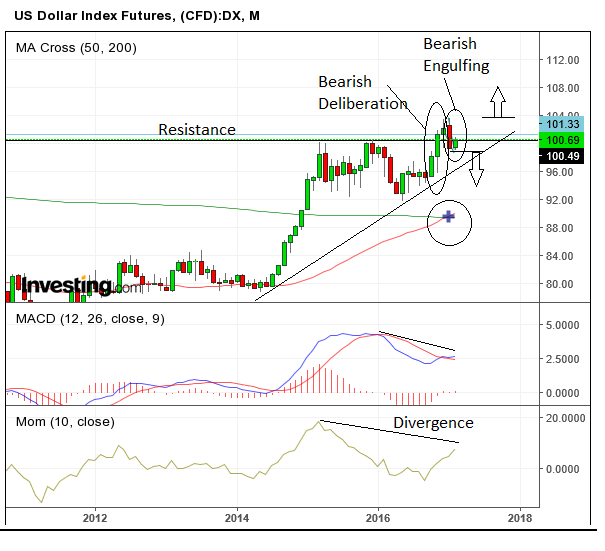 For example, the momentum indicators are diverging markedly with price. Note how the momentum indicator (mom) fails spectacularly to make a higher high when the index made a higher high in December.
This non-conformation is a bearish sign as it hints at underlying weakness, due to stalling momentum.
The MACD momentum indicator also fails to make a higher high in line with price and shows marked divergence, enhancing the bearish sign.
It is not surprising therefore that the index has pulled back in January after such an extreme divergence.
The strong bearish month of January was actually so strong that it suggests a heightened chance of a reversal in the trend.
The candle in January is a Bullish Engulfing Japanese candlestick which forms when the entire body of a candle engulfs the previous candle as happened in Jan.
It is also a key reversal which is another strong major trend reversal signal, as it makes a new high and then falls dramatically to form a low which is below the low of the previous month, thus meeting the criteria for a key reversal.
The three months prior to January formed another bearish Japanese candlestick pattern called a Bearish Deliberation which further adds weight to the expectation of more downside.
When two bearish Japanese candlestick patterns occur together at a peak such as just happened on the Dollar index this further greatly increases the probability that there will be a complete reversal in the longer-term trend.
In addition, the exchange rate has fallen below a major support and resistance line at 100.49.
Previously this acted in a supporting capacity limiting downside, however now is acting as a barrier (resistance) to more upside.
As such the technical signs are quite bearish.
For more confirmation, we would, however, be looking for a break below the month lows at 99.20.
For a confirmation of more upside, we would need to see a complete break above the key-reversal's highs at 103.81.
Save