GBP/USD is a Sell Once Above 1.27, Bank of England Report Priced In say BMO
Foreign exchange strategists at BMO Capital Markets have confirmed they are expecting the British Pound's strength against the US Dollar to fade once above 1.27.
The call comes as Sterling suffers fresh weakness having fallen to 1.2512 at the start of the new week which already draws questions as to whether scaling 1.27 is even possible at this stage.
Regardless, for BMO Capital's Stephen Gallo, the big deal for Pound Sterling this week is how the UK currency navigates the Bank of England's Quarterly Inflation Report.
Gallo joins those who believe there will be a muted FX market reaction to the report.
Reasions include:
1) the MPC is unlikely to send strong hawkish or dovish signals for the time being, and
2) FX investors will be more focused on political headlines related to the upcoming parliamentary vote on Article 50 (expected February-March).
"The fact that GBPUSD has firmly detached itself from the fluctuations in swap rate differentials suggests that the political component to GBP price action is fairly large right now," says Gallo.
Mark Carney has already made it clear that the recent performance of the economy warrants some further upward revisions to the BoE's growth forecasts.
He has also indicated that persistent upward pressure on CPI inflation - from GBP weakness or otherwise - is undesirable.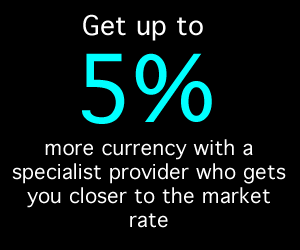 Therefore we look for any upgrades to the inflation profile with interest. If it is lifted then we could see expectations for a rate rise at the Bank grow.
This could prove to be positive for Sterling in our opinion.
However, Gallo notes that with the trade-weighted GBP 4% above its January low-point, those aspects of the BoE's stance are already reflected in the value of the currency heading into the QIR.
"We therefore expect GBP strength to be limited to 0.8350 in EURGBP. Barring a significant sell-off in the USD, we expect GBPUSD strength to be limited to the 1.2700 this week. We would be sellers at that level," says Gallo.
Expectations for a top in GBP/USD mirror those made by Commerzbank who observe that while there is the prospect of some further GBP/USD strength, it is unlikely to extend above 1.28.
Meanwhile the team at ING have set their sites set lower when it comes to inviting a sell on GBP/USD.
Again the driver for Sterling is political in nature.
It looks as though Article 50 will be debated Tuesday night in parliament with a preliminary vote on Wednesday – although a binding vote is not scheduled until Feb 8th it seems.
This week will also see a Super Thursday at the BoE, where the MPC will decide on rates and release the February inflation report.
"The market is still quite short GBP, but we think a messy debate on Article 50 plus the strong Dollar story can keep Cable capped near 1.2600 this week," says Chris Turner, Global Head of Strategy and Head of EMEA and LATAM Research at ING.