Dollar Resists New Four-month Lows as Virus Concerns, China Tensions Not Enough
- USD enjoys short-lived rebound as U.S. braces for higher virus toll.
- Closure of China's Houston consulate, Pompeo remind of tensions.
- Encourages profit taking after strong risk rally earlier in new week.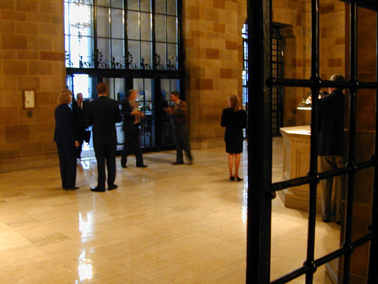 Image © Federal Reserve Bank of New York. Federal Reserve Bank of New York employees entering and exiting the Bank through the main entrance at 33 Liberty Street.
Achieve up to 3-5% more currency for your money transfers. Beat your bank's rate by using a specialist FX provider: find out how.
The Dollar Index hit a new four-month low Wednesday after an earlier rebound saw the greenback rise tentatively amid concerns about the U.S. coronavirus outbreak and increasing geopolitical tensions, although they weren't enough to keep the U.S. currency afloat for long.
Dollar selling abated as profit-taking appeared to hit stock markets and some risk currencies in Europe, leading the greenback to rise against all major counterparts with the exception of the Kiwi Dollar early in the session. Stability came briefly after risk assets and a rallying Euro helped push the Dollar Index to its lowest level since the period immediately before the March liquidity crisis on Tuesday, although the greenback was flagging again as noon approached.
The Dollar Index was quoted at 95.04, down 0.1% for the session and leaving it inches away from the 94.84 low set on March 09, which was then the greenback's lowest point since January 2019.
"The China virus is a vicious and dangerous illness, but we've learned a great deal about it and who it targets," says President Donald Trump in a press briefing late Tuesday, which marked a resumption of daily briefings. "Some areas of our country are doing very well; others are doing less well. It will probably, unfortunately, get worse before it gets better — something I don't like saying about things, but that's the way it is. It's the way — it's what we have. If you look over the world, it's all over the world."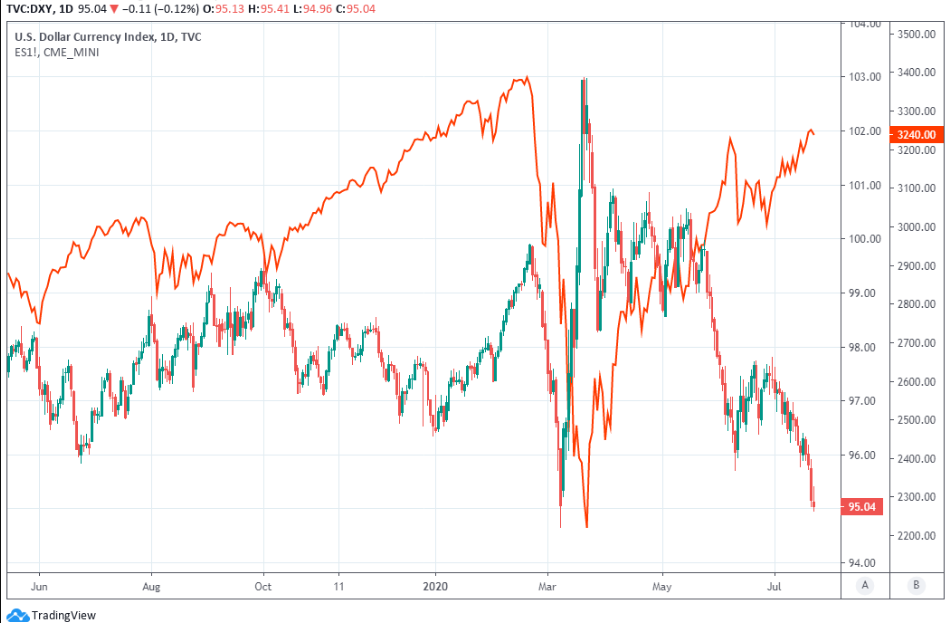 Above: Dollar Index shown at daily intervals with S&P500 index futures (orange line).
President Trump warned of dark days ahead for some states on Tuesday as the U.S. braces for an inevitable surge in coronavirus deaths after a second wave of infections produced repeated new record highs through July. The second wave originated in a handful of mainly Republican states that were quick to reopen after the White House and federal government set out guidelines for doing so in mid-April, hard on the heels of a similar action from Germany.
Already new infections have led some U.S. states to reimpose restrictions on activity and fears are that this will hold back the economic recovery, leaving the U.S. trailing behind developed world rivals like New Zealand and some European countries that had endured longer national shutdowns at the point when they reopened. When combined with polls suggesting Trump is deep underwater in terms of electoral support, relative to his presumed rival Joe Biden, the Dollar's relative appeal to investors is all but eliminated.
"The US dollar continued its sustained slide yesterday with the negative DXY / S&P 500 daily % change correlation becoming more influential the higher the US equity market goes," says Derek Halpenny, head of research, global markets EMEA and international securities at MUFG. "The more market conditions improve, the more investors are willing to seek non-dollar investments as optimism over global growth improves. The crucial link though in this correlation persisting going forward will be the level of real yields in the US."
Halpenny says the 10-year 'real yield,' which is the traditional 10-year yield adjusted for market expectations of inflation, is likely to set new lows in the weeks and months ahead and that this should mean that more losses are lurking on the path ahead for the greenback.
Above: Pound-to-Dollar rate shown at 15-minute intervals with Euro-to-Dollar rate (orange line).
Dollar gains came against an ailing Norwegian Krone that's sensitive to the trajectory of stock markets and oil prices, which were all lower on Wednesday, although Pound Sterling was closing the gap with its North European rival after The Telegraph reported the British government is close to abandoning hope of a free trade deal with the European Union. Brexit trade talks continued this week and are set to end on Thursday when statements may be made by negotiators.
Some of the Dollar's earlier rebound could be explained by profit-taking after stock markets and risk currencies were bid higher on Monday and Tuesday as investors expressed hope that a coronavirus could soon be ready for mass production and after European Union national leaders reached an agreement to endorse the €750bn recovery fund and next seven-year EU budget.
But until recently the Dollar had a strong positive relationship with geopolitical tensions and those were rising Wednesday.
"Sentiment soured and the USD recovered some recent losses after China said it would retaliate against a consulate closure by the US overnight. Still, we think the dollar downtrend has a bit further to run — although it now looks mature in places. Against key support at 1.1495, we think EURUSD is still likely to test 1.1595 (50% Fibo retracement from the 2018 highs to 2020 lows). That could serve as a natural reassessment point, however, as the daily RSI is now "overbought". Elsewhere, we also see further upside risks for AUDUSD towards 72c," says Ned Rumpeltin, Euroepan head of FX strategy at TD Securities.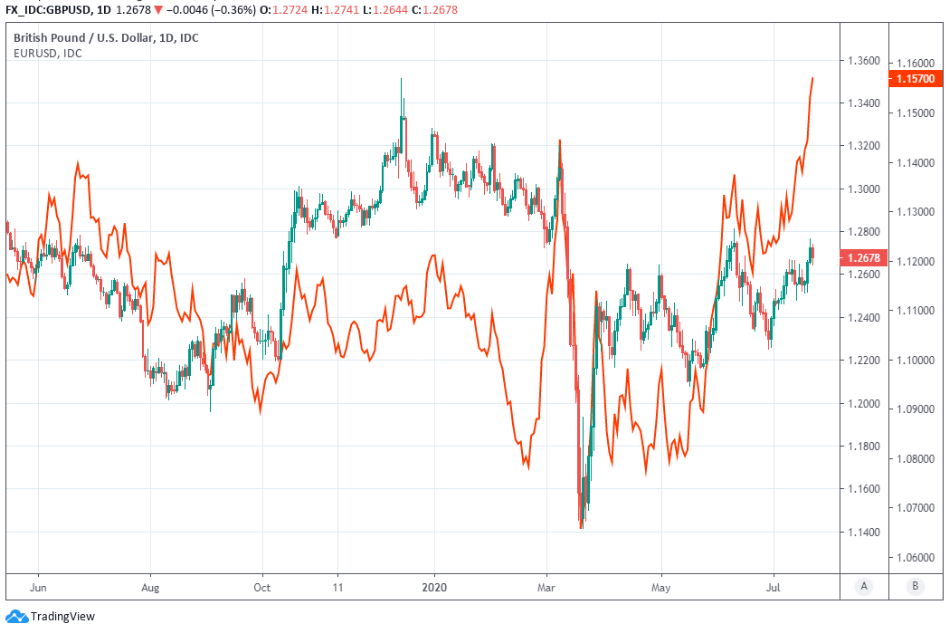 Above: Pound-to-Dollar rate shown at daily intervals with Euro-to-Dollar rate (orange line).
The U.S. alleges China has attempted to steal trade secrets including those relating to coronavirus vaccines and that it has corrupted the World Health Organization, among other things. China's foreign ministry was reported Wednesday to be threatening an unspecified retaliation for a U.S. instruction to close its consulate in Houston, Texas.
"You can't go make claims for maritime regions that you have no lawful claim to. You can't threaten countries and bully them in the Himalayas. You can't engage in cover-ups and co-opt international institutions like the World Health Organization," says Secretary of State Mike Pompeo, in a press briefing alongside British foreign minister Dominic Raab. "We want to see every nation who understands freedom and democracy and values that and knows that it's important to their own people, their own sovereign country to be successful, to understand this threat that the Chinese Communist Party is posing to them and to work both themselves and collectively to restore what is rightfully ours."
U.S.-China tensions have renewed since the coronavirus closed down the global economy although they've also escalated rapidly between China and other countries since it imposed a controversial and oprressive national security law on Hong Kong. Secretary of State Mike Pompeo is currently on tour seeking allies for a confrontation with China.
"60% of USD's recent behaviour can be explained by COVID-19 infections in the US and the RoW. A striking 80% can be explained by global mobility. Both of these models are tentatively flagging a turn higher in USD, warranting caution in adding, and maybe even holding, USD shorts unless the COVID-19 news improves," says Paul Meggyesi, head of FX strategy at J.P. Morgan in a note to clients last Thursday. "We continue to resist broad-based USD shorts and focus on lower-beta proxies instead, particularly ahead of August which is typically USD-supportive....Stay long NOK vs. CAD; re-initiate longs in SEK vs. CAD. Stay short GBP vs. EUR and CHF; take part profits on short GBP (vs. NOK). Stay short NZD ahead of RBNZ and seasonality in August."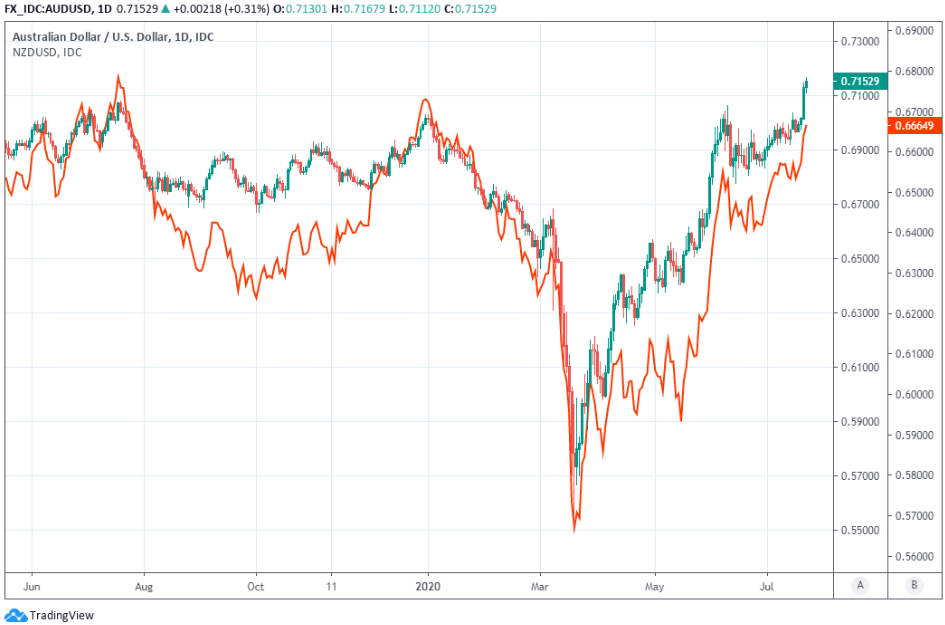 Above: AUD/USD rate shown at daily intervals with NZD/USD rate (orange line).
---
Achieve 3-5% More Currency: The Global Reach Best Exchange Rate Guarantee maximises your currency purchasing power. Find out more.
Invest in Spanish Property. A selection of discounted properties due to the covid-19 crisis, online viewings and transactions possible. Download the Guide
Invest in Portuguese Property. A selection of discounted properties, online viewings and transactions possible. Download the Guide
Featured Content
Mortgage Direct - a Spanish mortgage broker specialising in the provision of mortgages for expats - have confirmed they have secured their Spanish license.