Pound-to-Dollar Rate Crushed as Strong U.S. Data, Faltering Global Growth and Brexit Weigh
© IRStone, Adobe Stock
- GBPUSD crumbles to week-lows on economic and political factors.
- U.S. economy shines as global gloom mounts over China, Eurozone.
- DUP issues fresh challenge to weakened and on-edge UK government.
The U.S. Dollar was riding high Friday following a strong set of November retail sales, which provided further support to a greenback already boosted by concerns over the Chinese economy and European growth.
Meanwhile, the Pound-to-Dollar rate was sharply lower due to the strong Dollar and signs the UK government's confidence and supply partner, the Democratic Unionist Party, is rebelling against Prime Minister Theresa May.
U.S. retail sales rose by 0.2% during November which was in line with the consensus for growth of just 0.2%. Moreover sales growth for October was revised higher from a bumper 0.8% to 1.1%.
Core retail sales, which remove car sales from the total because of the distorting impact they have on trends, rose by 0.2% when markets had looked for growth of just 0.1%.
Friday's sales numbers cover the Thanksgiving month and came at the end of a year where spending has been buoyed by President Donald Trump's tax cuts.
"American shoppers were out in full force in November, with retail sales posting a very strong advance excluding the fall in gasoline prices," says Katherine Judge, an economist at CIBC Capital Markets. "This is consistent with the Fed raising interest rates at their meeting next week and we have revised our consumption forecast for Q4."
Markets care about the retail data because it is a leading indicator of economic growth and because of the influence that rising or falling consumption can have on inflation. It is inflation that central banks are attempting to contain when they raise interest rates, and rates themselves are the raison d'être for most moves in currency exchange rates.
Changes in interest rates, or hints of them being in the cards, are only made in response to movements in inflation but impact currencies because of the push and pull influence they have on international capital flows and their allure for short-term speculators.
"This is consistent with our ongoing narrative that the consumer only recently began to spend the tax windfall and is taking some momentum into 2019 – an idea that runs against the consensus view of a sharp slowing in the coming year," says Adam Cole, chief currency strategist at RBC Capital Markets.
Friday's data is of increased importance because markets have recently begun to contemplate the odds of an economic slowdown gripping the U.S. next year, which could force the Federal Reserve (Fed) to halt the interest rate hiking cycle that has driven the Dollar index from a 4% loss to a 6% annual gain in 2018.
The Fed has raised rates eight times since the end of 2015 and officials hinted back in November they intend to lift the Federal Funds so that it reaches as high as 3.5% in 2020. The Fed Funds range is currently set at 2%-to-2.25%.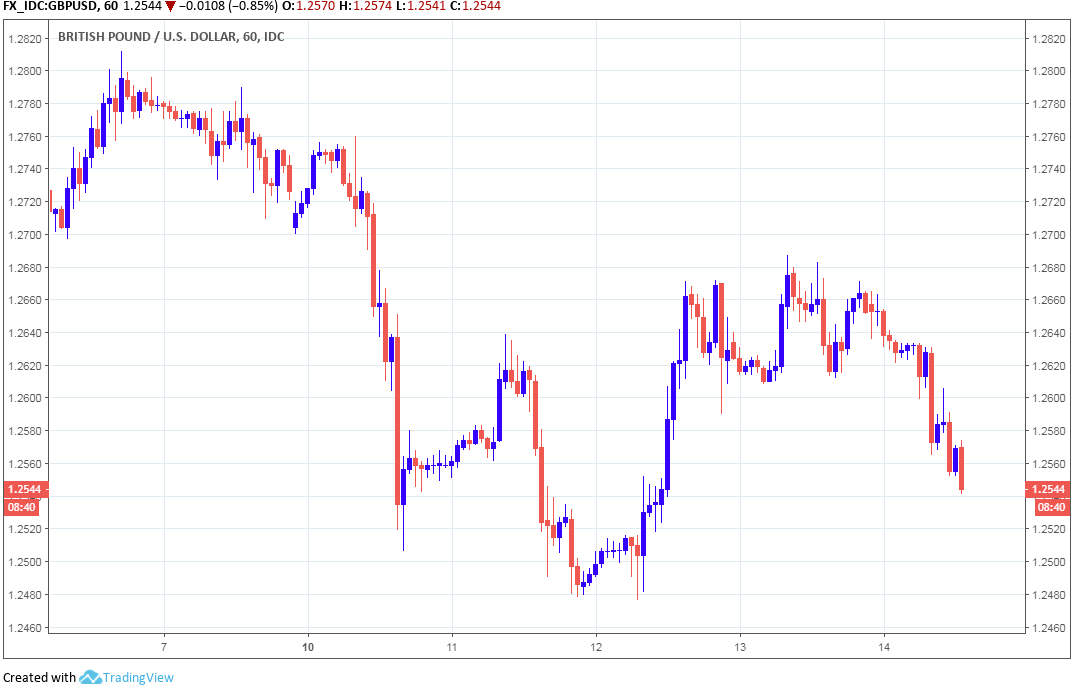 Above: Pound-to-Dollar rate at hourly intervals.
The Pound-to-Dollar rate was -0.68% lower at 1.2556 while the Euro-to-Dollar rate was -0.66% lower at 1.1288. The Dollar index was quoted 0.52% higher at 97.58 following the release Friday.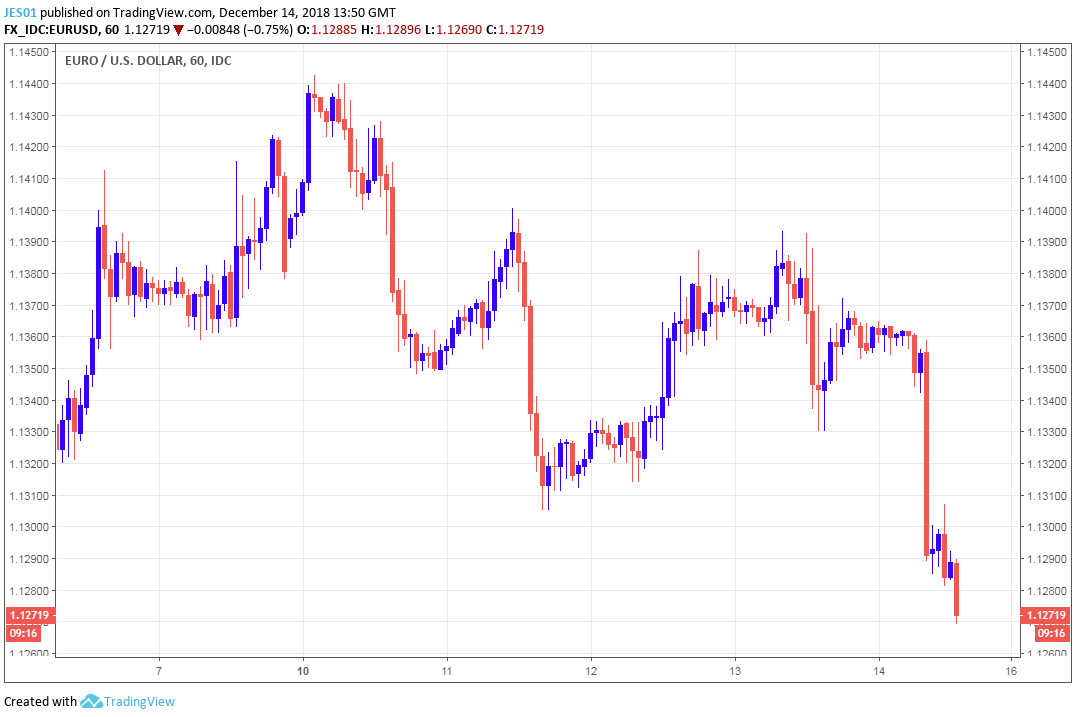 Above: Euro-to-Dollar rate at hourly intervals.
Advertisement




Bank-beating exchange rates. Get up to 5% more foreign exchange by using a specialist provider to get closer to the real market rate and avoid the gaping spreads charged by your bank when providing currency. Learn more

here
Global Growth Concerns Mount, USD Outlook Brightens
The Pound and Euro were sharply lower against the Dollar Friday after economic data emerging in the previous 24 hours gave investors cause for heightened concern over the global outloo, which simply reinforces support for a resurgent Dollar.
IHS Markit PMI data for November pointed clearly toward a further loss of economic momentum for the Eurozone bloc during the final quarter on Friday.
France and Germany were at the centre of the downturn in sentiment that has led economists to suggest the third-quarter slowdown, which saw Eurozone growth fall by half to 0.2% for the period, may continue into year-end.
"The decline from 52.7 to 51.3 suggests the revival of GDP growth in the Eurozone may not have happened at all. While the ECB was relatively optimistic about the growth outlook yesterday, today's PMI adds to the worries," says Bert Colijn, an economist at ING Group.
That came shortly after official data revealed a steep slump in actiivity within the Chinese industrial sector during November, which has hit so called risk assets like the Australian Dollar and encouraged renewed fears for the global economy.
Divergence between the U.S. economy and those elsewhere in the world has been key to severe losses for the Euro and other currencies relative to the Dollar this year, including the Pound Sterling. In other words, this kind of environment is supportive of a continued strong Dollar.
The Pound-to-Dollar ratehas fallen by -7.1% for 2018 thanks largely to the strong Dollar as well as concerns over Brexit. Meanwhile, the Euro-to-Dollar rate has declined by 6% and all other G10 currencies have also notched up losses.
Advertisement




Bank-beating exchange rates. Get up to 5% more foreign exchange by using a specialist provider to get closer to the real market rate and avoid the gaping spreads charged by your bank when providing currency. Learn more

here
GBP Outlook Darkens after May Fails, DUP Rebellion Continues
The Pound was sent tumbling Friday not only by the strengthening greenback and Sterling's close correlation with the Euro-to-Dollar rate but also by renewed fears over the stability of the UK government.
Northern Ireland's Democratic Unionist Party, the UK government's confidence and supply partner, set out another challenge to the Prime Minister Friday after a botched attemp by her to secure Brexit-related concessions from the EU.
.@DUPleader "The Prime Minister has promised to get legally binding changes. The reaction by the EU is unsurprising. They are doing what they always do. The key question is whether the PM will stand up to them or whether she will roll over as has happened previously. pic.twitter.com/ALbvmcGDyN

— DUP (@duponline) December 14, 2018
PM May is alleged to have told her own MPs during Wednesday's leadership challenge that a legally binding commitment relating to the so-called Northern Irish backstop was in the pipeline.
But when addressing reporters from Brussels Friday, following a European Council summit, she spoke only of 'assurances' that have 'legal status' rather than 'commitments' that are 'legally binding'.
"The Prime Minister has changed her language back to reassurances, from legal changes," says John Redwood, a Conservative Party MP and supporter of Brexit, in a Friday blog post. "It is difficult to see the DUP coming back on board given the lack of any legal text to remove the backstop."
DUP MPs want the Northern Irish backstop, which could all but annexe the province from the UK in the event it is triggered, removed from PM May's Withdrawal Agreement.
They have threatened to vote against the agreement in parliament and hinted they could vote with the opposition Labour Party if it calls a ballot of confidence in the government.
A loss of such a confidence vote would bring down the government and lead to another general election, with unknown implications for the path toward Brexit as well as the economy.
Another general election would almost certainly be negative for the Pound as it would give rise to market fears of a possible opposition Labour Party government, which has an openly Marxist front bench.
"Amidst the heightened Brexit uncertainty, one thing seems clear, and that is that the negotiations will go down to the wire. This lack of clarity is likely to see growth slow sharply in Q4 2018 (see here) and keep the Monetary Policy Committee (MPC) on hold despite signs that inflationary pressures are building," says Ruth Gregory, an economist at Capital Economics.
Advertisement




Bank-beating exchange rates. Get up to 5% more foreign exchange by using a specialist provider to get closer to the real market rate and avoid the gaping spreads charged by your bank when providing currency. Learn more

here