Pound-to-Dollar Rate Bounces from Support as Brexit Risks Diminish
© Pavel Ignatov, Adobe Stock
- GBP/USD showing signs of recovery.
- As risk of no-deal Brexit appears to decline.
- 1.27 level offers support amid 'lift-off' move.
The Pound-to-Dollar remains in a downtrend but charts show there is an increasing possibility of a reversal playing out over coming days, as the risk of a no deal Brexit diminishes.
The pair fell to within the 1.2670 to 1.2700 area this week but has since bounced back. We do not expect this historically 'solid floor' to break in the near future as the downtrend appears to be losing momentum.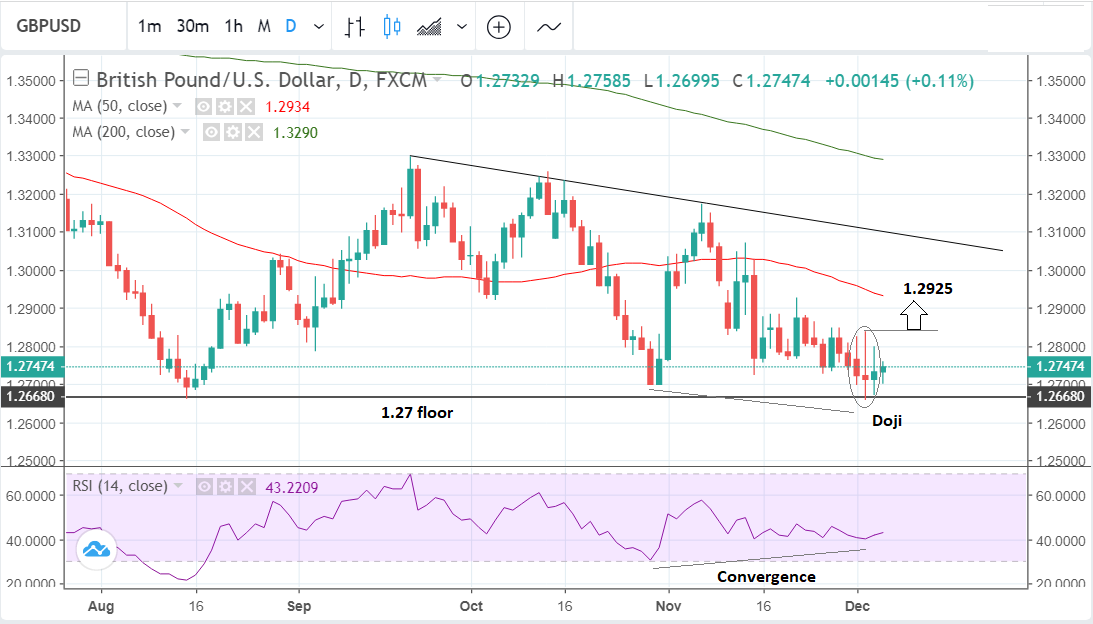 Above: Pound-to-Dollar rate technical analysis. Daily Chart.
Momentum, as measured by the relative-strength-index (RSI), is bullish. It looks more right for the RSI to move higher in its next development rather than lower, indicating a strong possibility of a rise in the underlying asset too.
The RSI is also converging with price on the weekly chart in another bullish sign.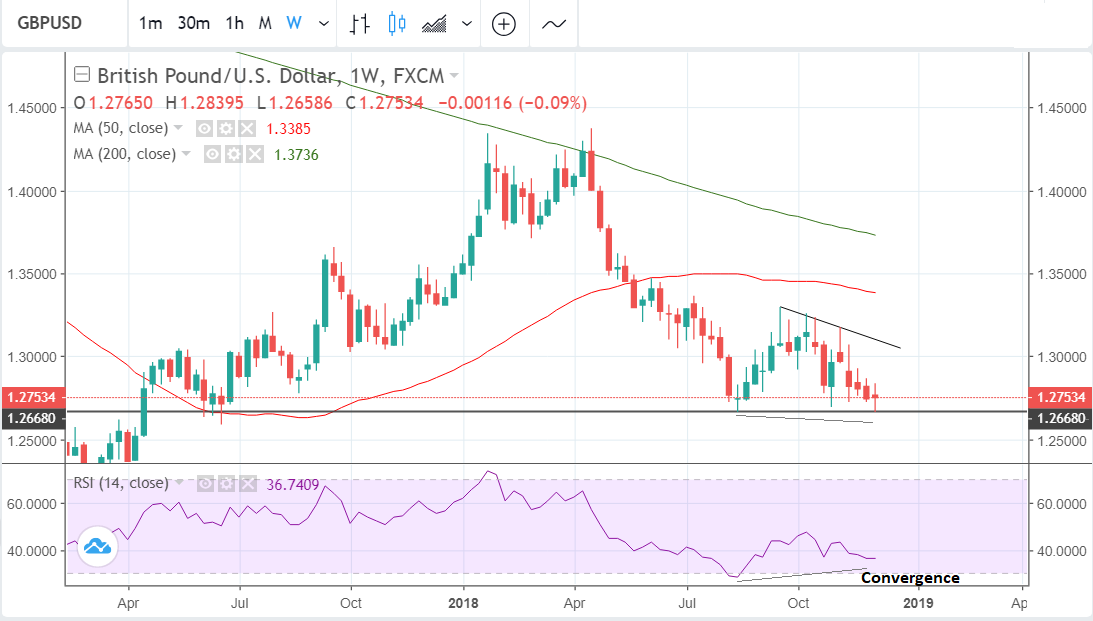 Above: Pound-to-Dollar rate technical analysis. Weekly chart.
Furthermore, the pair has formed a Japanese candlestick pattern called a long 'doji' on the daily chart, which is often a signal the market has bottomed.
A break above the 1.2840 highs would provide the first level of confirmation that the pair is entering a short-term uptrend. Such a break would then open the door to move up to 1.2925 initially, where the 50-day Moving Average (MA) is located.
Major averages act as tough obstacles to trending prices however so the exchange rate is likely to encounter resistance above 1.2925. This could mean the uptrend will stall at that level.
There could be a fundamental catalyst for a continued rebound too, if recent developments do really mean the chance of a 'no-deal' Brexit has dramatically reduced of late.
Dominic Grieve, a Conservative Party MP and arch supporter of remaining in the EU, managed to win an amendment to the Withdrawal bill this week that will allow Parliament more of a say in how the UK leaves the EU in the event Prime Minister Theresa May's deal is rejected by MPs next week.
Another is a pending decision of the European Court of Justice on whether the UK can unilaterally decide to revoke an Article 50 notification that it's leaving the EU. A favourable ruling that it could proceed unilaterally may give government more flexibility in the negotiations, lowering the odds of a no deal Brexit.
Legal advice given to government over its withdrawal agreement has turned Theresa May's allies, the DUP, against her after it suggested Northern Ireland might be treated differently in the event the so-called backstop is triggered. Without the DUP she lacks a working majority in parliament, even further reducing the chances she will get her deal approved on December 11.
Advertisement




Bank-beating exchange rates. Get up to 5% more foreign exchange by using a specialist provider to get closer to the real market rate and avoid the gaping spreads charged by your bank when providing currency. Learn more

here