USD/JPY is in the Middle of Strong Elliot Wave Cycle Higher says Liteforex's Geuta
- USD/JPY in middle of steep ascent that could eventually reach 120.0.
- Pair at point of greatest velocity in wave sequence - the '3rd of the 3rd'.
- After completion of current wave, a new bear cycle is likely to start.
© Nomad Soul, Adobe Stock
The US Dollar-to-Yen rate is set for a bullish second half of 2018, according to Alex Geuta, an Elliot Wave expert at currency broker Liteforex.
His analysis of the pair indicates a possible rise to an initial target of between 113.95 followed by an eventual target of around 123.00, over the next 6-month period.
Moreover, the bullish cycle is probably currently at one of its steepest and strongest points, according to Geuta's labelling of Elliot waves, a form of cycle analysis he uses for his forecasts. His studies show USD/JPY is in the third wave of the third wave higher - a point where the uptrend is usually at its steepest.
"In the 4-hour time frame, the third wave iii of 3 of is developing. In the 1-hour timeframe, an ascending momentum as the third wave of junior level (iii) of iii," says Geuta. "If the presumption is correct, the pair rate will continue rising to the levels of 113.95 – 115.50."
Geuta makes the point that the market must stay above the 111.77 level for the forecast to bear fruit.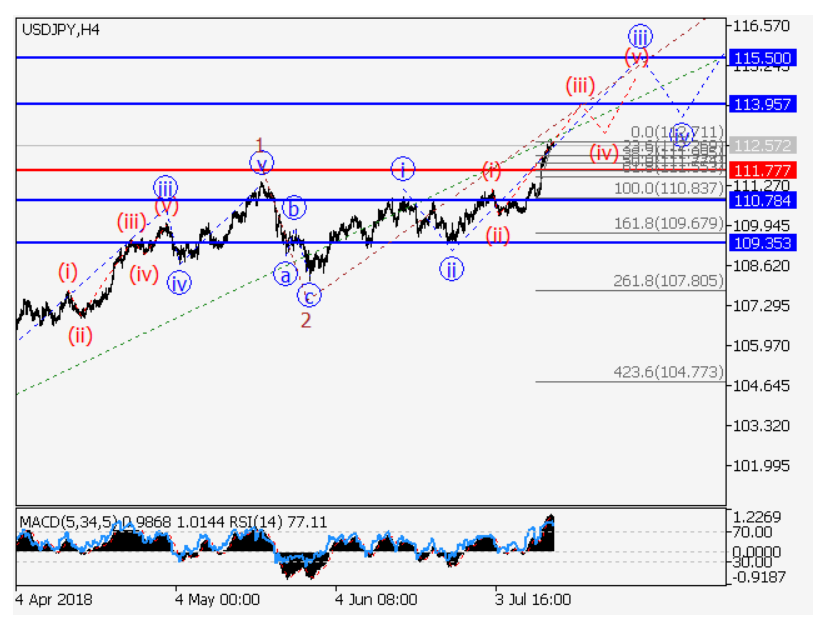 Above: USD/JPY rate shown at hourly intervals.
Elliot waves are cycles of buying and selling, of rising and falling prices, which are composed of 5 smaller waves numbered 1-5, or labeled using Roman numerals, as in I, II, III, IV, and V.
Waves 1,3 and 5 move in the direction of the dominant trend whilst 2 and 4 represent corrections. Wave 3 is almost always the longest and the strongest wave.
Above: Elliot Wave concept.
After a 5-wave pattern has finished the market corrects back in a shallower counter-trend move labeled A,B, and C.
Elliot waves are each composed of smaller 5-wave patterns, and are themselves components of larger 5-wave patterns, ad infinitum.
Elliot wave analysts try to establish the point at which the current market is, in the greater wave pattern, which enables them to predict what will happen next.
In the case of USD/JPY, Geuta argues we are in the third wave of a larger third wave of an even larger C wave which is part of a correction of an even bigger downtrending wave.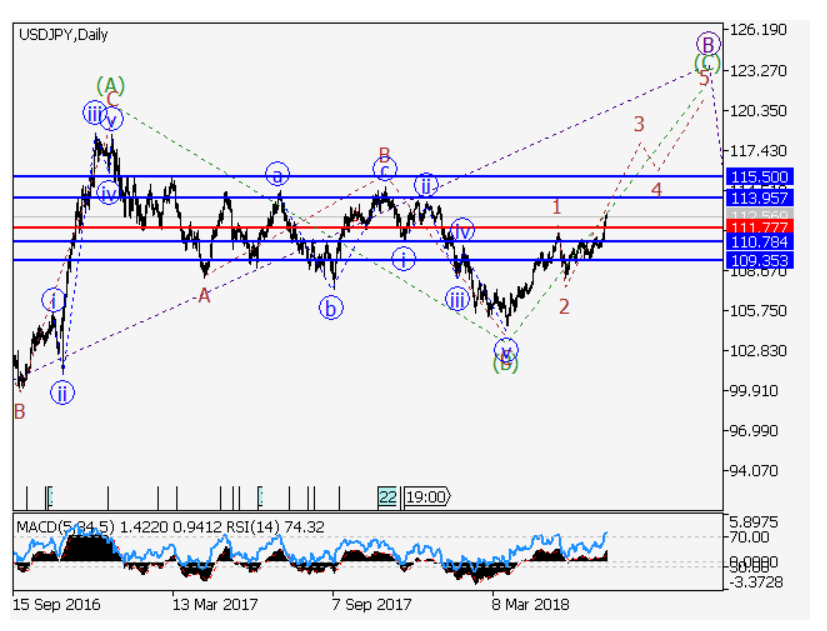 Above: USD/JPY rate shown at daily intervals.
The fact the pair is in a larger wave C indicates that it is in a correction of a much longer-term secular downtrend, which is a risk to an overly exuberant bullish stance.
This also suggests that once the wave up to the 123.00 target is finished, a new stronger, longer-term downtrend will probably start, taking the pair to new lows.
Nevertheless, within the C-wave the pair is in several wave 3s of different degrees simultaneously. Wave 3s are the most powerful motive wave of all five major Elliot waves in a trending sequence.
Above: USD/JPY rate in June and July 2018.
In the hands of a competent analyst and trader Elliot waves are considered by many to be a reliable method for forecasting price moves.
In 1984 the Elliot wave expert and author of "The Wave Principle", one of the leading texts on Elliot Wave analysis, Robert Prechter, won the US Trading Championship in options with a stunning 444% gain. The next closest competitor showed an 84% gain.
Nevertheless, Prechter has not always been right: he famously called for a continuation of the great bear market after stocks bottomed in 2009, when instead stocks rallied to new highs.
Advertisement




Get up to 5% more foreign exchange by using a specialist provider to get closer to the real market rate and avoid the gaping spreads charged by your bank when providing currency. Learn more

here