Pound Forecast to Extend Advance on New Zealand Dollar
The GBP/NZD pair is looking particularly bullish at the start of a new trading week.
The spike higher following news of an early election pushed the exchange rate up to a major multi-year trendline for the long-term downtrend, which it pierced above.
The break above the trendline was a strong bullish sign which is expected to yield further upside - potentially to a target at 1.8900.
This is calculated by the taking the height of the move immediately prior to the trendline break (A) and extrapolating it above the trendline from the break (B).
The break above the trendline also coincides with the exchange rate breaking above the neckline and thus activating a double-bottom pattern, which is a strong indicator in the reversal of the trend.
The fact the exchange rate is above both the 50 and the 200-day moving averages is another bullish sign.
In the week ahead there is a possibility that the pair may fall back down to the level of the trendline again, in what is known as a 'throwback' move, however, this will not invalidate the breakout, merely signal a brief period of breathing space before the next leg higher.
In fact, it provides an excellent entry opportunity for traders wishing to buy the pair.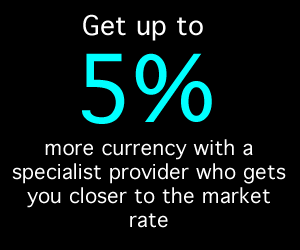 Key Data For Coming Week
For the Kiwi: New Zealand's balance of trade with the outside world – that is the difference between its imports and exports - is the highlight of the week ahead from a data perspective, when it is released on Thursday at 23.45 GMT. The country relies heavily on its exports so a shrinking of the deficit would be honey to Kiwi bulls.
The Kiwi also rises on broader risk appetite as most commodity currencies do, and so far, the upturn in oil and iron ore appear to be supporting a general upswing for AUD, CAD and also NZD somewhat, despite it exporting mainly softs.
For the Pound: look out for GDP data on Friday (09.30 GMT) when the preliminary estimate for the first Quarter is released, and expected to show a slower 0.4% pace of growth compared to the previous period but an elevated 2.2% increase year-on-year (that is compared to Q1 in 2016).
Recall that the Pound is however now mostly driven by sentiment relating to domestic politics and overall global investor confidence.
We would suggest headlines are likely to matter more for Sterling and that only the most surprising of data releases will have any kind of sustained impact on direction in the currency.
Featured Content
Mortgage Direct - a Spanish mortgage broker specialising in the provision of mortgages for expats - have confirmed they have secured their Spanish license.