New Zealand Dollar Takes Prime Minister Ardern's Shock Resignation in Stride 
"We think that is more a function of general market sentiment than local news" - RBC Capital Markets.
Image: Nevada Halbert, Sourced: Flickr. Licensing: Creative Commons 2.0
The New Zealand Dollar came under pressure in overnight trade but steeper losses for its Australian counterpart and a stronger U.S. Dollar suggest the Kiwi currency might so far have taken the shock resignation of Prime Minister Jacinda Ardern in its stride.
Kiwi Dollars were sold as Wednesday turned to Thursday in Europe and Prime Minister Jacinda Ardern announced from New Zealand an intention to resign once a successor has been found from within the New Zealand Labour Party.
"You cannot and should not do the job unless you have a full tank, plus a bit in reserve for those unplanned and unexpected challenges that inevitably come along. Having reflected over summer I know I no longer have that bit extra in the tank to do the job justice. It's that simple," the Prime Minister said.
"I'm not leaving because I believe we can't win the election, but because I believe Labour can and will win it. We need a fresh set of shoulders for the challenges of both this year and the next three. As to my time in the job, I hope I leave New Zealanders with a belief that you can be kind, but strong, empathetic but decisive, optimistic but focused. And that you can be your own kind of leader - one who knows when it's time to go," she also later said.
The new Prime Minister will be determined by a caucus vote scheduled for Sunday 22 January and there is uncertainty over the likely outcome in part because Deputy Prime Minister Grant Robertson is said to have spurned an opportunity to run for election by the party.
---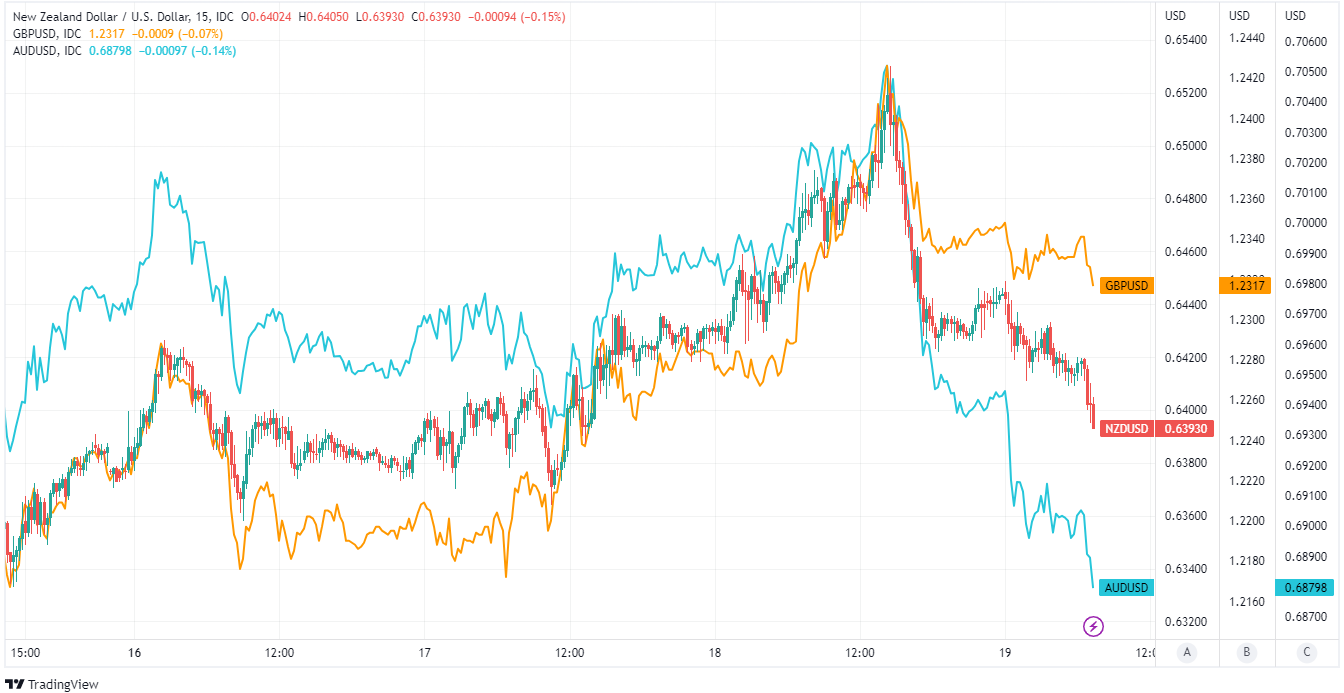 Above: NZD/USD shown at 15-minute intervals alongside GBP/USD and AUD/USD. Click image for closer inspection.
---
New Zealand's Dollar fell following the announcement but was far from an underperformer in overnight trade when U.S. Dollar exchange rates climbed across the board and the Australian Dollar fell more heavily than its Kiwi counterpart following the release of employment figures for December.
"We think that is more a function of general market sentiment than local news," says Elsa Lignos, global head of FX strategy at RBC Capital Markets.
Prime Minister Ardern was elected in 2017 and faced adversity from the earliest days in the job as local businesses frowned on a social and economic agenda that saw earlier planned tax cuts cancelled and the minimum wage lifted sharply over the subsequent years.
"I'm incredibly proud of what we've achieved over the last five years in spite of the many challenges thrown at us. We've turned around child poverty statistics and made the most significant increases in welfare support and public housing stock seen in many decades," she said on Thursday.
"We've made it easier to access education and training while improving the pay and conditions of workers. And we've worked hard to make progress on issues around our national identity - I believe that teaching our history in schools and celebrating Matariki as our own indigenous national holiday will all make a difference for years to come. And we've done that while responding to some of the biggest threats to the health and economic wellbeing of New Zealanders, arguably since World War Two," she added.
---
Above: Pound to New Zealand Dollar rate shown at hourly intervals alongside AUD/NZD, Click image for closer inspection. If you are looking to protect or boost your international payment budget you could consider securing today's rate for use in the future, or set an order for your ideal rate when it is achieved, more information can be found here.
---