New Zealand Dollar Could Yield Further Ground to the Pound, NZ and UK Begin Trade Negotiations this Week
- GBP/NZD in a broad downtrend
- But, GBP losses starting to ease
- Relief rally could go to 1.9712
- UK and NZ start FTA negotiations this week
Image © Adobe Stock
The Pound is being tipped to extend a recent recovery against the New Zealand Dollar based on technical market developments, meanwhile it is announced that the UK and New Zealand are to begin negotiating a Free Trade Agreement that is hoped will add billions of pounds to the existing trading relationship.
The Pound-to-New Zealand Dollar exchange rate rose half a percent last week, in doing so it snapped a run of seven weeks of consecutive losses which suggests momentum does tend to favour the New Zealand Dollar on a multi-week basis.
It is currently quoted at 1.9196 at the time of publication.
However, analysis from Trading Central - a specialist in the provision of technical market intelligence - shows that a rebound towards 1.9510 and then 1.9712 is a preferred strategy short-term (this is a timeframe that loosely incorporates the next 2-4 weeks).
Analysis of the daily chart by Trading Central shows that a pivot point is located at 1.8748, and should the market stay above here gains are likely.
Trading Central identify resistance points at 1.9915 and then 1.9712, saying they provide viable targets over the course of coming weeks.
Achieve up to 3-5% more currency for your money transfers. Beat your bank's rate by using a specialist FX provider: find out how.
The call appears to go against the trend in the exchange rate which remains resolutely lower as we would consider the pick up witnessed in the week prior as being a relief rally from oversold conditions. It appears that any calls for further GBP/NZD upside rely on this relief rally / consolidation extending further and ultimately overcoming the momentum and trend indicators that ultimately advocate for further losses.
The Pound is nevertheless coming across as more robust in July with most Sterling exchange rates recovering from a multi-week period of decline, which suggests selling pressure is easing and this is why we would not discount further recoveries against the New Zealand Dollar. Indeed, we note GBP/NZD is holding its ground despite a rally in the value of global stocks and commodity prices which is a market backdrop which we would typically associate with New Zealand Dollar strength.
Much of Sterling's resilience of late has meanwhile resulted from news reports that suggest the UK and EU are making progress towards agreeing a broad free trade deal, even if the official position is that progress is slow and both sides are prepared for failure.
The reports serve as a reminder to markets that it is too soon to sell the Pound on anticipation of failure, particularly as the key deadline is only due in October and the EU playbook suggests breakthroughs are only ever likely in the final hour. This week sees negotiators move to Brussels for a further round of negotiations and the Thursday/Friday update will be instrumental in deciding how the Pound ends this week against the New Zealand Dollar.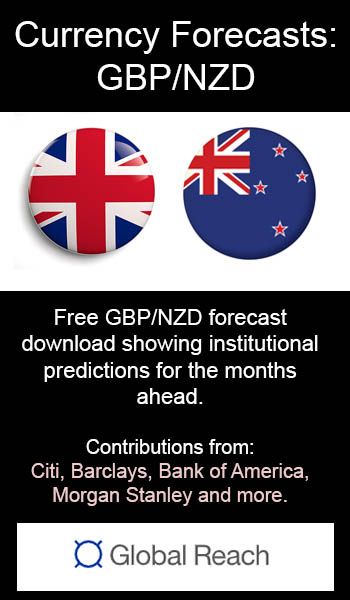 The UK and New Zealand have on Monday announced they are commencing negotiations towards a Free Trade Agreement (FTA), as part of the UK Government's ambition to secure FTAs covering 80% of UK trade within the next three years.
A Government paper shows a UK-New Zealand FTA could increase UK exports to New Zealand by up to £100MN. UK exports to New Zealand have grown from £0.7BN in 2000, to £1.7BN in 2019, and it is hoped an FTA can increase the existing £2.9BN worth of trade even further.
The UK was New Zealand's sixth largest trading partner in 2019 and was the fifth largest investor in New Zealand, the UK was meanwhile the fourth largest recipient of New Zealand's direct investment in 2018.