Pound-to-New-Zealand-Dollar Rate to Rise 7% in 2019 says Major Bank
© Pavel Ignatov, Adobe Stock
- NZD to lag G10 rivals due to morobund economy says Soc Gen.
- NZD will not be able to capitalise on broad weakening of USD.
- NZD/USD to move sideways as GBP/NZD rises by 7% next year.
The Pound will rise against the New Zealand Dollar in the year ahead as the Kiwi currency is hamstrung by a moribund economy, which will prevent it from capitalising on a weaker U.S. Dollar in 2019 according to the latest forecasts from Societe Generale.
Currency markets will undergo a regime change next year that sees the U.S. Dollar knocked off its perch, enabling other G10 currencies to rise from the depths that were plumbed this year while under the duress of a resurgent greenback, which has swapped a 4% loss for a 5% annual gain in 2018.
"This impressive performance however, is unlikely to be maintained in 2019 as the Federal Reserve reaches the peak of the rate cycle, as US growth starts to lose momentum and relative growth expectations deteriorate, and as the focus shifts back to the US' twin current account and budget deficits," says Kit Juckes, chief FX strategist at Societe Generale.
The Federal Reserve has been at the heart of this year's price action, buoying the greenback and crushing all other currencies as it lifted U.S. interest rates to a new post-crisis high of 2.25%, and will be on the front line again in 2019 as that rate hiking cycle comes to an end and the Dollar falls accordingly.
However, the Kiwi currency will not be able to benefit from the about-turn in policy over in North America, as markets will increasingly focus on a weak New Zealand economy that remains under siege from a series of domestic and international headwinds such as low business confidence and the 'trade war' between the U.S. and China.
"We expect the Kiwi dollar to be a laggard in 1H19 due to the lack of a compelling growth story. We see AUD/NZD persisting on its long-term upward trajectory, but NZD/USD will likely be supported by the US dollar's gradual decline. The risk of a continued worsening of US-China trade relations implies downside risk to our NZD/USD forecast, but upside risk for the AUD/NZD cross," says Kit Juckes, chief FX strategist at Societe Generale.
Above: NZD/USD (red & blue) at daily intervals with NZ-U.S. 2-year yield spread (orange).
The New Zealand Dollar wracked up punishing losses during the first three quarters of 2018 as markets responded to signs of a deteriorating growth and inflation outlook that led the Reserve Bank of New Zealand (RBNZ) to warn in July that it could cut Kiwi interest rates in the New Year if things do not improve toward year-end.
Since then data for the second quarter has shown the Kiwi economy growing faster than many had expected and inflation rising by a fraction. Unemployment has also fallen further over recent months and government spending is expected to support growth over the coming quarters.
But data covering the third and final quarters will be released only gradually over the coming months and much rests on the GDP, wage growth and inflation figures. Juckes and the Societe Generale team are not optimistic about prospects for a marked turnaround, although others are.
"The housing market in Auckland has cooled markedly on the back of restrictions on foreign buyers and tighter lending standards, but there has been no crash. Net migration flows have continued to decline. Although the unemployment rate has fallen steadily, wage pressures remain moderate. Still, business sentiment has been very weak since the Labour-led government came to power in September 2017," Juckes explains.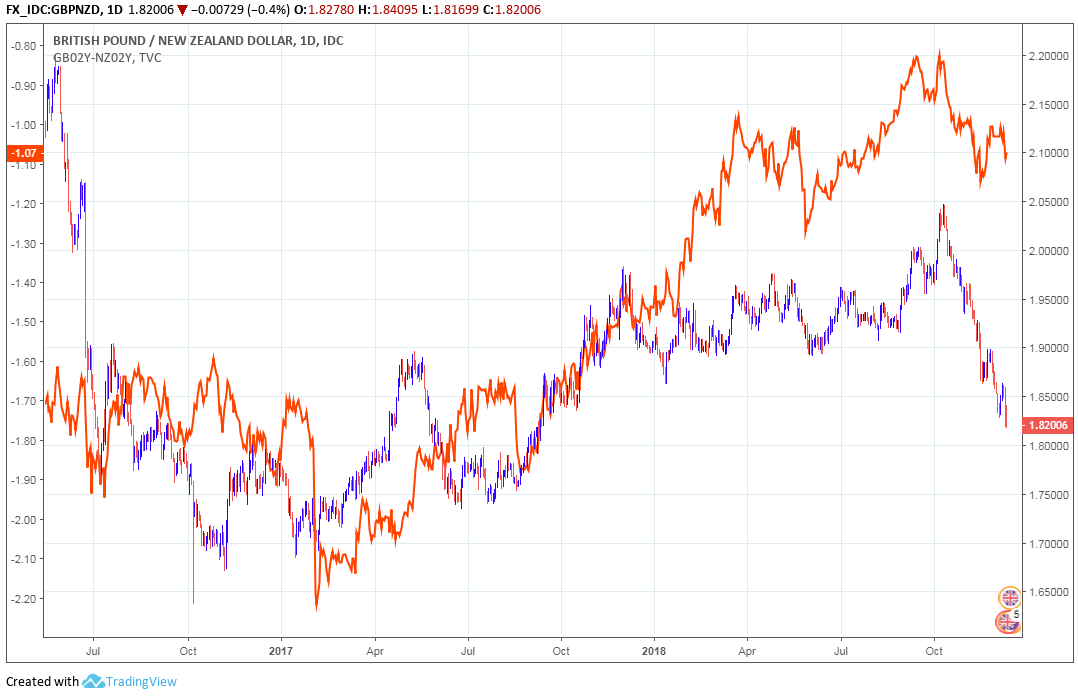 Above: GBP/NZD (red & blue) at daily intervals with GB-NZ 2-year yield spread (orange).
If third quarter GDP data released in December, and final quarter data out in the New Year, fail to lift sentiment toward the New Zealand Dollar then there is a danger the Kiwi currency will not be able to capitalise on any weakening of the U.S. greenback next year because markets may continue to fear a Reserve Bank of New Zealand interest rate cut.
Juckes and the Societe Generale team are assuming this is what will happen and that the NZD/USD rate will remain at 0.68 until June 2019 before climbing only to 0.70 in time for year-end.
The Pound-to-Kiwi rate meanwhile, is forecast to rise to 1.85 before the end of March 2019 and to climb all the way up to 1.95 before the curtain closes on that year, because Sterling's Brexit-related undervaluation and correlation with the EUR/USD mean it can be expected to exploit a weaker U.S. greenback.
Advertisement




Bank-beating exchange rates. Get up to 5% more foreign exchange by using a specialist provider to get closer to the real market rate and avoid the gaping spreads charged by your bank when providing currency. Learn more

here