Thursday Sunrise: Pound is Best Performer, Euro and Dollar Eye Key Inflation Numbers
Pound on Top
For Sterling, today's data is second-tier in nature and unlikely to shake the markets. Watch the Bank of England at 09:30 for their mortgage and money supply numbers.
Pound Sterling is seen to be the best performing major currency on the morning of Thursday, May 31 and there are no headlines to hint at why this should be: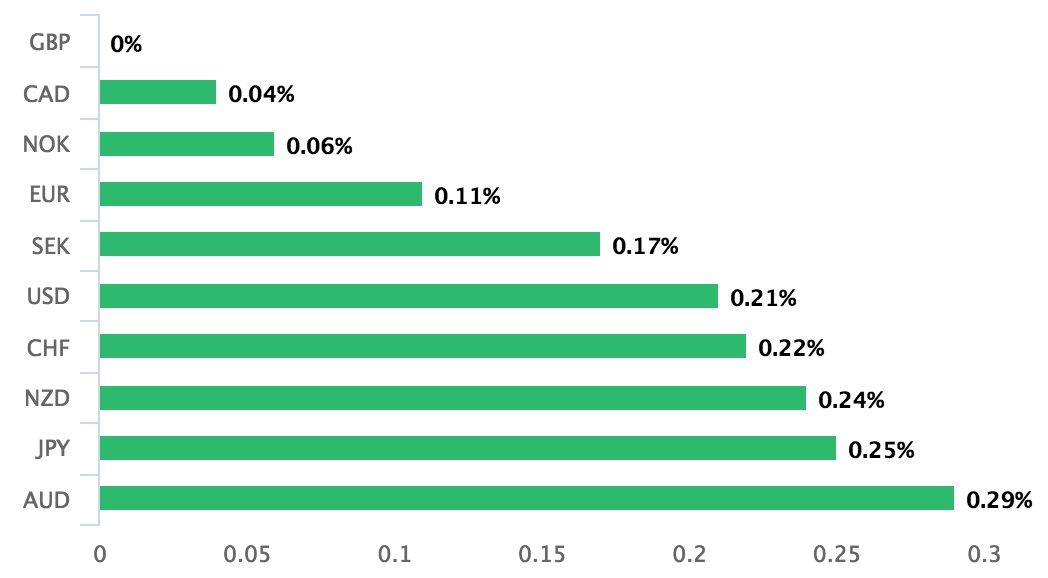 As per much of the week, global factors appear to be in charge of Sterling and its only on Friday when we get some domestic data that focus is likely to return to Sterling.
By global factors I refer to overall risk sentiment stemming from Italian politics which has improved considerably as it appears markets are happy to sit on the sidelines and observe the political process for now.
In this environment the Euro and commodity Dollars have outperformed and the Dollar, Yen and Franc - the safe-havens - have underperformed.
Thursday appears to have seen these dynamics fade creating a middling ground which allows a middling currency like Sterling to shine.
Euro Calms Down, Eyes Inflation
Inflation day out of the Eurozone will be key today as it should answer questions as to whether the European Central Bank is in a position to kill off quantitative easing later in the year and raise interest rates in mid-2019.
Annualised inflation for May is forecast to read at 1.6%, up from 1.3% in the previous month.
A beat on expectations should help the Euro.
However, Italian politics will still be key.
The Euro might be down at the time of writing, but it is certainly in a much stronger position than it was a few days ago thanks to a mid-week relief rally.
"The market decided that the big fear over Italy was overdone yesterday after the country successfully completed 5- and 10-year bond sales. Both auctions were oversubscribed, with higher bid-to-cover ratios than at the previous auction," says analyst Marshall Gittler with ACLS Global.
"Political developments are the driving force behind the market relief," adds the analyst.
Investors judged the mood to be 'risk-on' in global markets after the Italian president, Sergio Mattarella, granted Italy's two main parties more time to form a government in an attempt to stave off a snap election.
Such an outcome would put to rest 1) fears of months of protracted political limbo in the Eurozone's third-largest economy and 2) fears that Liga and Five Star will grow their vote share in another election as Italian voters push back against perceived establishment meddling, thus emboldening their anti-EU agenda in any subsequent governmen
US Dollar: Watch the Inflation Gauge
For the Dollar, should risk sentiment sour then we could see a return to gains.
On the docket we have the core PCE Priced Index - a.k.a the US personal consumption expenditure deflator - which ACLS Global's Gittler reckons should be key.
"I think these are even more important than the nonfarm payrolls, because the FOMC has already met its employment mandate – the unemployment rate is well below what it believes is the long-term rate of unemployment, 4.5%. However, it's still waiting to see if it meets its other target, 2% inflation, and the PCE is the inflation gauge that it uses, not the CPI. So whether the PCE comes in "close to 2%," as they said after their last meeting, or at 2% or even maybe above 2% is the other shoe left to drop," says Gittler.
The core PCE index is forecast to read at 1.8%.
Canadian Dollar Cools but Momentum Could be Strong
CAD was an outperformer mid-week as the Bank of Canada dropped a clear hint that it remains on a path of interest rate rises; something the markets appear to have wrongly assumed was no longer the case.
Watch for the momentum behind the currency to extend over the remainder of the week.
We have some monthly GDP numbers on the docket to be aware of; any beat or disappointment here might impact short-term moves. Markets are eyeing a reading of 0.2% on a monthly basis.
Australian Dollar: CAPEX Just Out
The Australian Dollar did well mid-week, again largely because of overall risk trends.
Domestically, Thursday has seen the Q1 CAPEX report released which offers insights into the direction of travel for the economy. The data were broadly positive, and the strength in plant and equipment spending bodes well for GDP according to economists.
The outlook for 2018-2019 softened a little, but still implies growth in non-mining investment, and the drag from the mining sector will continue to ease. A solid report overall.
"The decline in mining investment is largely complete. Firms report that capital spending in 2017-18 will be essentially flat compared to a year ago, and currently expect only a 5% y/y decline in 2018-19. While there are no signs of increasing mining investment yet, the lessening drag is a welcome improvement," says Daniel Gradwell with ANZ Bank.
Advertisement


Get up to 5% more foreign exchange by using a specialist provider to get closer to the real market rate and avoid the gaping spreads charged by your bank when providing currency. Learn more here.