Thursday AM: Market Tensions | GBP: Bank of England Ahead | USD Digests the Fed | AUD Saved by Labour Stats | NZD hit by GDP Disappointment
Image © DragonImages, Adobe Stock
Global stock markets continue their move lower with investors showing nerves in the wake of the mid-week Federal Reserve policy event that saw another 0.25% interest rate accompanied by confirmation that further rate rises are likely in 2019 and beyond.
Expectations for further rate rises have cooled somewhat with only two rate rises now expected in 2019.
Ultimately though the markets took a negative reading from the event.
"Markets expected the Fed to at least sugarcoat its 25bps rate hike but got disappointed. The Fed's rather upbeat assessment and determination to continue policy normalization at only a slightly slower pace sent equity markets and US yields tumbling. We expect risk-off sentiment to spur further market repositioning today," says a note to clients from KBC Markets.
The S&P 500 Index lost 1.54 percent to hit its lowest level since September 2017. U.S. stocks are on pace for their biggest December decline since 1931, the depths of the Great Depression.
"Trade has been making headlines, but I think a gradual tightening of monetary policy has been the driving force behind recent market volatility. With corporate borrowing and spending still high, and the Fed continuing to reduce its balance sheet, I'd expect volatility to remain if this tightening continues," Bob Baur, chief global economist at Principal Global Investors, tells Reuters.
The Fed said "some further" rate hikes would be necessary in the year ahead, with its policymakers projecting two rate hikes on average next year instead of three they saw back in September, a change that was also largely in line with expectations.
The sombre tone on global stock markets has boost the value of the Japanese Yen which tends to benefit when global markets are running scared.
On the other side of the coin are the Australian and New Zealand Dollars which tend to struggle in such an environment.

GBP

At 09:30 GMT retail sales are released, markets are looking for a month-on-month increase of 0.3% in November, up from October's -0.5%.
Annualised retail sales growth is expected to read at 1.9% in November, down from 2.2% in October.
Markets are rather negative going into these retail sales data, and therefore a beat on expectations could well benefit the Pound, whereas should the data come in below expectation we would expect the impact to be more limited as markets already maintain a bias to this outcome.
The Bank of England policy meeting falls at 12:00 GMT, no interest rate rise is expected. Instead the Bank of England's guidance on the future path of interest rates will be key, and this will surely involve their latest assessment on the state of play in Brexit negotiations.
"With ongoing Brexit uncertainty, the prospect of any policy change seems unlikely. However, markets are expected to pick up any hints of the future path of interest rates. This week's jobs report showed an unexpected rise in wages, which may in the future push inflation effects," says a note from spread betting providers ETX Capital.
We do however expect any impact on Sterling from the Bank of England event to be short-lived in nature, and therefore any moves higher or lower from the event should ultimately be faded.
Brexit remains the key consideration at this point with the January vote on the Prime Minister's Brexit deal being front-and-centre of the debate. With the Christmas period nearly upon us we do however expect news flow concerning Brexit to fade somewhat.
This has us therefore expecting Sterling to trek sideways and respect its recent ranges against the Euro and U.S. Dollar.
For more details on the above, please see our dedicated GBP report.

EUR

There are no data releases on the Eurozone docket today, therefore we would expect global drivers to remain in control.
The afterglow stemming from news that Rome and Brussels have reached agreement on Italy's controversial budget has put the wind into the Euro's sails.
"EUR/USD is seeing a strong rebound from the November low at 1.1267. Rallies stalled at last week's high at 1.1443. This guards the 2018 downtrend at 1.1503. Currently we suspect that the market is ranging," says Karen Jones, a technical analyst with Commerzbank in London.
Jones says failure at 1.1267 will trigger losses to the 1.1216 recent low and the 61.8% Fibonacci retracement of the 2017-18 advance at 1.1186.
"Please note that we continue to regard the 1.1216 recent low as an interim low for the market," says Jones.

USD

Ahead, the Philadelphia Federal Reserve's Manufacturing Index dominates the Dollar's calendar when released at 13:30 GMT.
Markets are looking for a reading of 15.6, any disappointment could feed the view that U.S. economic growth has peaked and some cooling lies on the horizon.
This would play USD negative.
The Dollar is a mixed performer, despite the message from the Federal Reserve.
The Fed hiked as expected, although the mixed message between a dovish SEP and a less dovish statement left the market underwhelmed.
Governor Jerome Powell sounded dovish at times as well, but did not assuage the markets.
"We continue to expect the Fed to transition to a slower pace of rate hikes in 2019, with the next move most likely at the June meeting - assuming the data cooperate," says Michael Hanson, Head of Global Macro Strategy with TD Securities.
"The combination of a lower dot plot across the horizon and increased monitoring of global developments suggest the USD is living on borrowed time and a realignment towards a lower rates trajectory is in store," adds Hanson.

CAD
Wholesale sales are due at 13:30 GMT with growth of 0.2% being forecast by markets.
October payrolls (SEPH) - out at about the same time - will meanwhile give an update on the labour market.
SEPH job growth is running well above estimates from the Labour Force Survey, even after a +94k print in the latter for November.
The Canadian Dollar has struggled of late and will need today's data to come in above expectation if it is to catch a bid into the end of the week.

AUD

The Australian Dollar is a notable underperformed on Thursday; with some decent looking labour market statistics unable to arrest a decline sparked by the ongoing concerns being expressed in global stock markets.
The Aussie is a proxy for global investor sentiment, therefore when markets are selling, as they are now, the Australian Dollar inevitably suffers.
AUD is lower against all G10 currencies, save for the New Zealand Dollar which is also weighed down by poor global investor sentiment.
The Aussie Dollar is outperforming its Kiwi counterpart courtesy of some better-than-expected labour market statistics.
Employment data out of Australia today came in ahead of expectations with the November employment change reading at 37K, well ahead of the 20K expected by currency markets.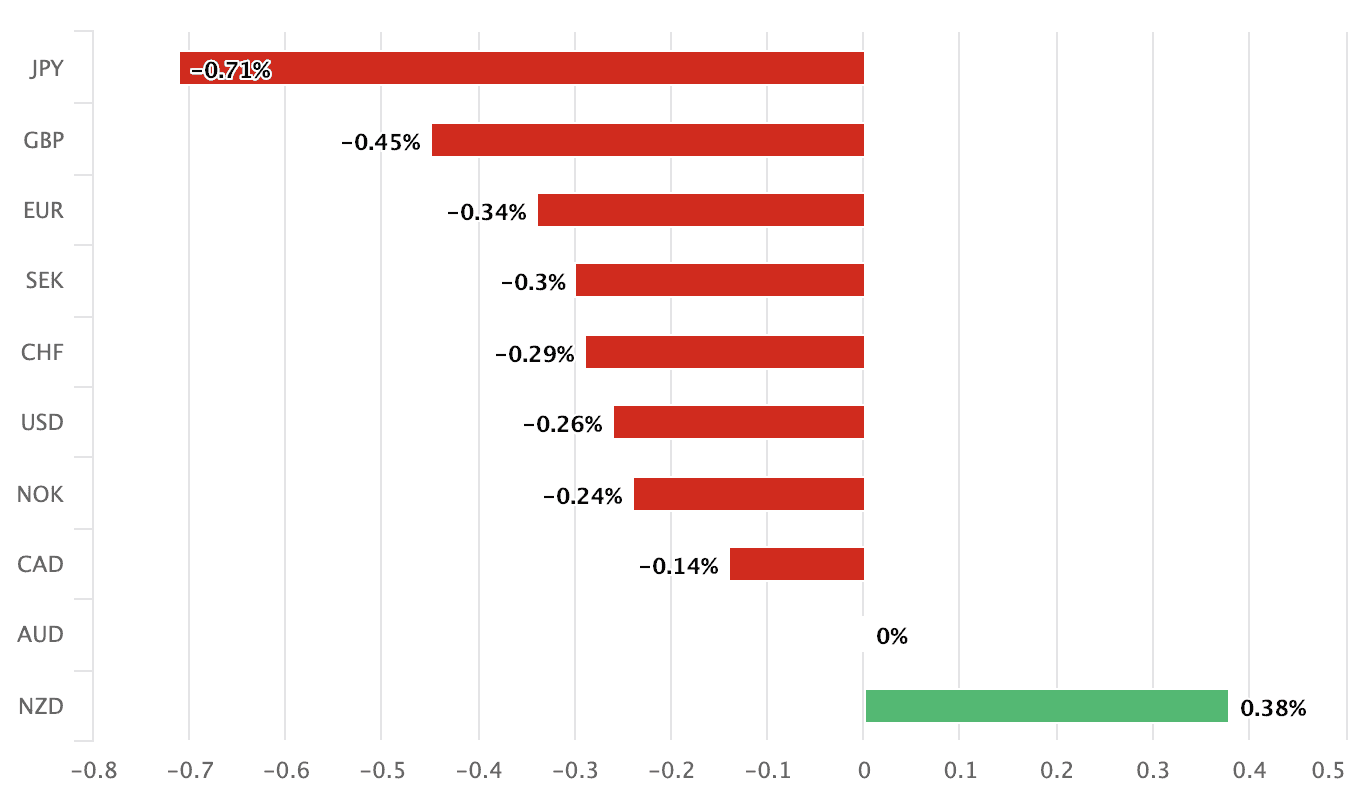 Above: AUD is struggling today.
The participation rate read at 65.7%, a nudge higher than the 65.6% reported in the October report. "It suggests there is limited room for the participation rate to move any higher from here," says Best Deda, Chief Economist with St. George Bank in Sydney.
The unemployment rate did however nudge higher with a reading of 5.1% disappointing against expectations for 5.0%.
Victoria was the stand out state in the report having created 30.9k net new jobs in November, which is the strongest of any State or territory. It was also the biggest monthly jobs rise in Victoria in two years.
"We continue to expect national jobs growth to continue and for slack to gradually be worked out of the labour market. However, we would not be surprised to see some moderation in the pace of jobs growth in 2019," says Deda.

NZD
The New Zealand Dollar is the worst performing major currency today, with losses coming on the back of the fall in global stocks but it was disappointing GDP data released overnight that sent the currency to the bottom of the league table.
New Zealand quarter-on-quarter GDP growth read at 0.3% in the third quarter, markets had forecast a reading of 0.6% growth, suggesting this to be a notable miss.
The data suggests there has been a loss of momentum in the economy over recent months.
Annualised GDP now reads at a still healthy 2.6%, but what matters for the New Zealand Dollar is that this figure falls below the 2.8% markets had been expecting.
Currency markets are selling the NZ Dollar as a bet that the data means the Reserve Bank of New Zealand (RBNZ) will be less inclined to raise interest rates in 2019.
The reading was below the RBNZ's November MPS forecast for growth of 0.7% quarter-on-quarter, presenting downside risks to their outlook for growth to accelerate to 3.4% in 2019.
"Combined with slowing global growth, wobbly global equity markets, and a cooling housing market, the case is mounting for a more dovish RBNZ stance," says Miles Workman, an Economist with ANZ Bank.